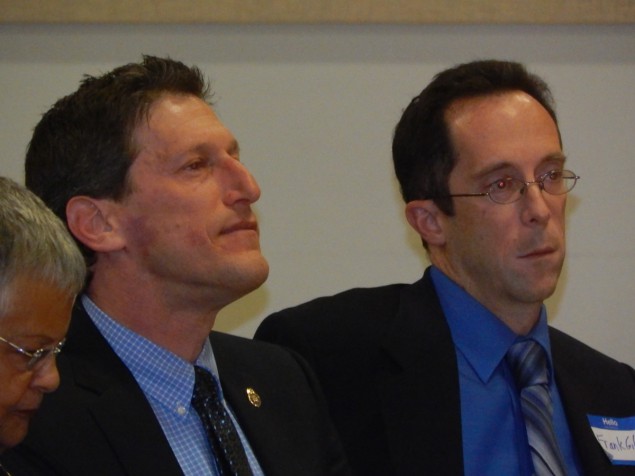 TRENTON — New Jersey lawmakers took a first step toward introducing student debt forgiveness Thursday as three bills advanced in a State Assembly committee. The state has some of the harshest terms for repayment of state loans in the country, with some parental cosigners forced to pay off exorbitant debts even after the student borrower has died or become disabled.
The bills approved by the Assembly Higher Education Committee would change those statutes to offer loan forgiveness for students' families in the event of death or disability, and offer deferment of payments on both principal and interest to those who have been temporarily disabled. If passed into law, they would also end the practice of revoking certain professionals' licensure if they default.
Chair Mila Jasey (D-27) called the bills an important step toward offering relief to families suffering under the burden of student debt, and believes their passage would improve New Jersey's standing as a state where both in-state and out-of-state students choose to go to college.
"We're not trying to play 'gotcha.' Rather, we're trying to improve things for our students, for their families and for the state. Unfortunately we have an unenviable reputation right now of not being a good place to go to college because of the cost.
"I'm hopeful that the Speaker will post them for a vote," she added.
New Jersey's Higher Education Student Assistance Authority (HESAA) came under scrutiny from lawmakers after a ProPublica investigation detailed the case of one woman who is still paying her son's loans after his murder.
Unlike the rest of the country, New Jersey does not allow repayments to be adjusted by income and charges higher interest rates than similar federal programs. The state can take extraordinary steps like garnishing wages and revoking those professional licenses without court approval.
Assemblyman Andrew Zwicker (D-16), sponsor of the bill to allow deferred payments for the disabled, called the measure an attempt to bring the state in line with the rest of the country in his testimony before the committee.
"This, what we're proposing here, already occurs at the federal level. It already occurs in other states as well, so we are not doing anything radical. We are doing something that the end is common sense and is compassionate."
Assemblyman Vince Mazzeo, a fellow primary sponsor, criticized the state's current repayment laws in a statement after the vote.
"Imagine you're a family who always pays their bills, has good credit and then you lose a child and in the midst of your grief, you're saddled with tens, if not hundreds, of thousands of dollars in their remaining student loan debt," Mazzeo wrote.  "That's just something we can't allow to happen on our watch."
The bills' Senate counterparts await a committee vote.