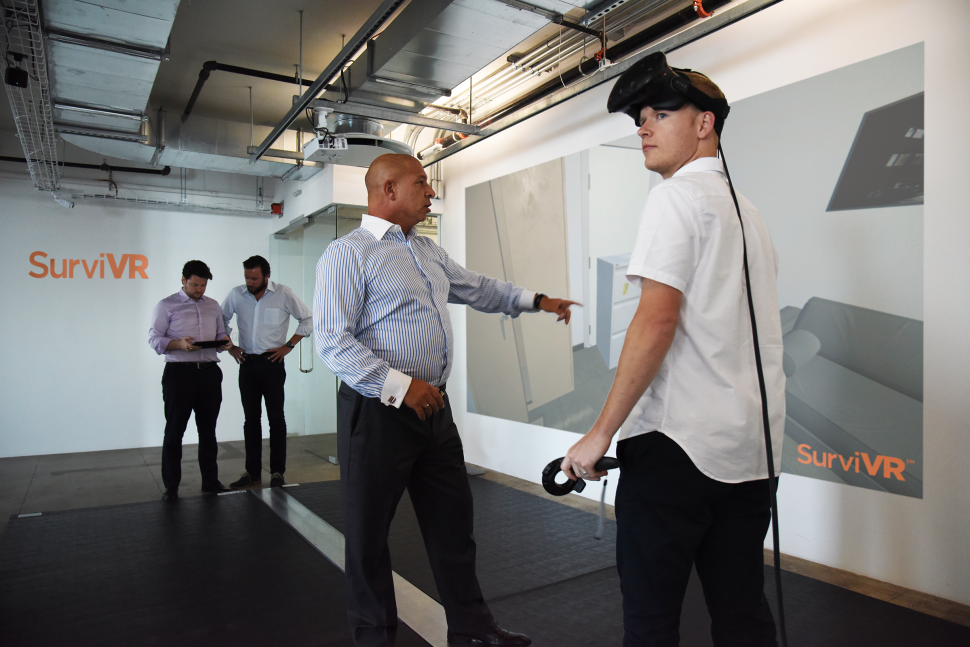 We have entered a world in which people need to train for active-shooter events. Training works best when it feels real, but an active-shooter scenario presents obvious real life simulation problems. One Manhattan company realized it had developed technology that might make a difference. Human Condition Safety has been developing virtual reality to help people connect workshop material around hazard mitigation in the construction industry with something like a real experience, and it has turned that expertise toward helping workplaces prepare for today's all too common man-made tragedy.
"I personally was sad that we had to build the product," Peter Raymond, CEO of the company told the Observer, who was confident his company had value to add. "The ability to allow someone to think calmly through a series of actions, that falls directly into workplace safety."
From 2000 to 2013, there was an average of 11 active shooter incidents per year. Both 2014 and 2015 saw 20 active shooter incidents, according to an FBI report covered in Insurance Journal. Business leaders surveyed in another report this year, covered by the Wall Street Journal, say they aren't ready for such incidents.
'They provide you with a tool to help you survive until the experts come'
After I got to the Human Condition Safety office, a co-founder of the company, Oliver Rothauser, asked me to step onto a fake I-beam surrounded by some very soft padding and put on an HTC Vive virtual reality helmet. While I was never more than maybe an inch off solid ground, with the helmet on, it looked as though I were standing more than 20 stories up on the edge of an  iron frame only building project. With a spotter, I was tasked with helping to guide the beam into place as a crane lowered it, then walk out on the newly secured section, detach it from the hook that had lowered it and then look up at the crane operator to signal it was O.K. for him to reel in the cable. That last action was the hardest.
SEE ALSO: Who Will Make the 'Serial' of Virtual Reality?
It was completely freaky. My heart rate went way up. The sweat came out on my skin. I did not enjoy the experience at all, but I did get through it (though my performance would not have made me a candidate for an ironworker job). The team wanted to activate my anxiety under completely safe conditions. It was meant to demonstrate the immersive power of virtual reality—not that I needed convincing. This wasn't the first time that a VR experience had made my heart leap, but it was an interesting to add that tactile sensation of a model beam beneath my feet. It took it to another level.
With that demo as a foundation, they had me try out their new product, SurviVR, which models an active shooter situation for a worker inside a small office. You're standing in a fairly nondescript space and you hear shots go off. What can you do?
Lorenzo Gallo, CEO of The Safety Group, has partnered with Human Condition Safety on this new product. His company has been training construction workers in safety practices and providing site safety supervision for years now. They will now use a curriculum developed in collaboration with former members of law enforcement to train people in preparation for the worst case scenario of an active shooter. Human Condition Safety's virtual reality modules are designed to bring those lessons home.
"The things we're teaching are the four fundamentals to communicate better and have a much better chance of survival," Gallo said. The fundamental skills their training sessions will discuss include barricading, locking down, running and fighting. "We're hoping to find out who the alpha males and alpha females are." They want to see the choices people make in that first virtual session.
We got a look at a beta version of an active shooter demo. Not everything was fully interactive yet, but you could see how it would work. One strange part of the experience: when I tried to move the virtual couch I was told it was too heavy to move. I have never encountered a couch in my life that was too heavy to move, and the one I saw in the demo definitely wouldn't be.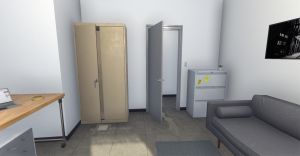 I don't want to spoil the basic rundown of the scenario, in case anyone reads this and cheats their way to acing it, but I will say this: you can get yourself virtually shot in Human Condition Safety's basic demonstration.
The Safety Group expects to begin making SurviVR trainings available to interested organizations and institutions in mid-October. The company declined to disclose an exact date or the cost of trainings.
We recently reported on how experts have started to reevaluate elevators as a way to evacuate buildings in a fire. Gallo said that law enforcement has also started to push a new way of thinking around how people should respond in the case of a hostile intruder. The old thinking: shelter in place and let the cops deal with it. With so many tragedies, police have come to recommend a much more dynamic approach, possibly even fighting back in certain situations. There's just not enough time to wait for the good guys.
Gallo compared his company's training to the fire department's requirement that buildings be equipped with fire extinguishers. "They provide you with a tool to help you survive until the experts come," Gallo said. "We're providing that tool. There hasn't been any tool up to now." Though Gallo acknowledges that real life simulation trainings have been taking place around the country, people tend not to take that sort of training seriously. They get treated as playacting. Plus, real life demos can also go horribly awry.
According to a fact sheet from the company, Human Condition Safety has raised $16 million in two separate rounds, including a strategic investment from insurance giant AIG. It's also in the middle of launching several other workplace and construction site safety products, such as additional safety training modules, wearables to anticipate potential hazards and a dynamic 3D building information model, powered by the versatile Unity game engine.