Earlier this summer, I had the opportunity to interview feminist punk icon Kathleen Hanna about the amazing new album by her group The Julie Ruin, Hit Reset, their first release on Sub Pop sister label Hardly Art. We touched upon the record, sure. But the conversation I enjoyed with this courageous, intelligent and—yes, sorry—beautiful American woman was every bit as enriching as I expected from an artist who has not lost an ounce of her vitality 25 years after serving as the fiery frontwoman of Olympia riot grrrl pioneers Bikini Kill.
Talking with Kathleen Hanna is like catching up with a dear old friend who just so happened to coin the phrase that gave birth to an anthem when she spray painted "Kurt Smells Like Teen Spirit" on his wall. Her Valley Girl-esque articulation commands your attention, whether she's talking about the election, women's rights, returning to school, The Rockford Files or raising awareness about Lyme Disease, which put her out of commission for a good portion of the 2000s.
The Julie Ruin is currently taking a break from touring until October, when they will be doing a string of dates on the West Coast, including The Fillmore in San Francisco. Then in December they head to the United Kingdom for a trio of shows in London, Mellor and Leeds.
[youtube https://www.youtube.com/watch?v=CWqR0w9ohN8&w=560&h=315]
So, the election…where to even begin. I actually had to shut down my Facebook page for a little bit there.
Plus with the situations with the police stuff during this election, it was like people couldn't say they were pro-Hillary without shutting down their pages. And for a while it seemed to be coming from both sides—it was coming from Trump people and it was coming from Bernie people as well. And I just found that so sad, because it was pretty much lefty liberals fighting each other.
A lot of people who are pro-Hillary are just like, "I just don't want Donald Trump." Things are bad enough, but just wait. Nobody needs an assault rifle unless you are a soldier in a war. If you're hunting upstate, you don't need to be out there with an AR-15. That's not sport. The only reason you would need a gun like that is if you're looking to take out a whole herd of deer, or kill a bunch of people.
People are very, very testy about their Second Amendment rights, and especially about the police, particularly the Blue Lives Matter crowd.
Yeah, but in a way we're saying, "Hey, here's part of a solution in police training about cultures that are different than yours."
We find the same thing in the domestic violence world, where it's like the police are so resistant to getting training on the politics of gender. Men have more power in the world, and he's beating a woman and turns around and says, "Well, she started it." But you look at the woman's face and she's all beat up but he only has a scratch on his arm, and then the cops take the woman to jail.
We need to talk about political power and gender power and male privilege and learn about this, and learn about how women's experiences make it so they don't reach out to the police. There's definitely a crossover between African-Americans not reaching out to the police because they haven't been treated fairly. In fact, they've been executed by the police.
Why do you think rape is so under-reported? Because police sometimes laugh at rape survivors and make fun of them and ask why they were wearing such a short dress. But that's a lot different from being executed in your car.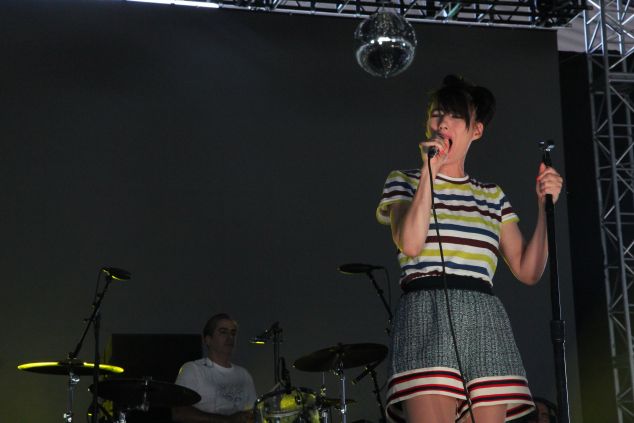 However, it is amazing to see how this new generation of women is taking to the internet to call out their perpetrators.
I think it's great. There's still horrible comments made about women and girls on the internet, and it makes me so very angry. Even little kids.
We went to this show called Our Hit Parade, and it was a live show where people would do the Top 10 songs on iTunes. They would remake them in totally weird and funny ways. It was almost like a cabaret show. And one week this adorable little boy sang an Adele song. I didn't get to go that week, but someone taped it for me. And I cried watching it like four times.
It was so beautiful. His voice was so gorgeous. But I guess the outfit he was wearing wasn't masculine enough or something. So a bunch of people on YouTube were writing these horrible things about this child. I was like, "Why don't you just go club a bunch of baby seals?"
I get worried about kids reading stuff like that and feeling bad about themselves before they've had a chance to really become strong individuals. I think it's so important for parents to equip these kids with the kind of tools we didn't even have to think about when we were kids about the internet.
It's actually hard to believe how much this country has changed since even 2010, when you first put together The Julie Ruin as an actual band. What did you do to keep yourself busy during your time away from music while you were recuperating from Lyme's?
I went back to college in my late 30s. I was ill and I had to take that time off from music. And I just wanted something to do, so I took these college courses at Parsons School of Design. And a lot of young people were in there on the TMZ website or whatever at the time, reading about stars' fingernails or who's dating Taylor Swift.
Meanwhile, I was totally paying attention and super-psyched to be in class, because I was the same age as my teachers and I really respected their time. I didn't want to waste their time. I totally appreciated it more than I did when I was 17 and a pothead. It was such a different experience when you really want to be there.
[youtube https://www.youtube.com/watch?v=EbvkUZyCZ5s&w=560&h=315]
What were you taking classes in?
Interior design. It's just for fun. It's more my hobby. I just have a lot of skills like model making and computer programming that I can use to make art. And that's what one of my teachers said, because every time I had to draw something by hand or do math and shit, she was totally honest with me. She told me, "You suck at CAD, which is the big architectural program, and you need to know it." And I do know it, and I can do it, but I just wasn't any good at it.
It was really hard for me. And this drafting by hand, I was really sloppy and I tried really hard, but just wasn't that great at it. But then she was like, "But your presentation and your vision of how you want things to be laid out is amazing. Your models are great. All of your Photoshop work is fantastic. Maybe you should just be an artist." [Laughs] I was like, "Oh, yeah."
What piqued your interest in interior design?
Part of the reason I even started doing it was that being on tour, I've come to realize how much a physical space drives how people act. All the venues have their own distinct feel in the way they're laid out and how they contribute to the vibe of the show. Or how having a nice backstage compared to having a really crummy backstage can affect the show, too.
It makes you feel like you're not respected as a musician if you're given a 3-foot-by-4-foot room for five people and a broken tea kettle with mold on it. I'm really into spaces, and I always go on these little architectural tours while we're on the road and see different spaces. And I've always been interested in the history of architecture. But a lot of it was from touring that fed my interests.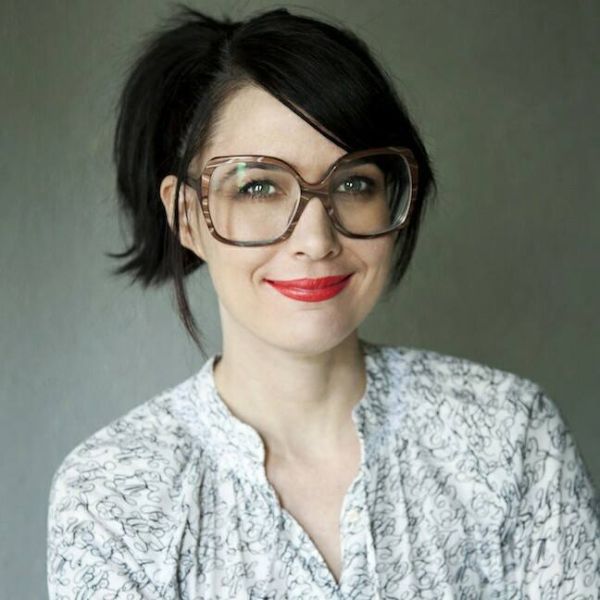 You have been living in New York for a long time now. Does it bother you to see how little regard this city has for its historic architecture?
Yeah, 18 years now I've been here. My husband is from here, too. And he came home crying the day the building where Taxi was filmed at got demolished. And then just watching old episodes of, like, The Odd Couple, and we'd be like, "Oh, let's go find Felix and Oscar's house!"
Well, let's just say having been a fan of your husband for a good 30 years now that does not surprise me [laughs]. Do you guys watch a lot of old TV shows?
We love MeTV out of New Jersey! We watch The Rockford Files every damn night. Me and my husband are just really into Rockford and Columbo. I love Rockford, especially because his show was a very early modeling of a feminist man. Watch it. His lawyers are women. He's always saying stuff to dudes who say weird things about women.
I mean, sometimes he'll call women "honey" or "sweetie" or something like that. But he has all these women in his life who are really smart and intelligent, and they argue with him. It's interesting. They even had an episode about a feminist book writer. That's actually how we got into it again. We were flipping through the channels and came across, "Rockford meets a feminist author…" And I was like, "Wait, a feminist episode of Rockford?"
[youtube https://www.youtube.com/watch?v=tO0Vq4fj3ho&w=560&h=315]
And then we watched it and were like, "Oh my God, James Garner is so fucking awesome." Then I remember as a kid the answering machine thing. I was always like, "Whoa, dude has an answering machine. That is so fucking killer!" Then we got an answering machine at our house and I was so excited [laughs].
But for James Garner to have feminist issues on his show is just amazing. And then Isaac Hayes was on the show, and he'd always call Rockford "Rockfish." I love Isaac Hayes.
So Hit Reset is on Hardly Art, which is a subsidiary of Sub Pop. And that got me wondering, did Sub Pop ever try to sign Bikini Kill back in the day? Or was Sub Pop and Kill Rock Stars pretty much apples and oranges back then in terms of gender roles?
Actually, it wasn't, because Sub Pop had that amazing Singles Club, and by singles I mean 7-inches, and they featured a lot of women. We were so inspired by it. They put out an Unrest 7-inch. Babes in Toyland, L7, Hole. And we would get these singles off of Sub Pop and they were totally influencing us massively. So I have Sub Pop to thank in a lot of ways.
But yeah, also a lot of us were pretty pissed when they put out this record by The Dwarves called Blood, Guts and Pussy, and there were naked bloody women on the cover and we were like, "Why?" And also a dwarf. We were like, "This is fucked up on so many levels, it's 1991!" And now we're like, "It's 2016!" It's like, how can you do that stuff? This isn't the '50s. You're trying to be all shocking. That's all it is, but you don't care that its sexism and makes women feel like shit.
"We were like, 'This is fucked up on so many levels, it's 1991!' And now we're like, 'It's 2016!' It's like, how can you do that stuff? This isn't the '50s. You're trying to be all shocking. That's all it is, but you don't care that its sexism and makes women feel like shit."
It was sexualizing violence against women, that cover; a bloody, naked woman and you're trying to make her sexual and make men want to fuck a bloody woman. It was awful, and we were pretty pissed about it. A lot of us were kind of like "yuck to Sub Pop." But then they had these great singles, which we bought up and thought they were great. So it was a mixed bag with them, but we got the word pretty early that some people high up there didn't like us, so we never considered them an option.
They were too big of a deal. And Kill Rock Stars, we actually asked Slim to start the label because we didn't know how to do business or put out records and he was the only person we knew who had a job that involves counting [laughs]. So that's how that happened. And then we started our own Bikini Kill record label a couple of years ago and we're re-releasing everything through that.
That's awesome. How are you guys going to be rolling it out? Will there be some kind of a box set?
Well, we've started releasing stuff already. We just put out our demo tape on vinyl and cassette and and are re-releasing every record out of our catalog and then some practice tape stuff and some live stuff. Maybe eventually we do something like a box set, or "Order it all for $100."
Meanwhile, Hardly Art emerged from the rib of Sub Pop and has such a strong female roster.
Yeah. We're in totally great company. And we really wanted to be on a label with bands that we liked. And we really wanted to be on a label with people we liked, and Sarah Moody who runs the label is just a great person and she's super-easy to deal with and we love Jason who does press and is her right-hand man. It's been a really great experience for us. No shit, and it's totally cool.
We self-released our last record and it was way too much work, and it feels good to have people help you and feel like part of a community now. We're part of this scene of musicians, who are mostly from the Northwest but we all tour and hopefully we're gonna play shows together and stuff. I already did like a joint interview with Tacocat when they were here in New York and met them, and they were amazing people.
[youtube https://www.youtube.com/watch?v=hEltsPb8M6Q&w=560&h=315]
On a closing note, it is really amazing to see how well you have bounced back from Lyme Disease. We live in a wooded area in North Jersey, and definitely know the struggle with tick prevention. Are you doing anything to raise awareness about Lyme?
I want to, but really I just want to get back to singing and get back on the road and start being myself again. And also I'm so focused on what's going on in the world; as a whole it's hard to pinpoint just one thing. I know it's affected me and it's affected hundreds of thousands of other people. Over 300,000 people are affected by Lyme's every year in a way that debilitates them for their entire lives and could possibly kill them.
Yet there doesn't seem to be much of a freak out about it here in America. Where is the freak out? People should be freaked out, and they are when someone in their family is affected. It also has to do with real estate values. It's already so fucked up with the big crash. What's going to happen to real estate if everyone is freaked out about ticks? It would be like a flock to the city. We need a cure. We need a vaccine. Everybody I know knows somebody who's had Lyme.
The one message that I always want to spread is that if you do think that you may have Lyme, I know people are weird about antibiotics, but you need to take Doxycycline for 30 days. Not for 12 days. Not for 14 days. Thirty days. And a lot of people were diagnosed with it, and thought they were cured, but then they started having these health problems and they don't know why. And then they don't associate it with the Lyme because we've all been told since we were kids, "What's the big deal about a tick bite?" Then they have health problems like I did.
I didn't associate this shit with fucking Lyme Disease. I had seizures, because it went over the blood brain barrier with me. I couldn't talk. I would get frozen. I'd be standing in the kitchen and I wouldn't be able to move. And being how I am now and I'm out on tour, I'm really thankful. Really, really thankful.