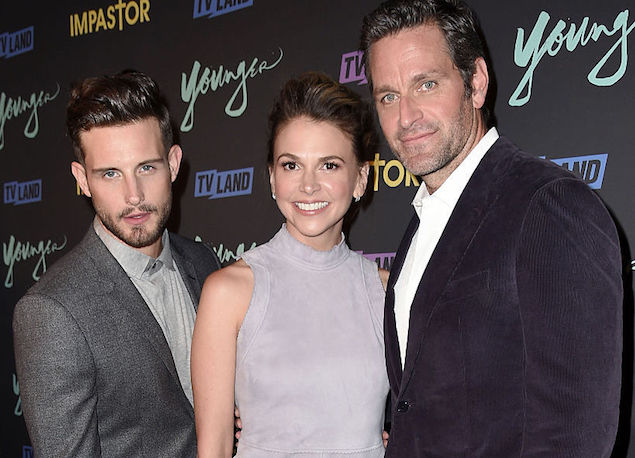 Younger, Darren Star's TV Land comedy about a forty-something divorcee who pretends to be a twenty-something to get a job in publishing, already seems like fantasy (after all, you need to look like Sutton Foster to pass for half your age.) And then you see the two love interests she gets to pick from:
Josh, (played by Nico Tortorella) is a hip Brooklyn tattoo artist, equal parts abs and millennial stereotype. Charles (Peter Hermann) is a senior editor at the publishing house Foster's character, Liza works at: the well-dressed, age-appropriate successful man you can just imagine in a brownstone somewhere talking about modernist Russian literature and whisky. Now, facing season three, Liza has to juggle the men vying for her attention, all while keeping up the ruse that she's actually a twenty-six year old.
I talked to Nico and Peter about their characters and their show, already renewed for a fourth season before its season three premiere and discovered they're a lot more like their characters than you might expect.
Observer: What's the hardest thing about your job?
NICO TORTORELLA: The tattoos.
They're not real?
NICO: Well some of them are. I have a lot of tattoos; there are a lot of fake tattoos too.
How long do they take?
NICO: About 45 minutes to put them on, and about an hour and a half to take them off.
You can't just leave them?
NICO: They don't stay for more than two days or else they look dirty.
Have you considered just getting them tattooed on?
NICO: I mean, I keep getting tattoos, but I'm not going to get the tattoos that Josh has in the show. They're terrible.
What's the worst one?
NICO: Probably the dragon or the dolphin swimming to my wiener. That's the worst tattoo that Josh has—he has a dolphin swimming towards his…
PETER HERMANN: And on my calf…
Do you have any tattoos?
PETER: I do not. And I actually always feel like I probably should have a more mysterious answer than that. It'd be more compelling if I had one, or a secret tattoo, but I don't.
You guys have to be opposites: contrasting choices. 
PETER: The yin and yang, inked and not inked.
Did you do any research or training to learn what it was like to work at a publishing company?
PETER: Actually, when I was young, I did have an internship at a number of different publishing companies and I used to work as a fact checker at Vanity Fair, for two years. So I was in magazine publishing, but that publishing world is not entirely foreign to me. So I not only knew it to some degree but also really, really liked it. And I have a real affection for, and an interest for the problems that you get to solve and wrestle with on a daily basis in the publishing world.
Do you like to watch the show back?
NICO: I have always been a fan of all things Darren Starr, so this was a no brainer, and I enjoy watching myself. I can only watch each episode once or else I'll pick apart everything I do.
PETER: I'm the other way. When I first watch I pick it relentlessly, and then if I watch it again, I actually see it in the context of the story, and I can be like, "Oh the story gets told," even though in X I wish I had played such and such a way.
What drew you to Younger in the beginning?
NICO: From the beginning, just the people that were attached—Hilary, Sutton, Debbie, and Darren it was like, "Yes, these are the people I want to work with!" [To Peter] You weren't there yet. But first and foremost, that was it.
PETER: I came in in season one, and I had met Darren doing an episode of Sex and the City—
WHICH ONE?
PETER: It was one episode, and it was with Kristin [Davis]—and she's getting over somebody, and I play this patrician Yale-graduate and the fact that I went to Yale becomes an issue. It's just a little too polished for her.
PETER: And that's where I met Darren and then I did Cashmere Mafia, and then when this came along, as an actor, it's incredibly nice when you get a call asking, "Do you want to do this?" And it's him. And for me, the fact that I got to play a publisher, and that it's a show that's set in the world of books, and the world of writing; in the first scene I'm talking about Achebe, I was like, "Oh my god, when do you get to do this?" It was just super attractive to me. I didn't know whether it was going to be one episode or two or five or—
NICO: —two seasons!
PETER: So I feel impossibly fortunate to be there.
You seem like a book lover—what are you reading now?
PETER: I'm sort of an omnivore, reading pretty much anything when you have three kids at home is an amazing victory. Really, everything. Ive started reading more nonfiction than I'm used to, and there's a version, a nod to Helen McDonald's H is for Hawk which is just incredible, appears this season.
NICO: —"P is for Pigeon."
PETER: You know who else is a huge reader is Molly [Bernard], and she said at the millennial party in season 2, that I have to read Between The World And Me by Ta-Nehisi Coates and I actually listened—and I'm not used to books on tape—but I actually listened to it which is something you should absolutely do if you haven't. It's really beautiful.
What about you, Nico? On your nightstand?
NICO: There's an iPhone charger on my nightstand, there's a diptyque candle… I read a lot of scripts. I watch a lot of television. You name it, I'm watching it. I just finished The Get Down, Stranger Things, The Night Of…
So who do you think Liza should end up with?
Nico: I don't think that either one of them are good for Liza
PETER: I've said this before, but I'll say there are things that wake up in her in Josh and there are things that wake up in her in me. Different people bring out different things, wake up different parts of a person;s soul. And so there are parts of Liza's soul that are addressed—
NICO: Josh has the bottom half and Charles has the top half!
PETER: At least I've got half.
NICO: You've got the neck up.
PETER: I think that's the bigger problem here is that she needs to figure out which part of her soul she needs to chose. It has nothing to do with us. And it's also like life.I think we are presented in stories with these binary situations: is this the right person or is that the right person? Relationships, real relationships, are wonderfully complicated. It's the best thing about them. But in stories, we look for the perfect answer, and we're often given that solution which is why we go to stories! But I think that this [show], one of the reasons it's interesting is because there are complications here and there are complications [with Josh].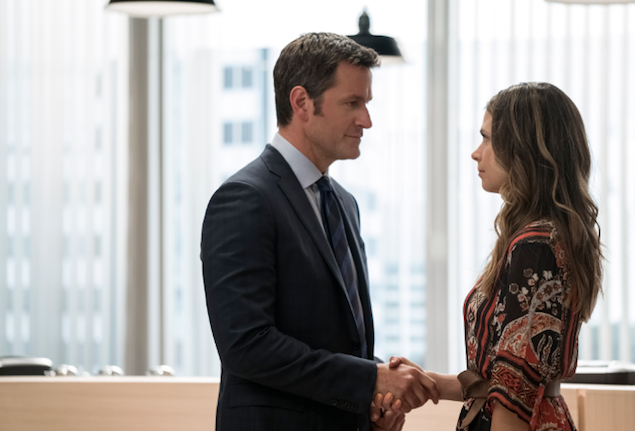 Do you think Josh is a good boyfriend? He did kind of bail on her in the first episode of season two…
NICO: Josh is an incredible boyfriend! For anyone to say Josh isn't an incredible boyfriend. Sutton—[he calls out to Sutton Foster, sitting across the room with co-star Hilary Duff]—Josh is an incredible boyfriend, true or false?
HILLARY DUFF: Yes. True.
SUTTON FOSTER: You are a good boyfriend! He puts up with a lot.
HILARY: You offer to pay for tuition!
PETER: You brought her doughnuts.
HILARY: You wait for her when she decides to get drunk with her girlfriends!
So are you both Team Josh?
HILARY: Oh, I'm team both. I am definitely not having that private conversation right now. [Laughs].
NICO: We're both saying the same thine. We're both Team Sutton.
Younger is back with season three tonight, 10/9c on TV Land