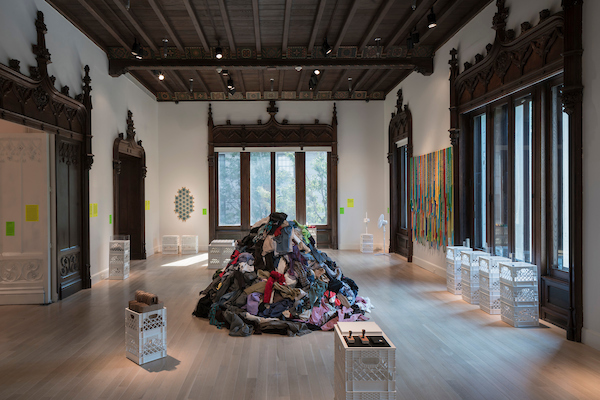 At the Jewish Museum, Halloween lovers can trick-or-treat a month early.
In Take Me (I'm Yours), which opened today, all of the works by a roster of 42 international artists can be taken away. Visitors can leave with a T-shirt designed by Rirkrit Tiravanija, a blue and red pin conceived by Alex Israel, a tissue from Haim Steinbach's installation, or a candy from Felix Gonzalez-Torres's piece. You can select an object from each artist, or just a few. The Museum provides brown paper bags to aid your collection.
"You're always supposed to take something away when you visit a museum," says Jens Hoffmann, Director of special exhibitions and public programs. "A thought, an idea. Some sort of mental souvenir." This show just makes that something physical. In a way, according to Hoffmann, the entire idea of the exhibition is based on the work of Felix Gonzalez-Torres.
Two of the artist's best-known series feature a stack of paper to be taken home and a pile of candies to be eaten. An iteration of the latter, entitled "Untitled" (USA TODAY), spreads across the Jewish Museum floor in a rectangle, just in front of a window. Hoffmann, who describes his curation as a form of choreography (his background is in theater), says that placing the Gonzalez-Torres work was his "first gesture." From there, Hoffmann staged the rest. He likens the Lawrence Weiner piece to a grand finale. The artist's words, "NAU EM I ART BILONG YUMI" (the art of today belongs to us), sprawl across the back wall in block letters. Guests can take home cards with the same message printed on them.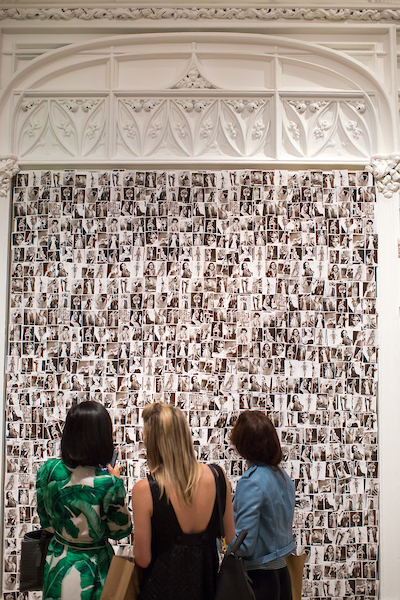 Like the candies, all of the artworks' individual components are nearly valueless and entirely replaceable. So are the methods of display—many works are mounted on milk crates. Throughout the exhibition, the museum staff will replenish the fortune cookies in Ian Cheng and Rachel Rose's contribution, Heman Chong's black paper in the shape of ID cards (titled Monument to the people we've conveniently forgotten (I hate you), etc. They've created thousands of unlimited edition multiples.
Assistant Curator Kelly Taxter explains the methods of presentation. "We were really thinking about something that felt quick and modular, since we didn't know what a lot of pieces were going to be." Therein lies another of the curators' achievements: developing new work with a host of contemporary artists. The museum commissioned many new pieces for the show, and Taxter and Hoffmann advised on each. They also made adjustments to works that were already out there. Not the easiest task—"sometimes artists will disappear for two, three weeks because of a project and they're hard to reach," says Hoffmann. "It's sort of a puzzle, especially when you work with so many artists."
Curator Hans Ulrich Obrist lent a hand in this situation. The Jewish Museum's show is based on artist Christian Boltanski and Obrist's 1995 exhibition of the same name at London's Serpentine Gallery, which similarly comprised objects to be taken away by visitors. Obrist served as a sounding board for Hoffmann and Taxter and as an aid in reaching non-responsive artists.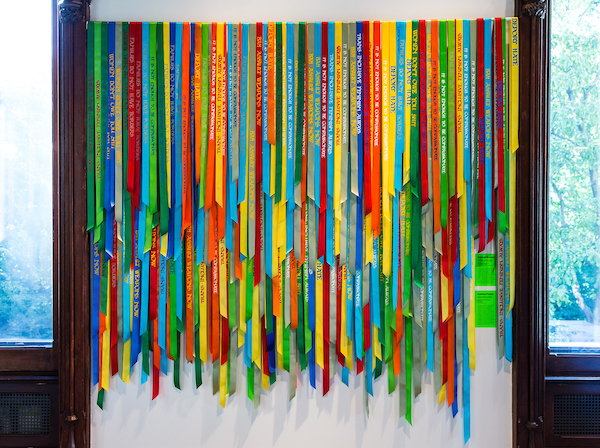 Hoffmann notes an important distinction between the Serpentine Gallery show and the one at the Jewish Museum: "The whole question about materiality in a place like New York is extremely important. This is like the most materialistic place in the entire universe. To do this show here has a particular meaning in that way."
Take Me (I'm Yours) also subverts the auction house/ art fair culture and the idea that artwork belongs in one place. In terms of exchange value and the market, says Taxter, the works on view don't have value outside individuals' relationships to them or the kind of myth that grows as they circulate. The works could travel anywhere. Visitors can mount their own exhibitions "in their kitchen or on their dresser. So this idea that the museum is the only place for an artwork is pointedly what the exhibition is pushing against."
The exhibition, as I learned at the press preview, can also serve as a reflection of its audience. Watching a group of art critics fill bags with candy, fortune cookies, and little pieces of paper made the entire experience feel less formal than usual, even humorous. Some pieces were more conducive to acquisition than to consideration. Will anyone really stop by the Rose / Cheng work next to the elevator and stare, for an extended period of time, into a milk carton full of fortune cookies? As I left, one woman mentioned that she felt guilty for taking objects from the show. Touching the work can feel illicit as well. The exhibition reframes viewers' relationships to art objects.
After I left, I sat on a bench outside the Museum and ate my fortune cookie. "YOU WILL DIE," the fortune read. As if chastising me for not meditating on their piece more deeply during the preview, Rose and Cheng gave me the opportunity to consider my mortality on the train ride home.