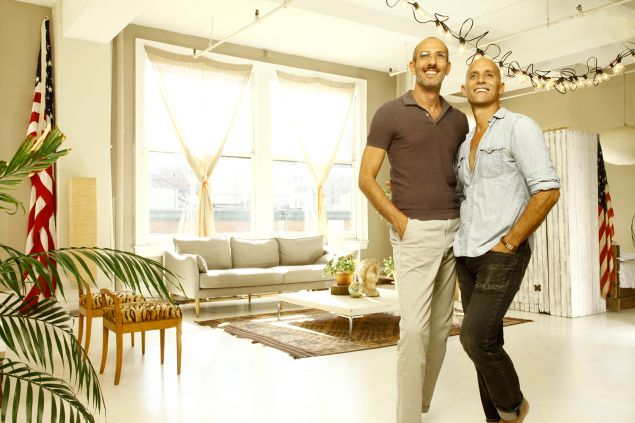 When Douglas Elliman agent Vickey Barron was just a fresh arrival to New York City, she enrolled in a real estate training class. Her teacher asked the hopeful brokers to make a call to "for sale by owner" sellers and ask a few questions; it would be Barron's first introduction to the tension that often exists between the two parties. "I made the call, and the message machine came on," said Barron. The message asked potential buyers to leave their number. It then ended abruptly with "If this is a broker calling…no brokers!"
Barron left a message anyway, promising to be respectful of the owner's wish to sell without a broker. "I was only three days in the business," Barron explained. "When I told my class what happened, the whole room was laughing…they said that they weren't going to call you back." In fact, the seller did call her back. They had a pleasant conversation while Barron asked questions about the apartment and offered a few tips. She then attended the upcoming open house. "Two weeks later," Barron said, "I get a call. The buyer had a headache [with the 'for sale by owner' process] and wanted to give me the listing. It was my first listing, and it's led to over $26 million of business."
Barron's first experience in the world of "for sale by owner" listings—commonly referred to as FSBO, pronounced FIZ-bo—highlights the awkward relationship that exists between brokers and FSBO sellers in New York. FSBO sellers, by and large, have decided that a broker's job isn't worth the 6 percent commission, split between a buyer's and seller's broker; selling their apartment is work they could do themselves. Brokers try to convince them otherwise. Sometimes FSBO sellers are victorious, selling their pad with nary a commission fee. Other times, they get caught up in headaches and holdups so complicated that they have no choice but to call a broker. (Even the owner of ForSaleByOwner.com needed a broker to sell his two-bedroom apartment in Chelsea, it was reported a few years back.)
Barron actively works against the stereotype in the industry that brokers and FSBO sellers hate one another. She teaches a FSBO class at the Real Estate Board of New York to brokers, encouraging them to be helpful to sellers who want to forgo their services but also lack a broker's expertise. "If it's a 'me against you' relationship, you will fail," she said. "If you offer tips, send some comps…[FSBO] sellers will eat it like candy. It's refreshing when someone is willing to help them." The idea, then, is they'll know who to call if they decide not to sell themselves.
'There's a misunderstanding with FSBO sellers who think they're saving on commission, but the reduced exposure doesn't yield a greater net to the seller itself.'—Jonathan Miller of appraisal firm Miller Samuel
FSBO sellers agree that they remember helpful brokers, considering many of them are not. As soon as a FSBO listing hits the market, sellers are bombarded with calls from brokers who want to convince them to hand over their listing. "I got hundreds of calls from brokers," said Viky Peters, who listed her two-bedroom co-op in Kensington this July and is now in contract (sans broker). "I was getting between 50 and 60 calls a day. You pick up, because it may be someone interested in the apartment. But you never know when it's a real person [or a broker]." To say that brokers are pushy with FSBO sellers would "be an understatement," said Olivier Wilkins, who recently listed his sprawling Flatiron loft at 222 Park Avenue South for $2million. "It's a testament to people's willingness to go out there and do their own thing," he put it politely. FSBO seller Romain Mazoué qualified 50 percent of the brokers as "extreme, unrealistic, pushy." He said, "Brokers really do call a lot—they text me surprising questions. I also get calls from brokers with the same company. It's like a fight in the jungle."
Despite the drama, FSBO only makes up a small percentage of listings in New York. StreetEasy tracked the sales inventory for 2016 and found that in New York City, 25,955 homes have been listed through brokers, while 217 were FSBO. (In Manhattan, 147 listings have been FSBO with 17,022 through brokerage firms; in Brooklyn it's 56 FSBO listings to 5,726 brokerage listings.) In New York, StreetEasy found the median asking price is $950,000 for FSBO listings compared to $1.149 million. In Manhattan in particular, the median asking price for FSBOs is $1.099 million as opposed to $1.579 million.
Jonathan Miller, president of the real estate appraisal firm Miller Samuel Inc., noted that "you see an uptick in the share of FSBO listings in a tight market." When demand is high and inventory is low, "properties sell themselves," as Miller put it, lessening the need for a broker. With abundant inventory, however, you'll see "less FSBOs and higher brokerage commissions, because brokers need to do more work to make a listing stand out." The current resale market in Manhattan, according to Miller, "is at a midpoint between low and high. We've moved from a scarcity of supply to an adequate level of supply." Meaning, FSBO is currently a hit-or-miss endeavor.
"There's a misunderstanding with FSBO sellers who think they're saving on commission, but the reduced exposure doesn't yield a greater net to the seller itself," Miller said. Indeed, listing sans broker keeps you from the MLS, a database of shared listings exclusively represented by brokers, as well as the RLS, a listing service run by the Real Estate Board of New York.
But does it really matter in the days of StreetEasy? "Is there one person out there buying an apartment without browsing on StreetEasy?" asked Wilkins. "If a person is looking for an artist loft in my neighborhood, they don't need to look any further." Many FSBO sellers feel they have an apartment appealing enough to sell itself online; they've also done serious research on the market, their building and neighborhood before listing. Not that they don't use the occasional advice from a broker. Wilkins noted that he "pays attention to the vibe of the broker…what they say, their arguments, suggestions about pricing." Mazoué decided pricing his recently renovated, loft condop at 310 East 46th Street for $749,000 after consulting with brokers.
But a broker's promise to make you more money—enough to cover the cost of their commission—can be a constant source of stress for the FSBO seller. "Brokers feel like they can sell my apartment for more than what I'm asking for…I have to negotiate that 6 percent commission in my head," said Melanie Marin, who has listed her three-bedroom co-op at 309 West 93rd Street for $2.1 million. "Brokers tell me I'm underpricing it. Do I really believe it? It'll make you feel insane." But ultimately, she said she can't quite stomach the commission she'd have to pay on a $2.1 million pad ($126,000), "more than a lot of people in this country make in a year."
There's at least one company trying to lessen the broker and FSBO tension. Hauseit is a website that offers an "agent-managed FSBO" service in which sellers pay a flat fee of $399 to list their apartment on the MLS and RLS database. The owner then handles open houses, questions and negotiations. Hauseit spokesperson Chris Oliver said one of the biggest reasons FSBO listings fail is "broker harassment"—brokers who are pressuring FSBO sellers to cave, or buyer's brokers who ignore FSBO listings. Through Hauseit, the listing appears online in a way brokers won't be able to identify as FSBO.
Many FSBO owners simply want to give it a try on their own before considering a broker. Mazoué said the process so far—writing a listing, holding an open house, fielding calls—has not been difficult, but he plans to leave the country in a month and would call a broker if his apartment isn't sold by then. Marin said, "I've maintained a cordial relationship with brokers, so I know I have a backup." But there remains a stubbornness for those New Yorkers who love their apartment and are convinced they can find someone else who will. Wilkins said that instead of holding traditional open houses of his loft, "I'm giving individual tours where people can sit down, have a drink and get a feel for the space." As he noted, "It's an easy sell."