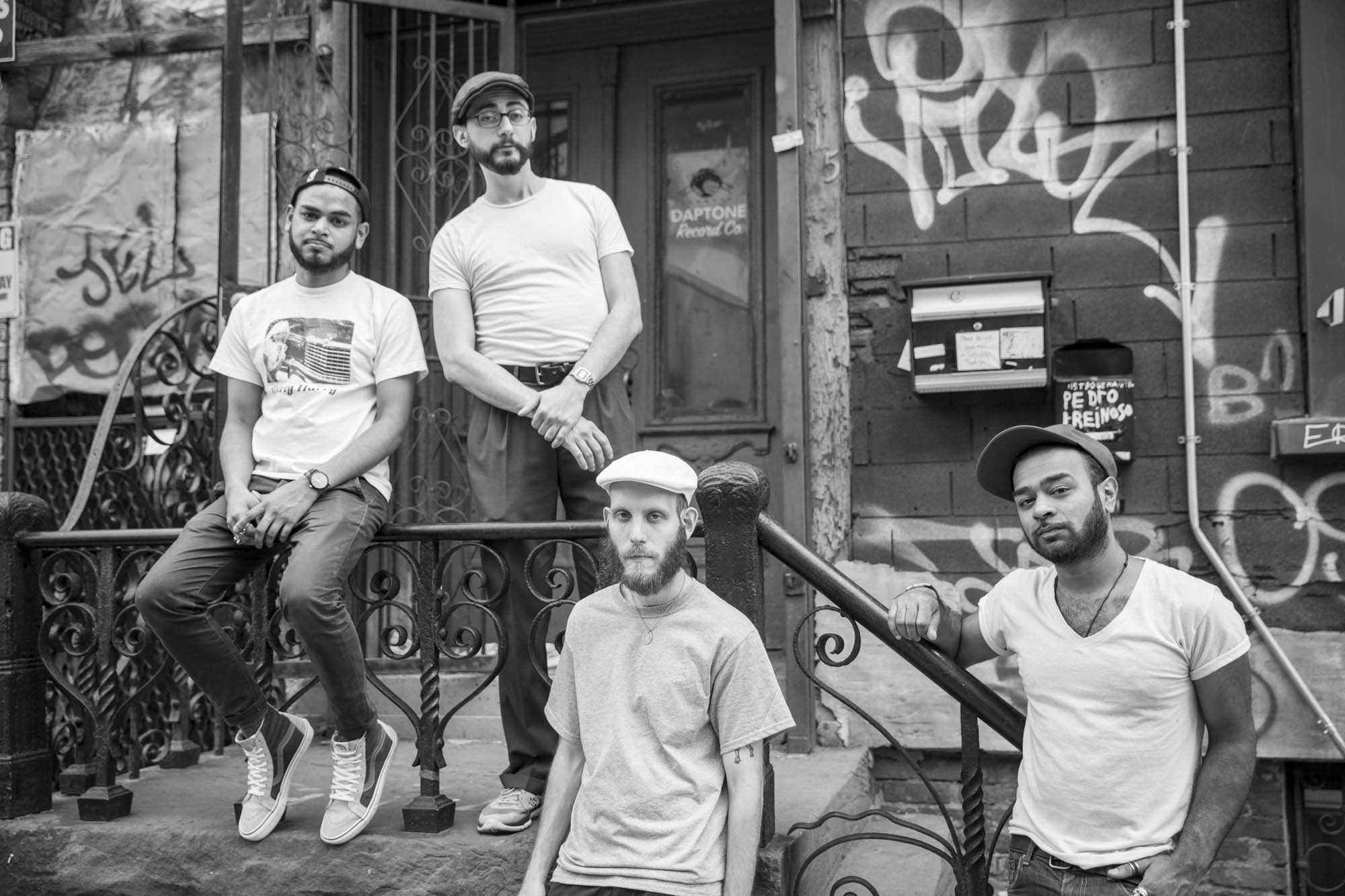 Of all the classic Jamaican genres lost in the bombast of today's fast, aggressive dancehall music, rocksteady might be the saddest. Arriving after the birth of ska but before reggae, Jamaican artists would repurpose the American soul and doo-wop they heard on the radio into this distinctive, new genre, with all the heartbreak of those songs intact. What were originally songs about love and loss became heavier to the Jamaican kids who were leaving the country for cities like Trenchtown, posting up in the ghettos and turning themselves into the "rude boys" we'd later call proto-punk.
On their debut album for Brooklyn's Daptone Records, Nothing More to Say, Queens-based reggae band the Frightnrs add their own music to the rocksteady canon and channel that longing tenfold.
They tell me they've always been students of the form, not just studying rocksteady, but the whole treasure trove of vintage Jamaican music that's been lost on younger ears. But there's more at work on this album than simple genre loyalty. You can hear it in the voice of their late singer, Dan Klein, crooning his lovesick words over Victor Axelrod's faithful, reel-to-reel analog production (he also produces under the name Ticklah).
When Klein was diagnosed with the terminal disease ALS last fall, the joy that the band had felt at being signed to Daptone quickly dissipated. As Klein grew more frail, the band and Axelrod were under more pressure than ever to finish recording Klein's tracks. They eventually did, resorting to using some first takes and vocal demos as final tracks when his condition worsened, but Klein kept at it until the end, carrying a respirator into the studio with him and singing at the same spot where Amy Winehouse recorded vocals for Back to Black.
Klein passed away in early June, the day after seeing his favorite artist ever, fellow Daptone star Sharon Jones & The Dap Kings, in Prospect Park. Daptone's strength lies in its sense of community—their producer Axelrod often plays in the Dap Kings too, and had been championing The Frightnrs for years before they finally got signed. Community has always been important to the band, who grew up together, and having Daptone support them not only offers the chance to heal, but to press on. But they're also pressing on for Klein, who told his friends to carry on, to use his death to their advantage, and to make the most of his passing.
When we spoke on the phone earlier this week, keyboardist Chuck Patel, bassist/guitarsit Preet Patel and drummer Rich Terrana said that's exactly what they planned to do. Contrary to other stories that you might read about this band, Nothing More To Say is neither their first record nor their last—they released Inna Lovers Quarrel for Mad Decent last year, an EP covering almost every genre of Jamaican music, and, contrary to the Daptone record's title, they've actually got much more to say. There are sketches, riffs and recordings in the pipeline, for sure, but right now The Frightnrs are focused on the catharsis of the present.
Talking to these guys was a fascinating deep dive into the power of following the sounds you love, and a reminder that even when the people you love leave you, the passion that you shared doesn't have to go away.
[youtube https://www.youtube.com/watch?v=RZktkSqIRuU]
Well first of all, I can imagine how this promotional process is somewhat antithetical to your grieving and all you're going through, and I wanted to express my condolences because there's no way I can fathom or completely empathize with how hard of a year you guys have had. But I listen to a lot of older reggae, and I never thought about how much sadness the old roots stuff has embedded in it. You guys kind of tap into some of that on this record.
Chuck Patel: Yeah, I would say rocksteady is mostly like that. Breakup songs about love. Y'know, rocksteady lasted for a very short time, about a year maybe, from '66-'67, and the majority of those songs are about heartbreak. They were channeling '50s doo-wop and American soul, any song from then was probably covered by Jamaican bands in the '60s.
Do you get all these old, crate-digging Brooklyn dudes coming up to you to talk shop? I listen to this stuff as a music journalist and because I like old music, but modern dancehall is super-aggressive and really a world away from the high vibes and the melancholy of this. What happened?
C.P.: I just don't think it's as popular. If you say reggae to an average person they'll say something like Bob Marley, Peter Tosh, Sean Paul, Beanie Man, you know? That's their range and that's what they know. The more popular songs that you know are in the Sean Paul range, late dancehall. But we're in a very diluted genre because of that—the range from what we play, '60s-'70s music to now, there's reggaeton, super-different stuff! The range is very wide. Our kind of stuff is kind of forgotten.
It gives it this timeless quality, too. I have to think the Grateful Dead kind of ruined things with their '80s reggae period, spawning the jam band craze on another level. You can go to Brooklyn Bowl four out of seven nights of the week and hear some dudes playing ska with a horn section. It's not bad music, of course, but perhaps divorced from some of the catharsis.
C.P.:Yeah, then if you wanna tell someone we're a ska band or a rocksteady band, if you're from New York or New Jersey or California you have different range for what that is. People think of Mighty, Mighty Bosstones, you know what I mean? It's a different type of genre music really.
Dan must have really loved you guys, too, and even recording some of these vocals I can't hear what was said in that NYT piece about his voice sounding frail and some demos becoming actual final vocal tracks. But if they are there, they really fit in with the lo-fi production and vibe that you guys are going for. There's an educational opportunity here, too, like with most artists on Daptone. Artists like Sharon Jones and Charles Bradley manage to channel the throwback thing without it being total nostalgia. Can you talk a little about that process?
[The rest of the band walks in]
C.P.: Right before this we released our EP with Mad Decent, and had a batch of songs. One of the songs, the Etta James cover "I'd Rather Go Blind", we basically knew this dude Tommy that worked with some bands associated with Daptone. He was able to show them the song and pitch it to them, and when they heard that songs they basically found out about us. We released that old stuff with Mad Decent because they were interested in reaching a different audience, but when we heard Daptone was interested in our stuff we got super-excited, because the stuff that they put out is basically right in the ballpark of what we wanna be. Seventies soul and '60s soul is so associated with rocksteady, it's just covers of '50s American soul, and this is our rocksteady record.
"There's a deeper level of what rocksteady and all these genres really are, and where other people fall short is by not going deep enough."—Chuck Patel
You mention this is your rocksteady stuff, are you guys thinking about other genres as a band under the reggae cannon?
Rich Terrana: Oh yeah.
Are you thinking about another time period next?
Preet Patel: Yeah, rocksteady was just one of the genres we had to study in this whole process. When we first became a reggae band there was lots of vintage Jamaican American music that we fell in love with, basically the entire range from late-'50s ska to modern dancehall. We really wanted to encompass everything we loved about vintage Jamaican music, reggae just being one genre of this whole spectrum. Rocksteady was just one genre we wanted to learn. It was our first love, but it was important to learn to move onto the next genre.
When we released [on] Mad Decent, if you listen to the tracks on there we go from doing straight-up rocksteady with the song "Argumental" to British lover's rock with "Which Way" to '80s dancehall with "Make Up Your Mind" and "Sharon". So when we had "I'd Rather Go Blind" we thought that was one song that didn't necessarily fit, and we thought if there was one song from that EP that Daptone would love, we pulled that to see if they'd pick us up.
I think the reason they did pick us up was because of the engineering, recording and producing that Victor did and Dan's voice, that really spoke to Daptone. So there are other genres of reggae that we do currently, it's just that this one particular record is the rocksteady record. We will have plenty of other genres of vintage, Jamaican music.
[youtube https://www.youtube.com/watch?v=9wRe_rTilhY]
It's funny because even when you listen to those old Clash records, those guys were super-careful about appropriation. I feel like it was something they really tried to avoid. From "Police and Thieves" to London Calling they had already rewritten the canon with their own standards, but I hear you guys doing that out of the gate. What's the difference between appropriation and carrying the mantle, and how do you guys stay hip to that while feeling like you're doing the music justice?
C.P.: As a band, even before we started playing the music we were students of the music, so we're huge fans of actual Jamaican music. When we decided to put the band together we learned to play exactly like on the records we heard, which is not what people do nowadays. They kinda take what they know of reggae, which is most of the time more limited, and they just kinda run with it, then adapt it to their style a lot.
What we do is take the actual music and learn it. Exactly what pulls us into the music, we try to put into our playing. When we write music, we try to write it just like we thought they wrote it. Most of the music was covers, but there are original songs at the time. In rocksteady, there wasn't really any Rastafarian stuff. As we said before, a lot of it is love songs, and that's mostly what we pull from.
The essence, not just the sound.
C.P.: Yeah, you know what I mean. Everybody thinks playing reggae is just 2 and 4 and you got it, but it's really the opportunity of what you can do with the space and the obedience of what you leave out. There's a deeper level of what rocksteady and all these genres really are, and where other people fall short is by not going deep enough.
Well there's the socio-political component, too, right? These kids were hearing American rock 'n' roll on their AM radios in the Trenchtown hood, every other chord coming through the static, and it made them want to play. There's something there that the moneyed production on labels like Mad Decent seem to miss. But today, now, you guys being in New York is important. I never knew of a rocksteady or roots scene in Brooklyn. Is there one? There's such rich communities here, both a Jamaican community and a community of music fans, what opportunities are there for bringing together other fans of the genre? What's your experience with that?
C.P.: So there is an underground rocksteady reggae scene in Brooklyn, you just have to dig to find out about it. The number of people interested in that isn't crazy, it's diehard fans and record collectors.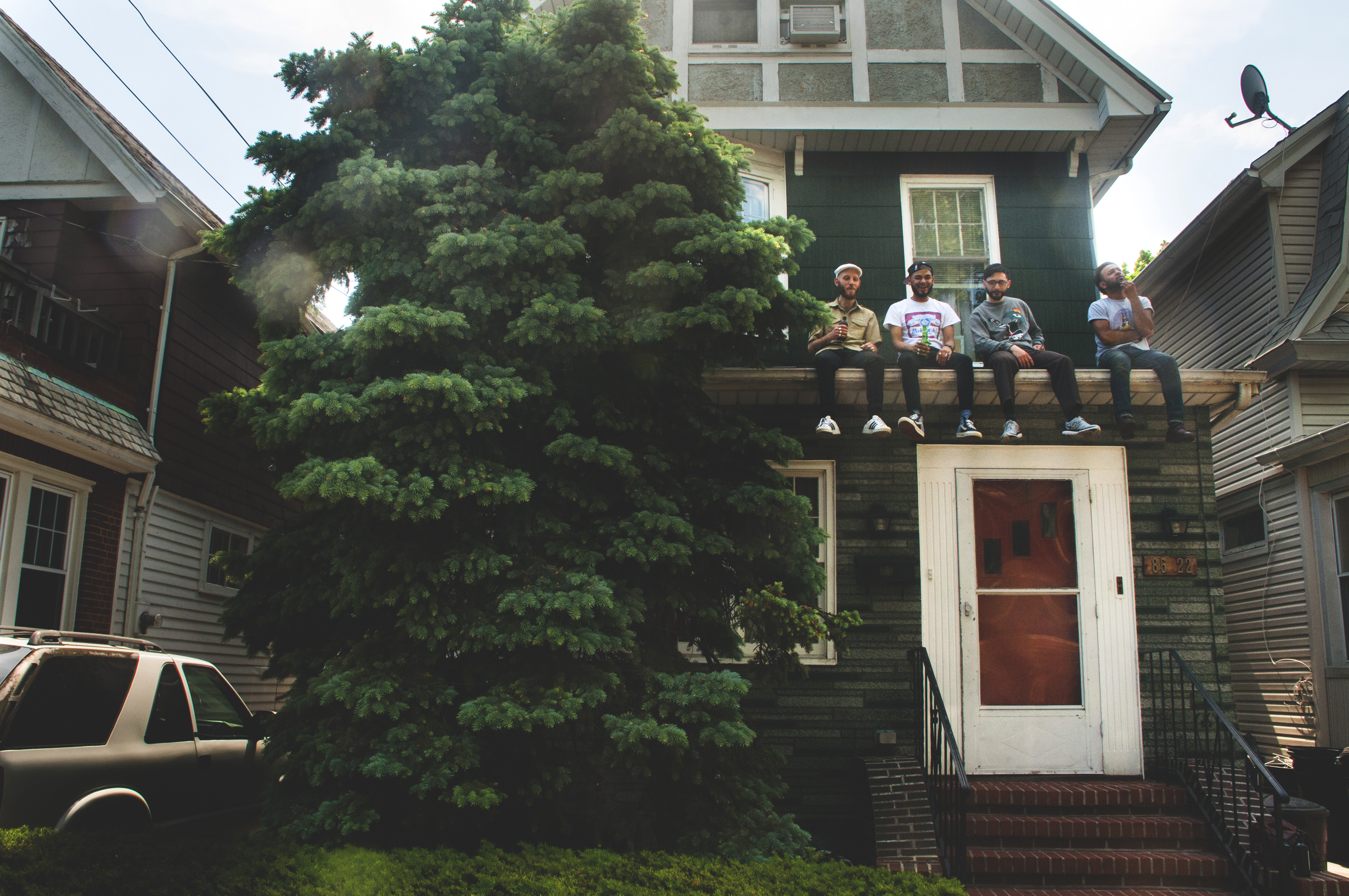 Basement shows and stuff.
C.P.: Yeah. It's a little tougher now—we've been playing for six years, and four years ago it was super-flourishing because Bushwick wasn't as….y'know…
White?
C.P.: [Laughing] Yeah, white. There were DIY venues all over the place and it just started happening. Vic Ruggiero and The Slackers are from New York, some of our heroes, and after [shows] they'd just have after-parties where DJs would play and bands would get together to play shows. That was the start of it. Then before you knew it there was a community of five bands and a ton of collectors just chillin'.
Time after time a DIY venue would close down but the community would just move on to the next spot, y'know. There's this one place since we got together named The Lake, that was later changed to The Swamp, but it's just a good underground venue that we played forever at. It's the only place that wasn't shut down, and they're actually trying to transform the spot into a recording studio now. But every other place that we used to play pretty much got shut down.
I like the idea of reclaiming some of these more populist venues that book jam band stuff with your vintage sounds. The audiences would eat it up. And we need more soul in our party music, because it's missing to some degree.
C.P.: It's totally out there, but people aren't looking for it as hard as they can. It's definitely happening. We're actually a Queens band but we're commonly known as a Brooklyn band because we grew up in that community of Brooklyn rocksteady. But there's no shows happening in Queens. We played a few out here, but really the shows are happening out there.
P.P.: It's important to mention that as a Queens band, we're technically outsiders. We'd go to Brooklyn because that's where the scene is, you know?
Yeah, why are you guys out in Kew Gardens? It's a lovely neighborhood, I've been out there, but definitely a world away, so to speak. Is it just a nice place to come home to?
C.P.: We all kinda grew up around Queens, together, and now we just have an awesome place where we can write music and record in the same place.
R.T.: It's our headquarters.
P.P.: Yeah, I mean, I lived in Bushwick for a while and it fuckin' sucks now, it blows! Here's more residential and chill. And there's a lot more culture in Queens. It's in the air, everywhere you go. If you talk about food or restaurants, let's say you want to go to a proper Indian restaurant. You want to experience the way they cook it at home, and where the restaurants are are densely populated with Indian people. If you want Vietnamese food you're going to go to a place that's densely populated with Vietnamese people.
For sure. If you want Uzbeki food you'll go to Rego Park. If you want Greek Food you'll go to Astoria.
P.P.: Exactly, the real-deal food, no bougie…you know.
"For future records we want people to know that we really have a true appreciation for the music. That what we're writing and what we're coming up with is straight up honest."—Rich Terrana
C.P.: Do you know what The Tea Factory is?
Oh man, my old band used to play shows in their basement. On my birthday one year a neighbor who had been selling ketamine and was watched by the cops finally got raided. I remember a swat team breaking down that side door and coming in, ending the show.
C.P.: O.K.! Well, when my band got together we used to be in apartment 111, and there's still a rocksteady band there named The Far East. We'd had shows there for the last five years—every Halloween we had a show, every New Year's we had a reggae prom. We filled that apartment up so much that there had to be people rotating in and out of it. That's just something you wouldn't know unless you happened to find out about it.
What a crazy spot.
C.P.: Those two basements fucked themselves up. They started having parties every day.
P.P.: It was irresponsible.
C.P.: Yeah, they didn't have jobs anymore and they were just throwing parties to make money. It was their fault they all got evicted. We only threw special parties on special occasions like New Year's and Halloween, no one was gonna give you crap about that. We stopped having them because they got too big for that place!
Well it makes me happy to hear that you guys are feeling inspired. I didn't know Dan, but from everything I've read and even from listening to the record I think it's cool that you guys are carrying on and sharing the work he made with you, and that you're doing it together and your friendship is so strong. Before you guys came in Chuck and I were talking about the power of heartbreak and longing in all of these old songs. Is this a therapeutic process for you now, less than a week away? And what's next? What are you hoping will happen with Nothing More To Say?
R.T.: Well, we definitely want people to notice the work and the study that we've put in. This is the first project of ours that people are gonna hear a lot of, and for future records we want people to know that we really have a true appreciation for the music. That what we're writing and what we're coming up with is straight up honest.
C.P.: One of the main purposes of the band and something we look forward to…the same way that I talk about Vic Ruggiero and The Slackers before. They were my introduction to this music. I listened to a little bit of what I thought ska was, who cares, but when I heard The Slackers I was like, "what the fuck is this?!" I was so intrigued and into it. I started finding their stuff and discovering the artists that they work with. I found out about Alton Ellis through them, and Cornell Campbell.
P.P.: And Doreen Shaffer. They were a gateway band!
C.P.: So they influenced me to dig further into what the actual music is, and I was lucky enough to have that introduction and find out about the music. Unless you dig and find the stuff, it's kind of hard to get it.
[youtube https://www.youtube.com/watch?v=kQoteGK5lnA]
It's not even luck, though. A lot of people are reluctant to go deep and find the threads that trace them back to the artists they like. They either think they know everything already or they feel stupid and don't care enough. But that's beautiful, man. That's the power of good art, right? You can wear your heroes on your sleeve and if you're doing it for the right reasons people will follow you.
C.P.: That's what we want. We want people to listen to our record and think, "What the hell is rocksteady? We thought this was something else!" Anything to get people to listen to the music and learn it the right way, give it the proper respect.
Anything else?
C.P.: We didn't talk about our producer Victor at all, he's kind of an essential member. When we met him while recording our first track with somebody else, we recorded at his studio because we wanted to use his equipment. He would say one or two things and all of us would have lightbulbs above our heads. He instantly got us and helped us do what we wanted to do. So ever since then we've been recording with him, and he's our producer but we kind of treat his as the fourth member of our band.
R.T.: He's also kind of our mentor. He's taught us a lot about playing and instrumentation, and a lot of the sounds that you hear on this particular record have a lot to do with Victor as well. A total marriage between Victor and us. We can't take all the credit.
C.P.: We recorded straight to tape, straight to reel live when we cut the record, so to achieve the right sound for every song, every morning Victor would spend four to five hours just getting the sounds right. It would be different every day because we have different sounds for every song. We recorded this in about a week.
Is there some letting go that has to happen when you cut to tape, too? Maybe you don't realize you're overplaying on a certain riff or phrase or you're too high in the mix?
C.P.: It's crazy how frustrating it is, getting everybody to play perfectly on a take. So it's just a balance everyone reaches where we're like, "this is the best it's gonna be." And also, we had that time frame.
R.T.: In the morning we would come in ready to play it really fresh, but by the time Victor was ready to record and had all the sounds ready, we were exhausted to play the same song over and over again. It ended up in us getting this laid-back, very relaxed sound.
The good thing now is that you've figured out those levels and made it all sound tight. Once you guys start playing out you don't have too much to tweak.
R.T.: Easier said than done.
So no live plans coming up?
C.P.: Right now we're just focusing on marketing the release, you know. It's kind of hard, reasonably, to play. Us three will get together and play some stuff, but we're missing our dude, you know? It's a bump we're trying to get past, and we definitely have a ton of stuff in our back-burner that we could release in our future, just stuff we recorded with Dan and rhythms we have. We have a certain singer that we're thinking about working with, but right now we're just taking time.