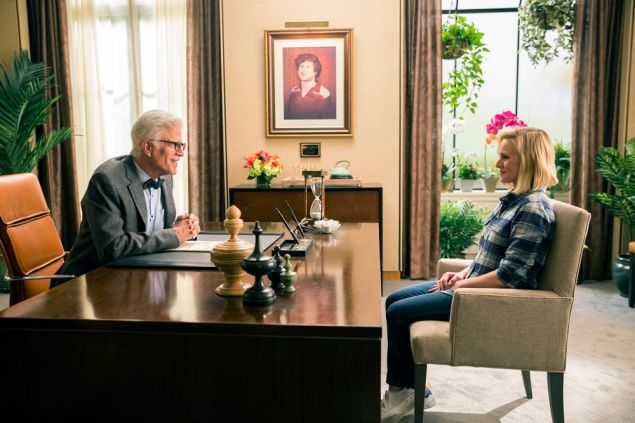 Heaven, or a simulation of it, seems like a good place to jump into watching the new TV offerings this year. So it's rather appropriate that The Good Place kicks off what's come to be officially known as 'Fall TV Premiere Week,' which starts in primetime Monday night.
The quirky comedy breaks the mold of most sit-coms in that it's serialized with each episode ending on a curious note, clearly meant to raise every viewer's desire to see the next installment – and it works. Many show creators talk about their series being like a narrative novel, complete with chapters, but The Good Place takes that a step further, with each episode actually labeled as such.
Creator Mike Schur, the powerhouse producer behind Parks and Rec and Brooklyn 99, has said that he designed the show this way, so it's like viewers are reading a book, with the intent that they can't wait to get to the next chapter. This concept is in direct contrast to the usual set-up of comedy series, with completely stand-alone episodes.
To achieve the serialization aspect, while scenes may end on a funny note, each episode concludes with a question, a mystery or just some overall confusion, all of which begs for continuation of the story, and quite frankly, some answers.
The Good Place is based on the premise that when people die they either end up in 'The Good Place' or 'The Bad Place.' Only the most highly desirable individuals, make it to The Good Place. To get in, is extremely difficult, with every one of the residents having led an incredibly altruistic life prior to their demise.
Which is why newcomer Eleanor Shellstrop (Kristen Bell) is so confused. Eleanor doesn't have an altruistic bone in her body and she has clearly never put anyone before herself.
Eleanor's presence causes chaos, to say the least, for her 'soulmate' in the afterlife, Chidi (William Jackson Harper), and the designer of The Good Place, Michael (Ted Danson). While Chidi agrees to help Eleanor earn her spot in The Good Place, she works hard to keep Michael from finding out that she's the cause of some outrageous disruption (flying bugs, weird fashion issues, etc.) in his idyllic community.
Overall, the series is downright funny and the serialization of it works well. True to Schur's style, there are plenty of outright funny jokes and lots of extremely subtle ones as well. For example, when listing some of the characteristics that are desirable to get into The Good Place, there's the line, 'Was Vegan,' quickly followed by the line, 'Never talked about Veganism unprompted.' The understated humor is just that, hidden a bit so that you may see it and you may not. If you catch in the first viewing, great, if not, it can be picked up on the next go-around. (and yes, there's a lot of TV so you might be saying, 'watch it a second time? What?! A second viewing is not required to keep up by any means, it's just merely a suggestion if you want to delve into all of the below the surface humor of the series.)
Bell is a perfect fit for Eleanor, making her complicated, interesting, a bit repulsive, and very funny. Danson's delivery of every line is spot-on, but why won't it be? He's proven to be one of the funniest men on television for over three decades (yes, three decades!). The real surprise here is Harper. His interplay and reactions to Eleanor's escapades are perfect and as Chidi deals with his own confidence issues, the actor shows that he can play all emotions with equal depth.
The Good Place hits all the right notes – it's fun, funny, unusually believable (no easy task as it's a make-believe world) and an outright continuously entertaining, ride – exactly all the things you want in a 'Good' comedy.
The Good Place begins with a special preview Monday, Sept. 19 at 10/9c and has its official series premiere Thursday, Sept. 22 at 8:30/7:30c on NBC.