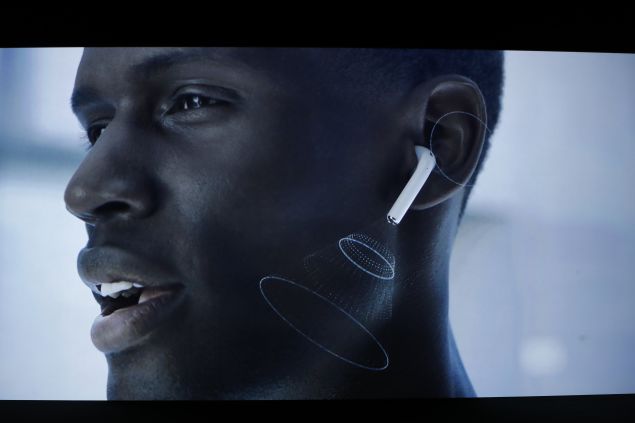 Last week's Apple (AAPL) event featured the same cast of characters trotting out the same types of upgrades with the same repetitive buzzwords to an extremely predictable degree. But the one big question that loomed over the keynote was "what's the deal with removing the headphone jack?" What was a solid rumor was revealed to be a solid fact. There is no headphone jack on the iPhone 7.
Apple's Phil Schiller defended the decision by stating that there are over 900 million devices already using the lightning connection. I'm assuming that number includes the actual iPhones themselves, because I'm a professional audio engineer and gadget enthusiast—and I've never seen a single one (unless you're counting speaker docks or chargers specifically for the iPhone). But at the same time, they also made the argument a non-starter by giving you both a set of Apple lightning headphones AND an adaptor for all standard headphones with your new iPhone 7 purchase.
The problem? As I noted in a while back, Apple headphones historically don't sound very good. They also don't fit very well. If you're a runner—or doing any sort of physical activity—Apple ear buds don't cut it. One Facebook friend commented today how they usually "throw away the earbuds" that come with the iPhone. I save them for emergency backup—and pray I never need them!
Enter the Apple AirPods!
Anyone who follows Apple or listens to the news knows that they are now offering an interesting pair of Bluetooth earphones called AirPods. Like so many Apple products before them, they are shiny, white, all about design and will likely end up in your box of useless shiny white Apple gadgets eventually.
While watching the keynote, I immediately posted to Facebook that I thought these headphones would be an instant flop—for a number of reasons. The biggest complaints from my circle of tech-saavy friends is that the current Apple earbuds are uncomfortable, ill-fitting and don't block out any noise. The AirPods use the same basic physical design as their current offerings. They even seem to throw back to the days of bluetooth earpieces—those glorious 'bugs' that were common for about a minute before no one wanted to be associated with them anymore.  You know the type.
While I haven't physically seen or tried the new AirPods, the design looks identical to what we've been seeing for years—minus the cord, but with a shaft that sticks out like a traditional bluetooth earpiece… but thinner. And they're not connected to each other.  That's right. The design that doesn't fit many people's ears well and aren't suited to movement now come as two small separate parts that will have you looking down the sewer grate crying in no time! Unless you get some iString and tie them together.
Much of what Apple demonstrated seems to exist in almost every other bluetooth set on the market.
So, what about these AirBuds? Do you need them?
No. You probably don't.
There are some interesting new technologies added into these headphones that might eventually make them far more interesting than 'regular' headphones. From Apple's website: "Optical sensors and motion accelerometers work with the W1 chip to automatically control the audio and engage the microphone, giving you the ability to use one or both AirPods. They also enable AirPods to play sound as soon as they're in your ears."
But much of what Apple demonstrated seems to exist in almost every other bluetooth set on the market. The presence of the W1 and accelerometers make me wonder if gaming implementation is a logical next step? I imagine a game on Apple TV where you have to duck or jump—and your earpods become your controller. But again—I imagine these just falling right out of your ears as soon as you start to move around. So again. Flop.
And yet Apple presents their new product almost as if they've just invented bluetooth headphones—and even claim that it takes courage to make the changes it made. To the uninitiated, their new wireless headphones seem like something revolutionary. They are not. In fact, similar if not less technically advanced single-ear Bluetooth headphones have been around for a while. The AirPods use a lot of technology to communicate with each other to provided a unified stereo sound and other cool tricks. But you can go right now and buy a set that work the same way for a lot less money.
Apple demonstrated the AirPods' beautiful design and charging case—when you flip it open they automatically pair to your iPhone. You know what else automatically pairs to the iPhone? Every other set of Bluetooth headphones on the market. Forever. So, what do you do? Well, the choice is yours. There are Bluetooth headphones for every budget. Or you can just pair a Bluetooth adaptor to your phone and plug in your most cherished set of expensive headphones—cable free. Audiophiles will argue about which version of Bluetooth the headphones and phones are running or what the data rate is and what data is being lost in the wireless process. These are all valid points. However, for the sake of this article, let's assume you're an average person who rides the subway or walks the city streets to work and just wants to enjoy music without spending thousands of dollars.
With that in mind, here are two different takes on Bluetooth headphones I can recommend. I'll list several others that friends rave about as well.
Sol Republic Shadow After working my way through many wired headphones, I settled on the Sol Republic Relays as my favorite. However, after a while (like so many wired headphones) the connection started to break and I was left with one ear working. A friend suggested it was time to cut the cord and eliminate that problem.
Having had luck with the Sol Republic Relays already, I ordered a pair of their wireless offering: the Shadow. I was not disappointed! Costing just $85, I find them to have a crisp high-end without being shrill, a rich low-end without being annoying, and pretty smooth mids. These are the neckband style that wrap around your neck insuring your headphones aren't going anywhere. I'm not a runner, but one of the complaints from runners about this style of headphone is that they move around the neck too much during active times. Because I'm not a runner (or even athletic), my neck is really thick—so I find them to be a little shorter than I'd like them to be. Perhaps one day my neck with be less beefy and I'll have an easier time reaching the buttons that live in the neckband.
NO, Apple didn't invent wireless headphones—and NO, all is not lost if you run out and get the iPhone 7.
Like many bluetooth headsets and adaptors, this set includes volume up and down buttons, a microphone in the neckband for phone calls, and a single button that can be pressed to answer calls or stop/start music or videos, "long pressed" to engage Siri, double clicked to skip a song or triple clicked to go back a song. The buttons are located on the right side of the device. Directly underneath them is a single power on/off button that requires a good two to three second pressing to engage.
Underneath the left side, you'll fine a rubber flap that reveals a micro USB charging port. The battery life on these headphones is great! I'll start the week fully charged, use them for my commute back and forth to work for about four days and then they usually die just as I need them to get me through mowing the lawn! A voice will prompt you by saying "Battery low—charge now." But by then it's too late. It gives you just enough time to accept the fact that soon you won't be enjoying music. I've found that they charge pretty quickly, thankfully. They are also sweat and water resistant. Handy for when you're working out or caught in the rain. Not too shabby at about half the price of Apple's AirPods.
Bose QuietComfort 35 Wireless Headphones These are a solid over-the-ear option.  Being Bose, they sound like… well, Bose! I find all of their over the ear headphones to have a slight hollowness in an otherwise rich and "pretty" sound. For $349, these tout 20 hours of battery life on a charge. That's impressive, considering it's also handling noise canceling through microphones both inside and outside of the cups. There are buttons along the underside of the right ear for all the standard features: play/ pause/ answer calls/ skip/ go back/ volume up/ down.
One unique feature of the Bose QuietComfort 35 is that they can also be used as WIRED headphones! That's a nice bonus for using them with devices that might not have bluetooth! Sure, these cost nearly double the AirPods. But they're tried and true. 
"But what if I already have really amazing wired headphones and I don't want to have to get new ones?"
Well, you can use the above mentioned lightning to mini plug adaptor that Apple is including with the phone and carry on just as you were…  OR, try one of these Bluetooth adaptors:
Sony Ericsson MW600WH This is one of many options for turning any headset into bluetooth. I've found this Sony to be the best sounding for the cost—and the most feature rich at just $84! It's the size of a lipstick container, but thinner, and it has a built-in clip to keep it on your collar, shirt, or wherever you want. On one end you have the 3.5mm jack for any pair of headphones you want. The sound quality is great! Somehow, it introduces a degree of warmth and bass that isn't present in a wired connection—but in a positive way.
It has a rocker button on one side to start/ stop or skip/ backup music. The other side features a touch sensitive pad to control volume. It's very smooth and responsive, and I've never had an issue with it being engaged by anything other than my finger. I also like that the volume control DOESN'T have audio feedback.  There's no beeping sound as you change volume, unlike the Sol Shadow and other units. On the top of the unit is a call answer button with a phone icon on it, and the microphone nearby.  The call quality to and from this device is very clear!
The face of the MW600WH also has an OLED display, which will show you what song is playing or who is calling. You can connect two different devices to this unit, and switch between the two by the onscreen display and slider control. It can even show you how much battery power is left. Pretty slick!
But wait! There's more! The package also contains a set of Sony headphones. While I thought they would be terrible, they're actually pretty good! They have a short cord, which is nice if you're clipping the set to your lapel. And they've even thrown in an FM radio tuner in case you want to enjoy streaming music the old fashioned way. This comes in handy when your data plan is almost used up but you gotta have your music. It claims up to 10 hours of music playing time and 520 hours of standby time.
Jumble A2DP Further down the food chain, but at a significant savings, is the Jumble. It's a small circle—a little larger than a quarter, with a clip on the back. The top of the clip has the 3.5mm jack for your headphones on one side and the charging input on the other. It's a proprietary pin charger, so don't lose it! At a cost of only $19, this gadget is not nearly as feature rich as the Sony above, but it does the trick… for the most part.
It has a built in microphone for calls, but I've had several callers complain that they couldn't understand me or I was breaking up. Keeping the device closer to the phone helps—but, at that point, you might as well pick up the phone and talk! I also find this unit to be particularly susceptible to break up while walking through New York City. Perhaps it's just not powerful enough to overcome the interference.
The top of the gadget has a center button for play/stop, Siri engagement or answering calls. It has independent buttons for volume up/ down and track skip/ previous. The feel is solid and easy to navigate, despite it being plastic.
While not nearly as impressive as the Sony Ericsson MW600WH, for less than $20 you can have a decent bluetooth option—especially if you're just using for walks around the neighborhood or on your commute. It claims 10 hours of usage time per charge. I also found the initial pairing of this unit to be challenging- but once it was done, I didn't have to worry about it again.
So, there you have it. Four Bluetooth solutions to demonstrate that NO, Apple didn't invent wireless headphones—and NO, all is not lost if you run out and get the iPhone 7. There are so many more options to choose from—neckband sets like the popular set from Harmon Kardon (another solid brand in the audio world) to over the ear sets from Sony and so many others. Shop around. Find what sounds best to you in your price range- and enjoy your tunes! That is once Apple fixes the mess that is ITunes. But that's a story for another time.