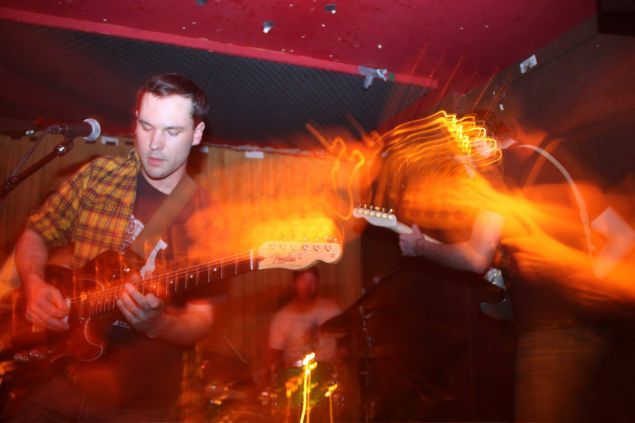 The genre-ripping breadth of can't-miss shows going down across this city in October dispels the naysayer's cry the scene is in a downward spiral.
Naturally, the renaissance has been spearheaded by a familiar face: John Zorn. His downtown avant-garde hotbed The Stone is hosting five essential residencies this month (Ches Smith, Brian Chase, Ava Mendoza, David Krakauer and Brian Marsella) and on October 22, Zorn brings his Bagatelles-fest to National Sawdust for a marathon. So dig in and get weird.
Ches Smith Residency at The Stone from Tuesday, September 27 through Sunday, October 2 
[youtube https://www.youtube.com/watch?v=PTsqfym8Dig&w=560&h=315]
Powerhouse drummer and Brooklyn mainstay Ches Smith launched his week-long residency at John Zorn's East Village performance storefront The Stone on September 27, but a few days remain to absorb his transcendent deconstruction of metal, jazz and minimalist music.
Smith is as protean as they come: he slays the traps with punk-jazz mettle in Marc Ribot's Ceramic Dog, composed ghostly minimalist experimental jazz for pianist Craig Taborn and violinist Mat Maneri on The Bell, his debut as leader for the famed ECM label earlier this year and helms big-band super-group These Arches with Tim Berne, Tony Malaby, Mary Halvorson and Andrea Parkins.
Tonight's sets come highly recommended: at 8 p.m. Smith digs into the drums/electronics splatter of his solo project Congs for Brums followed by the prog-metal salvos rattled off by TANKS, his cooperative trio with guitarist Brandon Seabrook and bassist Toby Driver (Kayo Dot). Click here for full calendar.
Nebadon (Dave Buddin/ Dominika Michalowska/Kevin Shea) at Muchmore's on Friday, October 7 with Silk Purse, Cutout Lover and Dead Companionship
[youtube https://www.youtube.com/watch?v=n5iinthiklI&w=560&h=315]
Serialist composer and provocateur David Earl Buddin is a beer-guzzling, chain-smoking trainwreck who happens to be one of Brooklyn's most forward-thinking mad scientists of experimental music plus he's the gravely-throated troubadour/pianist ringleader of honky tonkin' bar-band American Liberty League.
In Nebadon, Buddin joins forces with alien vocalist/synth stabber Dominika Michalowska (of no wave-inspired noise-rock wrecking crew Chaser) and Talibam! drummer Kevin Shea for bell ringing, chiming, dinging and bleeping electronics and percussive-splattered canvases designed to trip out minds. Silk Purse, featuring members of defunct noiseniks Sightings, headline yet another terrific bill at Muchmore's.
Earth Tongues Ohio Album Release + Aki Onda at HappyLucky no.1 (734 Nostrand Ave, Brooklyn) on Thursday, October 13
[youtube https://www.youtube.com/watch?v=4Qc9341C-fY&w=560&h=315]
Brooklyn is a haven for experimental outliers obliterating sound boundaries with the mashing of jazz with metal. Experi-metal grinders and doomers like Weasel Walter, Child Abuse and Pulverize The Sound have led that earsplitting and mind-bending charge along with doom jazz trio The Gate.
Tubist Dan Peck is deep into that mix: he counts membership in The Gate, runs his own label Tubepede, squelched out tuba doom on Solo LP and is 1/3 of primal noise terrors Earth Tongues with trumpeter Joe Moffett and percussionist Carlo Costa. In 2015 the trio served up the punishing minimalism of Rune and for their follow-up for Neither/Nor Records, Earth Tongues have ventured further into the noise-jazz abyss with monolithic double album, Ohio, a 90-minute free-improv slow-burning sprawl of brutal clang and clatter, cathartic drone and skronk wallop. 
Holy Sons at Union Pool on Thursday, October 13
[soundcloud url="https://api.soundcloud.com/tracks/283969228″ params="color=ff5500&auto_play=false&hide_related=false&show_comments=true&show_user=true&show_reposts=false" width="100%" height="166″ iframe="true" /]
Holy Sons is the solo alias of Emil Amos, best known as the drummer of bass/drums doom metal mystics OM and post-rockers Grails and Lilacs & Champagne.
As Holy Sons, Amos trades the sticks for singer/songwriter guise, experimenting with medium-fi downer, yet melodic doom folk. On overlooked gems such 2014's The Fact Facer and 2015's Fall of Man, both for the Thrill Jockey label, he aced moody finger-picking atmospheric Americana twang.
Amos keeps the streak going on the forthcoming In The Garden (due October 21 via Partisan), a '70s songwriter Bonnie 'Prince' Billy-esque strum-heavy and lush stroll that finds the drummer turning into quite the tunesmith in his embracing of classic and folk-rock. 
Brian Chase Residency at The Stone (Tuesday, October 18 through Sunday, October 23) / Pale Horse on Wednesday, October 19
[youtube https://www.youtube.com/watch?v=fkLhGvN3ezA&w=560&h=315]
With his freewheeling improvisational gigs all over town with likeminded luminaries such as Zeena Parkins, Chris Pitsiokos and Ron Anderson plus alum status in Kid Millions' Man Forever percussive army, the experimental pedigree of drummer Brian Chase has arguably eclipsed the superstar band he's been in since 2000: Yeah Yeah Yeahs.
Now John Zorn has tapped Chase for a residency at his Avenue C avant-garde space The Stone and the lineup is A-list. Chase will be free-improvving alongside Lee Ranaldo, Alan Licht, Susie Ibarra, Andrea Parkins and Peter Aaron, just to spout off a few of what will be otherworldly sets.
Pale Horse—Chase's doom metal-inspired Spaghetti western-noir drone trio with Nosh and Noise-monger Jeremiah Cymerman and cellist Christopher Hoffman—makes a rare appearance in support of their most recent sound deconstruction, Badlands. (Click here for full calendar.)
Hoffman keeps pretty busy himself: he's a vet of Henry Threadgill Zooid, who plays The Village Vanguard from September 27 through October 2 while his Trio (with bassist Adam Hopkins and drummer Craig Weinrib) hits The Rosemont two sets on Tuesday, October 18. Hoffman also plays a solo set at Happylucky No. 1 in Crown Heights on October 27. 
Oozing Wound at Shea Stadium on Wednesday, October 19 with Electric Hawk, PC Worship & Shimmer
 [youtube https://www.youtube.com/watch?v=L_-f0gAk568&w=560&h=315]
Thrill Jockey Records counts Helen Money, The Body, Liturgy, WrekMeister Harmonies and SUMAC as metal-centric renegades dissecting the genre and unleashing their own unique version of holy black, doom and classical music-influenced hell.
As for Chicago's Oozing Wound, they take their beer-sloshed cues from '80s-era sludge-dipped thrash-metal in the vein of Slayer's Reign in Blood, early Metallica and Seattle grunge rife with the DIY hardcore ethos and a dose of black humor.
Noisy screamoid keepers like 2013's Retrash and 2014's Earth Suck trashed NYC coke-snorting posers ("New York Bands") and featured ragers like "Everybody I Hate Should Be Killed" and "Hippie Speedball." True to slacker form, Oozing Wound have named their new joint Whatever, Forever, a nihilistic slab of Rambo-obsessed lightspeed thrash with a centerpiece that sums up the band's creed: "Everything Sucks, And My Life Is A Lie."
National Sawdust Presents: John Zorn's Ultimate Bagatelles Marathon (10 Hours—20 Bands—45 Musicians) on Saturday, October 22 at 2 p.m.
[soundcloud url="https://api.soundcloud.com/tracks/248380383″ params="color=ff5500&auto_play=false&hide_related=false&show_comments=true&show_user=true&show_reposts=false" width="100%" height="166″ iframe="true" /]
Downtown avant-garde jazz titan John Zorn has presented "The Bagatelles"—300 new compositions he wrote and collected in a book of music—at both The Stone and at iconic jazz spot The Village Vanguard performed by heavyweights from his stable.
Now Zorn is crossing the river to Williamsburg's experimental music and art space National Sawdust for a Bagatelles extravaganza over ten hours featuring twenty bands and forty-five musicians.
Zorn himself will be making an appearance as his Bagatelles Quartet (trumpeter Dave Douglas, bassist Kim Cass and drummer Kenny Wollesen) will kick off the bacchanal at 2 p.m. followed by an avant-jazz freak's dream lineup including, but certainly not limited to, Mary Halvorson Quartet, pianist Kris Davis, electronics guru Ikue Mori and Jamie Saft Trio. Stick around until 11:30 p.m. as the festivities conclude with what promises to be a loud as hell mind-fuck by tech-metal assault unit Hollen-voi, better known as Matt Hollenberg-Nick Millevoi Quartet. 
Ava Mendoza Residency at The Stone (Tuesday, October 25 through Sunday, October 30)
[youtube https://www.youtube.com/watch?v=w3bp1uA2dRY&w=560&h=315]
Brooklyn-via-Oakland guitarist Ava Mendoza is a fret-hopping slayer dealing in The Process of Weeding Out-era prog-punk Black Flag and Nels Cline'ian punk-jazz with the strings bruise of no wave.
Mendoza's residency will be a clinic in dizzying shreddery as Unnatural Ways (her trio with bassist Tim Dahl and drummer Sam Ospovat) fittingly celebrate the Tzadik release of We Aliens at Zorn's experimental hub The Stone. Other must-see sets include a rare set by the notes 'n' beats-crazed Quok (with Dahl and extreme-music drummer Weasel Walter), chaotic noise-rock goons Chaser, Quartet (with Walter, Battle Trance saxophonist Matt Nelson and bassist Max Johnson) and a duo set that pairs Mendoza with violist Jessica Pavone. Click here for full calendar. 
Honorable mentions: 
Kris Davis + Craig Taborn at Roulette on Sunday October 2
[bandcamp width=100% height=120 album=1050554170 size=large bgcol=ffffff linkcol=0687f5 tracklist=false artwork=small]
Piano vanguards Kris Davis and Craig Taborn converge for a set of originals and free-improvisations to commemorate the CD/DVD release of Duopoly. Davis' duet collection finds her not only paired with Taborn but also Bill Frisell, Julian Lage, Tim Berne, Don Byron, Angelica Sanchez, Billy Drummond and Marcus Gilmore.
Glenn Branca: The Third Ascension and World Premiere of The Light (for David) at Roulette on Saturday, October 8 
No wave maverick and iconoclastic symphonist Glenn Branca presents two works this evening at downtown Brooklyn experimental venue Roulette: the third installment of The Ascension and "The Light (For David)," a piece he wrote in the wake of the death of David Bowie. 
[bandcamp width=100% height=120 album=997941125 size=large bgcol=ffffff linkcol=0687f5 tracklist=false artwork=small]
Sound It Out: Hank Roberts Sextet at Greenwich House Music (46 Barrow Street) on Saturday, October 15
The consistently excellent Sound It Out Series continues with downtown scene vet, cellist/composer Hank Roberts and his all-star Sextet featuring Dana Lyn, violin; Mike McGinnis, reeds; Brian Drye, trombone; Jacob Sacks, piano; Vinnie Sperrazza, drums.     
The Claudia Quintet at The Cornelia Street Café on Thursday, October 20 (8:00 p.m. and 9:30 p.m.)
The Claudia Quintet, the longtime collective helmed by composer/drummer John Hollenbeck, abide by no particular jazz template. On Super Petite (Cuneiform Records), Hollenbeck leads accordion/pianist Red Wierenga, clarinetist/tenor saxophonist Chris Speed, bassist Drew Gress and vibraphonist Matt Moran on a set of sublimely constructed and elegant shapeshifters that zigzag, bend and jerk with wild abandon. 
Happy Place at Bowery Electric on Wednesday, October 26 with TAK, Fond Han
Happy Place, an all-instrumental two-guitar, two-drummer mathy jazz group led by composer and percussionist Will Mason, channel the cerebral and mind-altering metal-prog-classical complexities of Zs and Don Caballero on Northfield, due out Friday October 28 on Exit Stencil Records.
Brain Tentacles at (le) poisson rouge on Sunday, October 30 with Gorguts and Intronaut
An experi-metal supergroup of sorts, Brain Tentacles features members who've logged time in Yakuza and Bloodiest, Keelhaul and Discordance Axis and Municipal Waste. On their self-titled head-bludgeoning debut for Relapse Records, the guitar-less trio colossus shell out demented jazz/metal firestorms invoking John Zorn's Painkiller and Naked City.