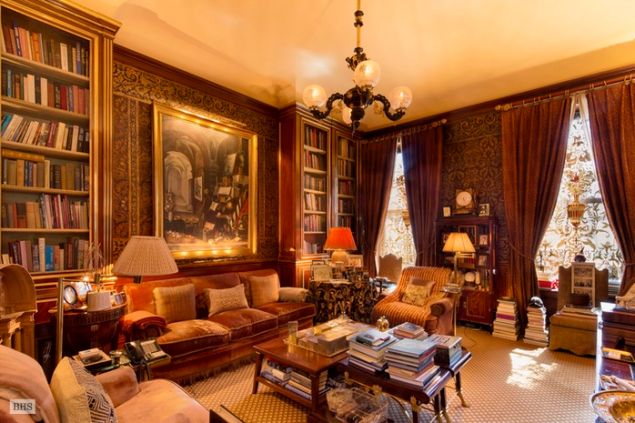 In April, a Fifth Avenue duplex was listed for a staggering $120 million, taking the title of most expensive listing in all of New York City.
The 12,000-square-foot co-op at 834 Fifth Avenue belonged to late financier John Gutfreund (he earned the nickname "King of Wall Street") and his wife Susan. Gutfreund, the CEO of Salomon Brothers until he was forced to resign in 1991 in the midst of the Treasury bond-trading scandal, passed away in March, and shortly thereafter his wife put the 20-room apartment for sale. Understandably, she felt the home was simply too large for just one person.
After five months sitting on the market, the price tag just dropped to $96 million. It's still a hefty bundle of cash, to say the least, despite falling out of that exclusive little group of $100 million-and-up listings.
The limestone building's co-op board is notoriously difficult, though—they reportedly don't accept any financing, and we assume there are only so many individuals with the cash to spare in order to make such a purchase.
The corner duplex is rather incredible, if not just for the mammoth proportions. It is located on the seventh and eighth floors of the Rosario Candela-designed building, and it boasts  a "palatial" entry gallery with 24-foot ceilings, classic original moldings, and a marble staircase, so says the listing that Brown Harris Stevens brokers John Burger and Richard Ziegelasch are sharing with Key-Ventures brokers Craig Dix and A Laurance Kaiser, IV. There is one library on the first level, as well as an upper level dining room (just one would not be enough) decked out in 17th-century leather walls and two fireplaces.
The 1,600-square-foot master suite is larger than many an apartment in this city, and includes a sitting room and a fireplace. There's an original 1930s marbled and mirrored bathroom as well as an additional bathroom and dressing room, of course.
The Gutfreunds purchased the apartment in the 1980s, Burger told The Wall Street Journal, noting that a buyer would "likely update the apartment," but "many people will appreciate and want to preserve the grandeur of what is there." Well, now that the potential buyer may save approximately $24 million, we think they could definitely invest in some renovations.