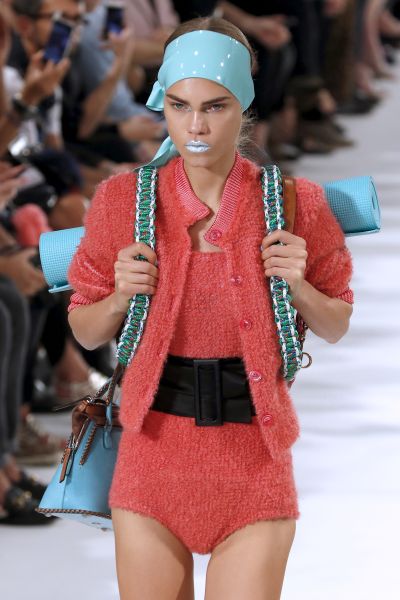 We never thought we'd type these words, but it appears Maison Margiela is getting into the athleisure scene. For proof of this unlikely course of events, look no further than the brand's Spring/Summer 2017 show, colorfully pieced together by the crazy mastermind known as John Galliano.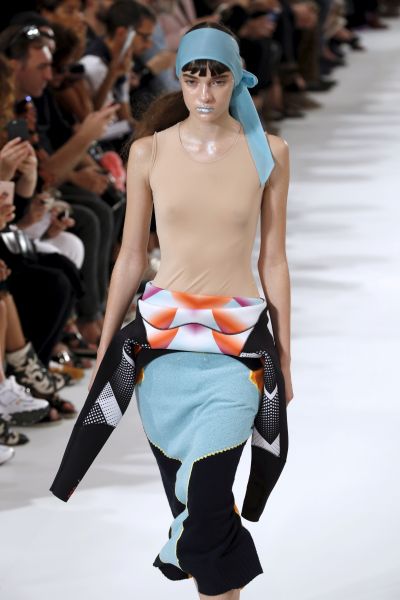 Among the twisted and bead-embellished suits, sporty details began emerging, starting with shoes. A boot/sandal hybrid, in a chevron floral print, was finished off with a split toe detail and a rubber sole–fit for hiking a rocky terrain (or the city's streets). Then there was a bright wetsuit, peeled down the model's body, with sleeves flopping from hip to knee. Swishy anoraks with bird prints were used as layering pieces or they stood on their own, in an upgraded, buttery suede iteration.
But the pièce de résistance was a singular teal yoga mat, rolled up and haphazardly tucked into the straps of the model's backpack, which we imagine was stuffed with leggings, a tank top and an environmentally-friendly water bottle. Much like a busy girl who hits her yoga class before a day at the office, a little blue purse dangled somewhere between the yoga mat and the backpack. At times in life, when squeezing a fitness class into a packed schedule is necessary, we all try master the 'chic bag lady' look.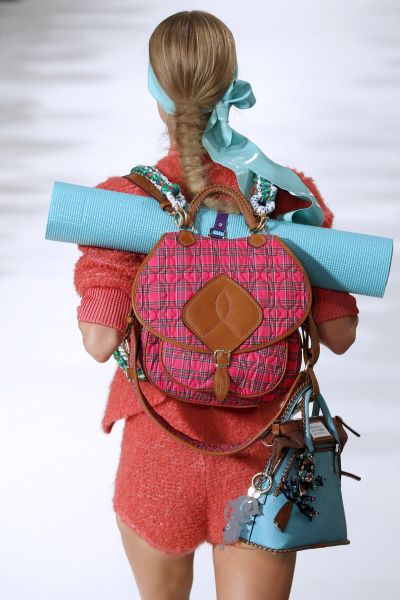 With her modern day sweater set (composed of a fuzzy pink cardigan and and coordinating body suit) and almost practical headband, save for being made of latex, this runway getup could be a realistic depiction of something worn by a millennial with a ClassPass account. Please take note, this might be Galliano's most sensible look to date.