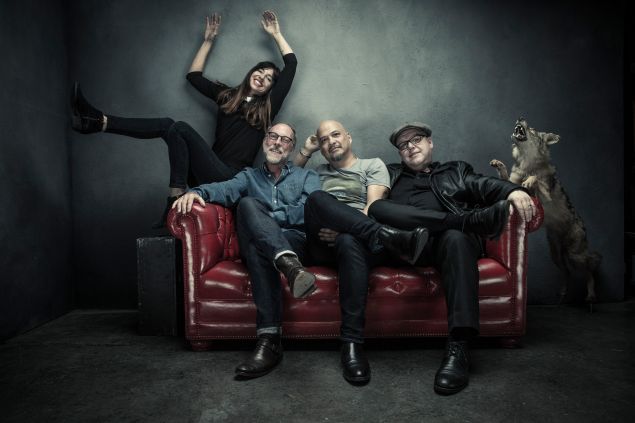 Journalist Jon Fine recounted his salad days as the guitarist of late-'80s post-punk band Bitch Magnet in his excellent memoir, Your Band Sucks, with equal helpings of nostalgia and futility. There were two types of bands back then, he reasoned—the bands that were happy with just enough success to scrape by, to live and to tour, and the bands that were reaching for something more.
Fine included the Pixies in that latter category, even though their humble origins at UMASS Amherst made them a quintessential "college rock" band and their first LP, Surfer Rosa, was produced by legendary post-punk deity Steve Albini.
This is because the Pixies' success had eclipsed those origins by the time that frontman Black Francis dissolved the band via fax in '93—tensions had been high between Francis and singer/bassist Kim Deal, but it was that giant, international gig opening for U2 on their "Zoo" tour in '92 that eventually brought things to a boiling point. The British press, which gave many more words  to American indie bands back then than any stateside publication, largely bolstered the Pixies to cult levels of reverence and adulation that would finally greet them when they reformed 10 years later (even Bitch Magnet benefitted from the love of UK press).
"Alternative music? We never thought we were, we just knew we were different," Pixies guitarist Joey Santiago told me recently. "It's probably because we didn't give a shit. This is our thing, this is who we are, you either like it or not."
"This is our thing, this is who we are, you either like it or not."
Santiago's words remind me that Pixies never really cared much for independent or punk cred in the first place—all these genre labels ("surf rock meets The Stooges with their signature loud-quiet-loud dynamics" comes close) and all these expectations of cred were pushed upon them by others.
Their surrealist imagery, extraterrestrial and Native American motifs all came from the mind of Black Francis, real name Charles Thompson, who goes by Frank Black in his solo career. Though obsessively studied and pored over by fans, the weird lyrics were still coming from the mind and adventures of a blue-collar college kid—a trip to Puerto Rico, reflections on the time his parents spent at an evangelical church, falling in love with The Cars.
That their current existence since 2003 has lasted longer than their original run from 1986-1993 earned Fine's ire, too, as he resented the fact that Francis was cashing checks from reunion shows without any new material to show for it of consequence.
This gaze from the aging post-punk community might be part of what led Kim Deal to eventually quit the band in June 2013, when the Pixies brought in another Kim to replace her (former Muffs guitarist Kim Shattuck) and finish out their European tour before she was dismissed that November. It certainly played a part in the mounting pressure for the Pixies to release new material, a series of EPs eventually released together as the full-length Indie Cindy in April 2014. That album wasn't generally treated as a success, and Francis now calls it a transitional record.
Transitional because, 13 years after reuniting, the Pixies have a badass new bassist and a fantastic new album called Head Carrier.
Joining the band in early 2014 but now an official Pixie is Paz Lenchantin. Most known as a founding member of A Perfect Circle, Lenchantin's storied career has seen her doing everything from acting as touring bassist for Nine Inch Nails to writing string arrangements for Queens of the Stone Age. But it's her unique style of not over-playing her instrument that made Lenchantin the ideal vessel for continuing Deal's sound in the Pixies while still pushing the band into unexplored territory.
"I just pick the perfect note to make an impact and keep it simple," she told me, "and that trained me to make bass lines that were simple and melodic but important."
That's what both her and Santiago were talking about when they described a sense of "lightness" in the band that seems to have been missing for some time. The songs on Head Carrier suggest this is the case, too. Straight up rock 'n roll takes root on songs like "Classic Masher" and "Bel Esprit", while love songs invade with the Pixies trademark creepy gender dynamics ("Oona").
Francis' surreal nods to both world history and the history of the Pixies also come to the fore, as the album's loose motif chronicles the gnarly death of the first bishop of Paris, Saint Denis. "'Head Carrier' is the story of Saint Denis, as told from the perspective of one of his collaborators, Luther," said Francis in the press release. "Saint Denis is also the most famous cephalophore. Then, I was reading a lot about how plaster of Paris was first commercially manufactured from the same place that Saint Denis met his demise, which was Montmartre. That was a nice way to tie in a lot of that imagery."
[youtube https://www.youtube.com/watch?v=-SLgXBLQA2M]
Derided though Indie Cindy may be, Santiago insists it was a crucial step toward the Pixies taking inventory of what made them so special.
"We could not have made [Head Carrier] like this without exploring something new with Indie Cindy," he said. "The initial concept of [Head Carrier] was, 'Charles, let's just go back to your acoustic, I'll go to my electric, and let's have that yin and yang back.' But that was a thought process, meaning let's just go back to the fuckin' past and embrace who we are."
That yin and yang was important to Santiago not only as a compositional tool, but because it gave his piercing, understated lead guitar riffs a jarringly pronounced role that defines much of those early Pixies recordings. Much like Lenchantin, Santiago has moonlighted as a composer in the past—during the band's hiatus he composed music for both Weeds and the criminally underrated Judd Apatow college sitcom cancelled after just one season, Undeclared.
"On my instrument, I'm the boss of it," said Santiago. "It's a paintbrush that I get to have. Charles has the broad strokes, I make these little splatters. Scoring film, after a while they take these paintbrushes outta ya. We're all these individual primary colors, then you mush 'em together, those circles, and it turns into that kinda color, lucky, lucky, lucky."
Maybe that luck also played into Lenchantin eventually joining the band; she certainly remembers it that way.
Santiago first called her in 1997 when he was looking for a bassist to join him and his wife Linda on tour with their project, The Martinis, which became Lenchantin's first-ever tour.
"My relationship with Joey is, he's a time traveler," she said with a laugh. "It's really important to be around time travelers if you're a time traveller yourself.  [When] Joey called me in 1997, before I started with Perfect Circle and no one knew who I was, he knew he was calling a future Pixie. If time is going backwards and forwards, and you're a time traveller, he must have already known! As time went forward and backward simultaneously, it clashed the day that we met. I feel that all of my life I was made to fit in this exact scenario, and something that just happened fluidly, fluently. They're just my type, you know?"
Santiago agrees that Lenchantin fits the band and their personalities seamlessly. "She's a Pixie now, it's not by any accident we got along. It takes a special person to integrate with these three stooges," he said. "She came in [as] the fourth musketeer. Let's introduce ourselves in this fashion, because we're having fun."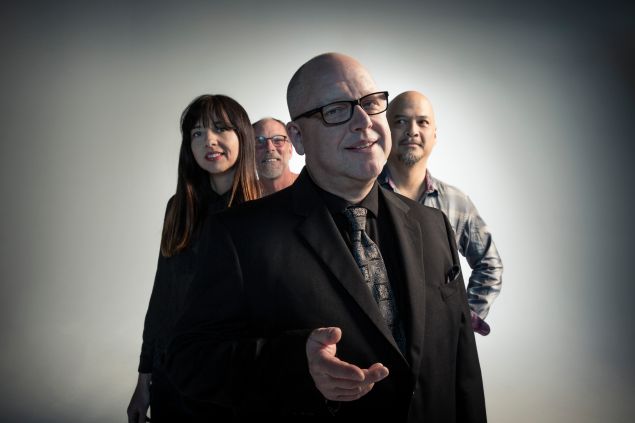 That level of lightness affected the band's time together, too, Santiago says, and not just while they were playing music. "Having dinner together, listening to music together, and getting more of this, 'hey, where are you comin' from tonight, what's your headspace?' " he said. "We're talking about just listening to each other's tastes. And that's part of the work."
But when did Lenchantin officially become a Pixie? Was it during her first shows in January 2014, or during the recording of Head Carrier? She remembers her very first rehearsal with Santiago and drummer David Lovering, very vividly, as the moment her transformation started.
"It was in L.A., and my mom was dropping me off because my car was in the mechanic, I felt like I was going to school or something, in the passenger seat with my little book," she said. "I was there a little bit early, and I stood in front of the door for a while. I took a deep breath, turned the knob and when I opened and stepped through the door I just started to shrink in size and my ears started to point out and I was looking at my hands and I thought, I am turning into a Pixie!"
We laugh at her indulgence in a surreal and undoubtedly special moment for her, which, not unlike the songs she's been playing, often blend the fantastical and the banal.
"[Making 'Head Carrier'] was a thought process, meaning let's just go back to the fuckin' past and embrace who we are."
"Luckily we're blessed in this world with a left brain and a right brain, and we exercise both sides as much as possible," she said. "Then there's a point where the left brain and the right brain decide to have a conversation, and it sounds like a Pixies record. It's all kinda trippy, man."
You get the sense that Lenchantin's precise manner of remembering this moment—wistful, goofy but reverent—is the energy at work when Santiago describes having fun with the band again.
That same energy is also at work on one of Head Carrier's most talked about tracks, "All I Think About Now", which Lenchantin sings in the style of her sonic ancestor, Kim Deal. Lenchantin came up with the melody and asked Francis to write lyrics, telling him she wanted him to write a thank you letter to Deal that she could sing. It's the kind of emotionally naked moment you wouldn't expect from Francis, but having such a powerful female presence in the room, the words emanate equally from Lenchantin's heart and mind, too.
"It made sense that the reason I'm even here about to sing a song is because of Kim, really, and the tip of the hat [is] for everything that she's done," said Lenchantin. "Granting me this experience, the most exciting and most important I've ever been for the 20 years of my profession, it seems right."
These are the signs that Lenchantin's work on Head Carrier feels much more essential than that of a hired gun or a temporary replacement—she's a Pixie now. "It is easy, because I've done all the hard work," she said. "When I met them I felt ready. It's just something that became effortless, like learning a language. You start dreaming about it, then you adapt yourself in it. It feels like a continuation. It feels like I was part of the history as much as part of the future."
Head Carrier is out September 30 on PIAS America.