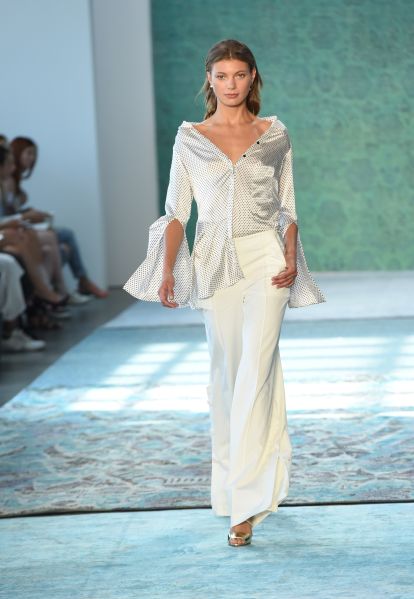 You may have noticed a new silhouette crop up over the past few seasons, with billowing pant legs, shirt sleeves that balloon at the elbow and dresses that have strings hanging off in a haphazard manner. Simply put, these are clothing fit for a life of leisure, one where the stress of child care and commuting is absent.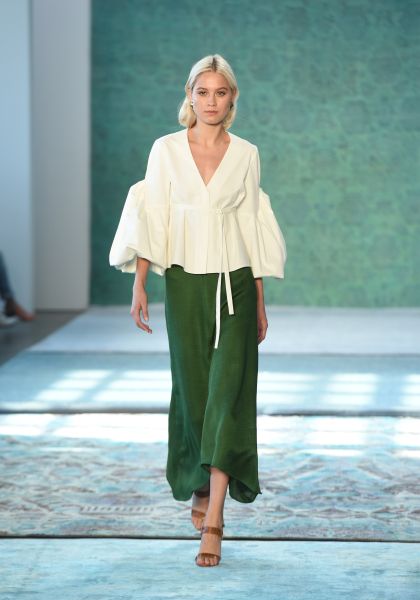 Such was the feel at the Hellessy show today, where designer Sylvie Millstein proved her prowess at reinventing that aforementioned silhouette, season after season. Her Spring/Summer 2016 iteration included a memorable red silk dress with a fiery ruffle, a vivid green skirt paired with a voluminous–albeit string laden–white blouse and some complicated pant/skirt combinations. Her models teetered across aqua rugs (clearly from ABC Home & Carpet) on Christian Louboutin heels, though some donned suede Adidas with their sweeping hemlines. But regardless, these were outfits that would make even the most banal task seem difficult. Driving a car with sleeves that extend well past your fingertips is not an option, so Uber is the only way.
Hellessy is a favorite among jewelry designer Jennifer Fisher and Eye Swoon blogger Athena Calderone. While yes, these are working women, they are also members of the upper crust. But so is Millstein, who had gigs in buying at Chanel and marketing at Givenchy before striking out on her own as a designer. She often invites press into her sprawling Soho apartment, which she shares with her financier husband, Lee Millstein, and their two children.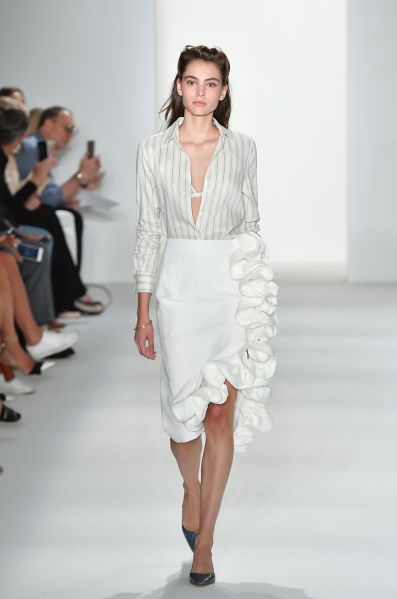 Other designs on the runway that is fit for the life of a rich lady were seen at Brock Collection. A white leather military-style dress was one signifier of this, as were purple knee-high crocodile boots and a white skirt with a distended ruffle down the side. The styles were refined, yes, should there be any type of staining matter around, say, red wine, these pieces would be goners. Tom Ford's exuberant dinner show had some pieces that could be grouped into this category, but that comes as little surprise. A louche patchwork fur coat will cost you nearly $20,000 while a leather top and skirt outfit will run you $5,300. Though if you're interested (and your bank account will allow it) all of those pieces can be purchased now.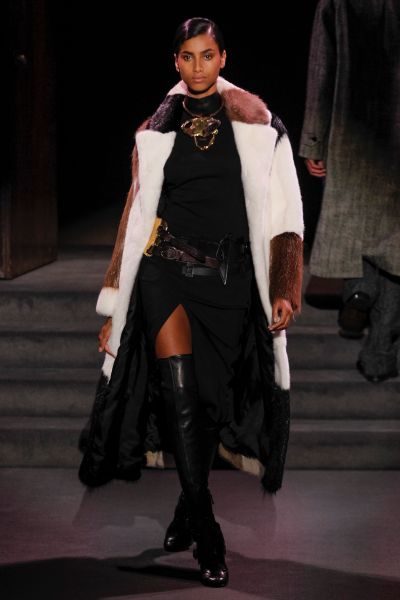 Keep in mind, rich lady fashion is not necessarily bad. These styles don't recall ladies who lunch in boring pastel suits and hairspray helmet hair, but rather modern women who are unencumbered by daily chores. They are women with perfectly tousled hair, impossibly high heels, a career and, of course, money. Consider this is a new form of aspirational dressing, but one that's not too far out of reach. Sure, your kids might trip over your billowing trousers and you may accidentally drag your excess sleeves through a bowl of hummus, but if you look good–and rich–what's the harm?