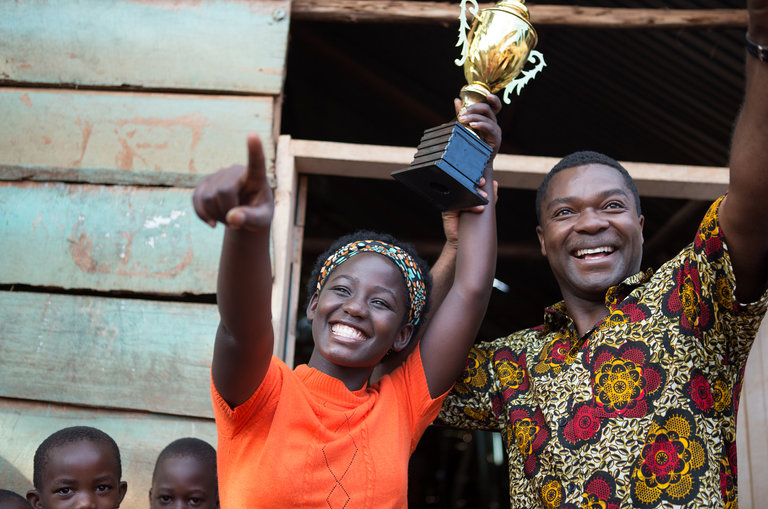 Another entry in the heroism-against-odds genre of feel-good movies about little people who triumph over adversity, Queen of Katwe was such a huge audience favorite at the recent Toronto festival that Disney has decided to spread the word early. Good reviews and topical urgency (this is the year for black themes) should guarantee success, although the follow-the-dots Disney blandness, in my opinion, robs it of the edge it needs.
---

QUEEN OF KATWE ★★★
(3/4 stars)

Directed by: Mira Nair
Written by: William Wheeler
Starring: Madina Naiwanga, David Oyelowo and Lupita Nyong'o
Running time: 116 min.

---
India's Mira Nair (Salaam Bombay!) pulls all the Kleenex out of the box in this weepie about Phiona, a bright, penniless girl with no formal education in the dismal Uganda slums of Katwe who becomes a world chess champion. The story is true, and the message it delivers—with care and help, the disenfranchised can become role models and inspire others—is unabashedly sentimental, but in a good way. Warm up to its miraculous facts and only the coldest heart will remain unthawed. When first we encounter Phiona, played with no-frills directness by newcomer Madina Nalwanga, she's on the verge of becoming a chess champion, and the film flashes back to show her childhood beginnings. At 9, she works long hours selling vegetables in the filthy streets and markets for her widowed mother Harriet (Oscar Winner Lupita Nyong'o from 12 Years a Slave) to pay for food and clothing for her two younger brothers. She can't read or write, and she's so ignorant she doesn't even know how to use a knife and fork, but even with no education, no future and no opportunities for escaping her dead-end life in shantytown, Phiona discovers, through the amazed eyes and guidance of impassioned missionary Robert Katende (David Oyelowo, deservedly acclaimed as Martin Luther King in Selma), who discovers that she has an astounding talent for the game of chess.
While her mother struggles against eviction, her older sister narrowly escapes a near plunge into prostitution with an older man, and her home is destroyed by a flood, she learns stamina and grit from the strength and faith of her long-suffering mother and the guidance of her friend Robert, who sacrifices his own chances for advancement to become her coach. Phiona refuses to be swayed or distracted from her ambition to grow from prodigy to prizewinner, and the movie catalogues her progress—from her first trip away from home without having ever slept in a bed with a real mattress, to the subsequent trophies and failures of competitions in Sudan and Russia, until she becomes the youngest person to represent Uganda in the history of the chess Olympiad, walking away with both international fame and enough money to buy her family a new house with electricity and indoor plumbing. Director Mira Nair juxtaposes the internal emotions of her characters with the colorful customs, teeming life, overcrowded conditions and constant sacrifices they make to get one step ahead.
There's a lot of ho-hum talk of rooks and kings and checkmates, but character development is not neglected, thanks to the fine, dedicated cast. The story is familiar but touching; the relationship between the girl's setbacks and her coach's unquenchable belief in her untapped intelligence is explored without high drama; and chess becomes a metaphor for adventure, escape and self-fulfillment. Oyelowo balances vigor with kindness and wisdom, making a stock character three-dimensional, and the beautiful Lupita Nyong'o is a guiding beacon of hope and maternal pride in an underwritten role enriched by her presence. A rewarding family film indeed, at a time when we badly need one.