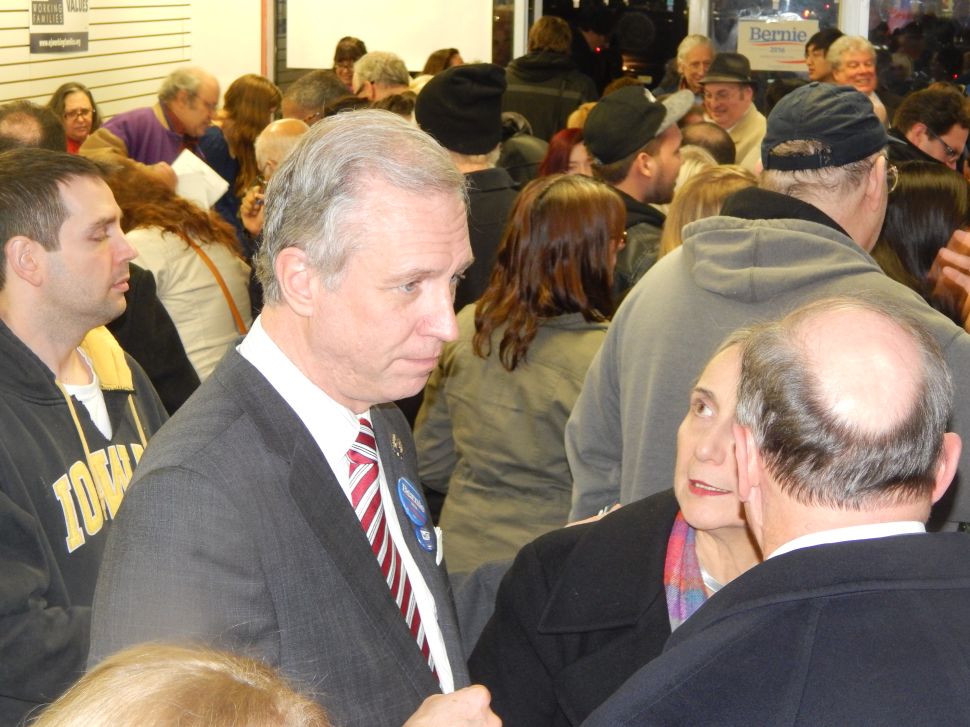 John Wisniewski is the only person coveting Drumthwacket who has the split personality of a comic book super hero: backroom bureaucrat by day in Trenton with a roster of public contracts, and Bernie Sanders progressive caped crusader by night in the snowy wilderness of New Hampshire.
He's also the only would-be successor to Gov. Chris Christie who might be able to convincingly argue the reconciling of those seemingly discordant narratives in his much celebrated role as Bridgegate investigator.
Now, by most accountants The Wiz has as much chance right now of capturing the governorship as The Wiz of 1978 has of being remade with Michael Jackson in the lead role.
Look at recent developments.
Phil Murphy continued to gobble up endorsements in Bergen this week, trying to burnish on the ground power as he commands the lone lead singing spot in New Jersey's ongoing gubernatorial hootenanny. He and his troops know that's about to change, of course, with more voices bucking for head statewide diva, as state Senator Ray Lesniak prepares to kick off his campaign  later this month, and Senate President Steve Sweeney (D-Gloucester) and Jersey City Mayor Steven Fulop ready their own November launches.
But what about Wisneiwski, the faded former state party chairman who became a sudden silver-haired Democratic Party sensation with his performance as grand inquisitor during the Bridgegate hearings, who then saw the light in 2016 as a Bernie Sanders bongo drum player after a lifetime of smoky, GN3-monogrammed  backrooms?
A poll that came back to Democratic establishment players over the summer showed Wisneiwski – on the strength of an exhaustive tour of duty on the Rachel Maddow Show in 2014 – in second place behind Sweeney.
Wiz allies see that poll providing the strongest suggestion of where the establishment will go if Sweeney stumbles on the statewide trail, or should the senate president prove to be a non-starter as he attempts to pilot his NJEA-encumbered chariot into a clear 2017 lane.
Joe D?
Please, a source insisted when PolitickerNJ asked earlier today.
What about Assembly Majority Leader Lou Greenwald (D-Voorhees), routinely the winner of the lower house's Don Johnson-lookalike contest, whose late mother was a dear friend of GN3?
Not happening, the source said.
Part of Norcross's unspoken problem with Sweeney, in addition to those much-publicized NJEA wars  and teeth gnashing and hand wringing in Essex County over Sweeney's prospects, is the double barreled prospect he faces of having to get reluctant troops to get up for a South Jerseyan for governor, and then turn around – whenever a U.S. Senate seat becomes available – and get up for the statewide Camden candidacy of little brother U.S. Rep. Donald Norcross (D-1).
Given the population disparity between South and North and the North's big Democratic Party registration advantage, how can GN3 go to the well twice for South Jersey, first for Sweeney and then little Norcross, in two extant statewide contests, and not leave behind the impression that those northern bosses who get behind such a two-fer don't feel utterly jobbed?
It's a problem.
Sweeney has spent a year trying to demonstrate that he's bigger than his own region, force feeding a steady diet of northern bodies to the front lines of the already long in the tooth 2017 gubernatorial contest.
He's had the likes of state Senator Sandra Cunningham, Senate Majority Leader Loretta Weinberg, Senator Bob Gordon, Senator Paul Sarlo, and Senator M. Teresa Ruiz, not to mention Senator Nellie Pou and Senator Linda Greenstein, all dutifully pulling Ben-Hur rowing duty on the oars to make a grand impression of statewide, and specifically importantly, North Jersey support.
But even his staunchest allies fear mobilizing that strength for a battle that hardens civil war lines, causes some casualties, bloodies the field, and leaves northerners queasy with the idea of having to again  don the war paint for another bland white guy from South Jersey when Norcross Pere comes knocking on those squat door frames in the tooth by jowl residential wilderness that is North Jersey.
The North-South divide has effectively frozen government, leaving all major issues unresolved until after the 2017 contest.
Enter Murphy.
The former Goldman Sachs executive is making his strongest effort to date, essentially fighting a two-backed opponent in Fulop and Sweeney and trying to keep at least one set of shoulder blades pinned long enough to make himself a viable establishment option. Ideally, he wants Norcross and Bergen County Democratic Chairman to agree to end the war, with the former teasing a Murphy endorsement out of the Bergenite so as to spare himself having to endure the empowerment of arch-enemy Fulop, with Stellato spared the sight of the lumbering Sweeney in his so-called sophisticated little Bergen towns.
But two sources have told PolitickerNJ that Wisniewski would be the establishment play if Sweeney goes face down in the arena.
Not Murphy.
Not Joe D.
Not Greenwald.
The South would need Greenwald promoted to speaker in exchange for backing a northern like Wiz, and would feel sufficiently confident of Wiz's fast phone call answering prowess to cut that deal.
They just don't know about Murphy.
They can't control him.
They could call and he could finish a golf game before answering.
With Wiz, they could be assured of an instantaneous pick up.
The trouble is Wisniewski remains unpopular.
Essentially, no one likes him except a handful of people, who begin every conversation about why they like him with a disclaimer that everyone else dislikes him.
"He wouldn't have support in his home county," a source today said of Wisniewski, waving him off as someone who took every opportunity at expanding his own political footprint and – with an icy patrician demeanor and above average intelligence among jealous party types – ensured a shrunken political footprint.
The Bridgegate Trial should be precisely Wiz's moment to dust off the Superman cape and take a victory flight around the state.  Instead, a Google search of his name on the fourth day of proceedings proves less than inspiring.
Statehouse wise-guys have ribbed Speaker Vincent Prieto (D-Secaucus) about the tough spot in which he finds himself this week, leading the northern wing of the party on behalf of Hudson's own Fulop and maintaining at least a frowning displeasure over the GWB scandal, while having to keep Wisniewski stabled. If the speaker gets too animated with press releases, he does nothing but furnish a platform for Wiz.
And Prieto wants Fulop, not Wiz, for governor – so much so that he's all but duct-taped Greenwald at leadership meetings.
The question then becomes whether Wisniewski can dust off the backroom version of himself, the guy who may never have gotten drunk on shots and passed out with his colleagues in the vestibule of the Amtrak chamber train, but who always had a jot of information to drop in the  bosses' cocktail glasses.
Will it give him the traction he needs in Essex, for example, amplified by a public portfolio of distinction – including the credulity-stretching stint as Bernie Sanders's progressive chest thumper in New Jersey?
Or will those leaders now irritated by having to pound the pom poms for Sweeney simply see one more reason to grumble behind the scenes?
Wiz is the Plan B option right now, according to establishment sources, but Sweeney is giving him little room to move, stepping up operations and walking through those quaking voices in his midst – and, yes, walking through the fundamental contradiction voiced by even those close allies who still see his candidacy haunted by of the as-yet decided Norcross for Senate play.