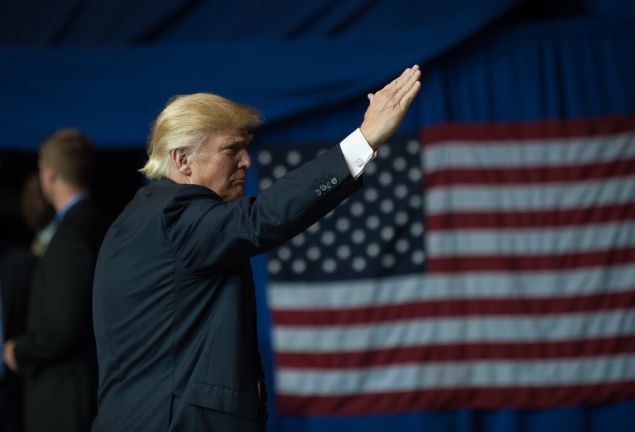 He called them "killers" and "special interests" and dismissed their multibillion-dollar companies as "peanuts"—but the financiers assembled for the Economic Club of New York's breakfast this morning liked his plans to slash taxes and regulations so much they gave him a standing ovation anyway.
The stiff pinstriped suits and slicked-back hair gathered in the Waldorf Astoria seemed a universe removed from the denim-clad crowds Donald Trump has thrilled in stadiums across Middle America. But the developer reiterated his usual broad populist appeals in his signature deep-Queens accent.
"This is a worker's country," the controversial Republican candidate proclaimed in one of his many unscripted interjections. "They have been forgotten. We are not going to forget them. They have built our country. We will not forget."
The teleprompter malfunctioning, the candidate worked off notes on the podium in front of him. Applause rarely exceeded a hesitant patter until he dug into the meat of his proposals: chucking a large but vaguely defined array of environmental and business regulations, including President Barack Obama's coal-cutting Clean Power Plan; encouraging domestic fossil fuel extraction and production; transitioning from seven tax brackets to three and reducing the top marginal rate from 39.6 percent to 33 percent; and cutting the business tax rate from 35 percent to 15 percent.
"I know that's what you've been waiting for," he said, as the last proposal drew whoops from the audience—an enthusiasm he only won once again. "The regulation industry is absolutely one business I will put an end to on day one."
Additionally, the candidate proposed allowing companies to completely write off new factories and manufacturing equipment.
This would lead, he claimed, to an annual economic growth rate of three-and-a-half to four percent. Such explosive expansion, along with the elimination of undescribed tax deductions and loopholes, would supposedly allow the plan to decrease rather than increase the federal deficit—even with Trump's promises to beef up the American military and to exempt Social Security, Medicaid and Medicare from promised parings of government spending.
The Economic Club, consisting largely of Wall Street types, seemed far less energetic about the candidate's protectionist trade stances. But he vowed to include them when he sought to renegotiate or eliminate the North American Free Trade Agreement and President Barack Obama's as-yet unapproved Trans Pacific Partnership.
"Who negotiated these deals? Anybody in this room negotiate these wonderful deals?" he asked, provoking a ripple of awkward laughter. "I will use our greatest business leaders and finest negotiators—and I will tell you, some of them are in this room right now. Not all of them, but some. And I know who you are. And, honestly, we're going to be calling on you. Because we have people negotiating the biggest deals in the world—far bigger than your company deals. Your company deals are like little deals by comparison. We have—it's true, you look at some of these trade deals, hate to say it, but your companies are peanuts."
They did, however, seem to approve when Trump promised to penalize China for intellectual property theft and trademark violation.
Democrats have mocked the mogul for assailing free trade even as he manufactures many of his branded products in foreign countries. In addition, his running mate, Indiana Gov. Mike Pence—who introduced him today—voted in favor of NAFTA as a member of Congress in 1993.
Hillary Clinton, he claimed in a sit-down conversation with hedge-fund billionaire John Paulson afterward, would transform America into a "large-scale version of Venezuela," referring to Nicolas Maduro's collapsing oil-based socialist regime. He both attacked her as an advocate of "wealth redistribution" and as an agent of the ultra-rich.
"The only thing she can offer is a welfare check, that's about it," he said, claiming her tax plan and environmental regulations would devastate U.S. industry. "She wants to shut down the coal miners just like she wants to shut down our steel mills and our steelworkers."
Disclosure: Donald Trump is the father-in-law of Jared Kushner, the publisher of Observer Media.