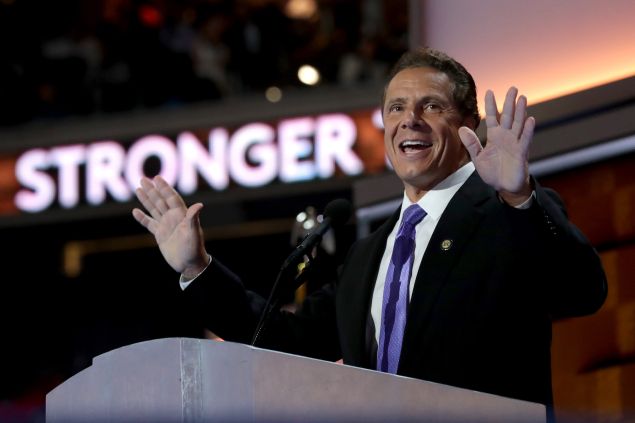 When United States Attorney Preet Bharara decried the culture of corruption in Albany, he simplified how things work in the state capital—particularly with respect to the state budget—by using the evocative phrase, "Three men in a room." Since then he has devoted his considerable talents to convicting two of those men. Now he is closing in on the third.
Last week 10 people—two close aides to the Gov. Andrew Cuomo, a state official, and six friends-cum-contributors to the governor—were indicted on corruption charges. Bharara does not deploy his prosecutorial powers frivolously. Though he achieved the conviction of Assembly Speaker Sheldon Silver and Senate Majority Leader Dean Skelos and jailed a gaggle of lesser-elected officials, Bharara admitted his investigation into Cuomo's abruptly shuttered anticorruption Moreland Commission yielded "insufficient evidence to prove a federal crime."
Much of the Buffalo Billion money went to Cuomo supporters in the form of contracts, and some of it found its way back to the Cuomo aides.
The charges against former aides Todd Howe and Joseph Percoco (often described as Mario Cuomo's "third son") were detailed in a 79-page complaint. Also charged is state official Alain Kaloyeros, a specialist in nanotechnology and the founding president and chief executive officer of the SUNY Polytechnic Institute in Utica.
The alleged scheme involves kickbacks from developers who received state funds for a project known as the "Buffalo Billion." In an effort to attract high-tech companies and jobs to the blighted upstate region, the state pumped in more than $1 billion. Much of that money went to Cuomo supporters in the form of contracts, and some of it found its way back to the Cuomo aides. Howe, a lobbyist and member of the Governor's inner circle, has pleaded guilty to accepting hundreds of thousands of dollars in bribes. In exchange for what are presumed to be reduced charges and lenient sentencing, he has agreed to be a cooperating witness.
That brings us to the third man in that proverbial room, Gov. Cuomo himself. Though he escaped indictment, he cannot be taking much comfort in dodging a bullet. As Bharara sharpens his focus and marshals his forces, it is looking more and more like there could be three men in that cell. That is such a shame for our great state. But we are encouraged that justice will be done, and hopeful that Albany's pervasive culture of corruption will somehow be unwoven.