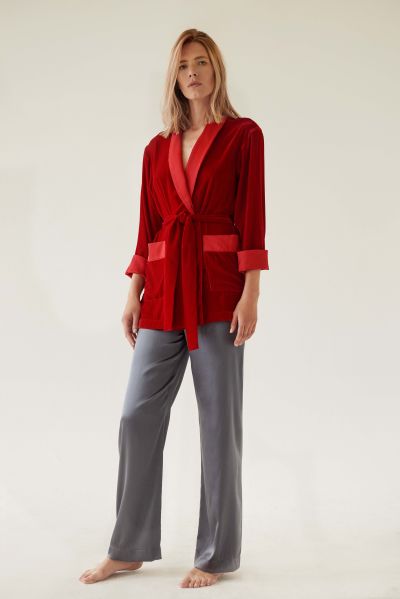 Here's a secret for staying in bed for an extra 15 minutes each morning: wear your pajamas out of the house! Really, it's a simple trick to getting a bit more shut eye before your day actually has to begin.
Designers across the board have started including pajama-inspired pieces into their ranges, and for good reason. Not only are these styles effortless, but they are endlessly comfortable, too.
By no means are we suggesting that you wear a college t-shirt and see-through leggings to your Thursday morning meeting, but rather, consider investing in smart, tailored pieces that can transition from the sheets to the streets (with perhaps just a little welcome encouragement from a steamer).
Spring for a sleek smoking jacket 
Channel the entrepreneurial vibe of Hugh Hefner (but please, leave behind the sleaziness) with a smoking jacket. This lush velvet version from Sleeper will be the epitome of careless cool when paired with a white t-shirt, a simple gold chain and a pair of slim jeans. Elevate the look even further with a pair of pointy suede heels.
Printed pants are a no-brainer

These trousers emblazoned with creepy crawlers are guaranteed to creep out your coworkers, but in the best way possible. This crisp silhouette will look smart with a menswear inspired loafer, preferably in an aged brown leather. And when you get home from work, you can definitely crawl right into bed, without changing your pants.
Slink into a nightie

Before you discredit this style for being too sexy for the office, hear us out. We'd like to see this admittedly sultry slip with a cozy knit, preferably that of the ribbed knit variety. Seriously, the chunkier the sweater, the better. And try to stay away from a cardigan; an oversized crewneck style will offer ample coverage for you to feel 9-to-5 appropriate.