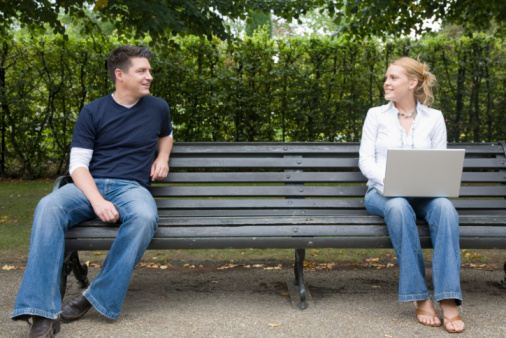 One engine of hatred is a failure to see the hated as human. Broad, shared hatred justifies individual violence, organized violence and oppressive policies. I am talking about America's past, how our society intentionally promoted the view of some peoples as less than human to justify horrible things, including the entire institution of slavery, the internment of Japanese-Americans and the mass incarceration of black people beginning in the Nixon era, to name just a few. I am also talking about what is going on now all around us. In this bitter context, the simple act of talking to strangers takes on unexpectedly dynamic power and possibility. Spontaneous conversations can open space for curiosity and respect in the face of differences. They push us to see each other as fully human and, in that way, become genuine political acts that can incrementally stack up to real change.
Hundreds of sociological studies over the course of decades about an idea called the "contact hypothesis" have shown with an immense range of nuances that overall, positive experiences with people different than you lead to greater understanding and tolerance for the entire group. Recently, researchers revisited these studies and focused on the previously disregarded effects of negative experiences. They found that the weight of a negative interaction is profoundly heavier than a positive one. To increase tolerance in our society as a whole, we need to create an overwhelming density of positive experiences. This election cycle has given us much to overcome.
Donald Trump's campaign has churned up and legitimized startlingly vocal, viral expressions of hatred by a voting block composed primarily of white men. The internet is awash with authenticated videos documenting the verbal and physical violence Trump supporters direct against nearly every American they are not: Muslims and Muslim Americans, Mexicans and Mexican Americans, immigrants and potential immigrants, black Americans, women.
But we can fight the climate of hate with our own quieter voices. Because no matter how kind and open we think we already are, no matter how strongly we believe in tolerance and peace, we must practice those values, not just believe in them.
No matter who wins the election, we must think about our failure to see, acknowledge, ask, listen and welcome. The alternative, what we must practice and model for our friends, neighbors, co-workers and children is to look around us at humans, individuals—not just categories like immigrant, black, white, male, female, stranger, friend. I mean really see other people. Recognize their existence with your eyes, your voice. This may not convert rabid Trump supporters, but it can dramatically change the everyday experience of those around us.
Talking to a stranger isn't difficult to do. It doesn't take much time—even a shy person can do it. There are easy ways to begin a conversation with a stranger. You can make eye contact, say hello, notice something positive and pay a compliment, triangulate—find an interesting thing near you and the stranger, and close the triangle by tossing out a comment. A woman recently raved about my sunglasses as we both waited at the corner for a light to change. By the time we'd finished crossing, we had rolled through where I'd gotten them, the fact that I didn't live in that neighborhood anymore and our mutual experiences of gentrification in our long NYC lives. Thirty seconds max, a stranger becomes a person. Even the briefest acknowledgement counts and sustained conversations can shift the ground for both of you. If a polite overture isn't reciprocated, if it is met with silence or annoyance or befuddlement, don't be discouraged. Don't let a negative experience overpower your positive ones. You have made an open, trusting gesture in a fearful world.
Kio Stark is the author of When Strangers Meet: How People You Don't Know Can Transform You (Simon & Schuster)