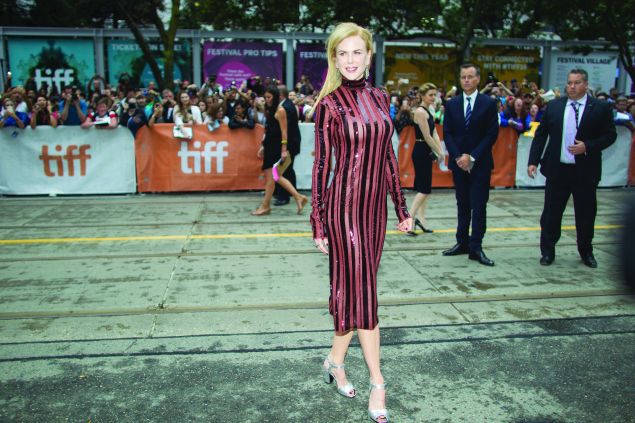 Nicole Kidman exits her press conference through one door, and Ewan McGregor enters his press conference through another. If you attend either one, you miss 16 new films showing in between. That's the way it goes at the 41st Toronto International Film Festival, a.k.a. TIFF. Streets are closed to all but pedestrian traffic, posters flap in the breeze, rock bands assault the senses and chaos reigns, but unlike Cannes, nobody boos, and unlike New York, nobody's in a hurry. When Canadians see a queue, at least 100 people get in it. The projectors run from 9 a.m. to past midnight, and 5,000-plus critics, buyers, distributors, publicists, filmmakers, superfans and what passes today for what they used to call movie stars live on popcorn, pizza and Haagen-Dazs bars, for 11 days of happy nonstop cinematic hedonism called TIFF. The watch cry is "I can sleep when I'm dead," and even though the quality is down this year, the spirit is high in an attempt to prove it.
[Toronto] is truly the city where every moviegoer can say, "I lost it at the movies," and mean it.
From humble beginnings in 1976—when three movie buffs showed 127 films listed in a one-page program book to 145 members of the press, and Jeanne Moreau was the only celebrity who showed up—to this year's circus, where the program book runs 450 pages accompanied by a 76-page screening guide, every working actor with a union card and 1,200 journalists rub elbows with an estimated public audience of 473,000, this is truly the city where every moviegoer can say, "I lost it at the movies," and mean it. With 397 movies to choose from, as soon as you arrive, you have no alternative but to hit the ground running and see some of them. There is something for everyone—documentaries about terrorism, a crusading grandmother, a porn star in India, the hidden cameras and midnight raids of the secret police in Cold War East Berlin before the Wall came down, a secret surf club on the Gaza Strip in the middle of "the world's largest open-air prison," migrant children fleeing dictatorships, aging disco queens in Mexico and Iggy Pop. Natalie Portman is showing her new film in which she plays Jackie Kennedy. In Colossal, Anne Hathaway plays a binge drinker attracted to a Godzilla-type monster. Sigourney Weaver is here with two movies, both major disappointments. In the expensive, overproduced British children's epic A Monster Calls, she's a battered, aging grandmother struggling with a fake accent that comes and goes, and in the harrowing rape-revenge horror (Re)Assignment, she's an insane plastic surgeon who involuntarily changes the sex of a male murderer to teach him what it feels like to be a female victim of sexual assault. Make a note: You have my permission to skip them both.
If TIFF is traditionally the place to gauge the pulse of things to come, then buckle your seat belts. In the year ahead, we're in for a bumpy ride. Lots of movies about losers addicted to heroin, rock and roll and shopping. I skipped something called Wasteland, which (I'm not kidding) runs seven hours and 29 minutes, to endure Christine with a disturbingly realistic performance by Rebecca Hall as the Florida TV news anchor Christine Chubbuck, who committed suicide on the air in 1974. The Birth of a Nation is a scalding, blood-soaked depiction of the 1831 slave uprising led by Nat Turner that massacred scores of white plantation owners in the antebellum South. Almost impossible to watch, but I couldn't take my eyes off the screen. Hoping for a good old-fashioned horror film to break the tension—or, at the least, a biopic about Lon Chaney Jr.—I stood in line to catch Werewolf. It turned out to be 78 minutes of another kind of horror—homeless junkies trying to survive in a harsh world of methadone clinics and bureaucratic government indifference by cutting people's grass with a rusty, broken old lawnmower. Not many laughs at TIFF. Not much glamour, either. After dodging a stampede of paparazzi trying to snap Dakota Fanning, I had to smile at the following exchange between a pair of mature guys with snowcapped hair behind me: "What I wouldn't give at this moment to see Lana Turner coming down the street."
"Or a movie with Lana Turner!"
With a surfeit of weirdness from Lebanon, Luxembourg and Latvia that delivers early looks at genre pictures about gangsters and delinquents, softcore lesbian sex porn disguised as art, a Russian costume epic about dueling, and commercial shopping mall Christmas releases with boldface names from Hollywood and Vine, the good stuff is surprisingly hard to find, but there are rewards where you least expect them. I really liked Lion, a true story with Dev Patel, Nicole Kidman and Rooney Mara, about a 5-year-old boy in India, accidentally abandoned by his brother in a railroad station, who miraculously journeys from the hellhole of Calcutta to an island off the coast of Australia where he is adopted and raised by a white couple, goes to college and takes 25 years to find his way back home. I was also stunned by Wakefield, a brilliant adaptation of a short story by E. L. Doctorow with a performance of enormous depth and sensitivity by Bryan Cranston as an unhappy suburban commuter who drops out of society, undetected for years as he watches the family he left behind from a storage space in the attic above his own home.
Two of this year's most popular selections with critics and audiences alike are Snowden and La La Land. The unveiling of Snowden before it opens commercially at home was greeted with a thunderous ovation after its premiere at Roy Thomson Hall, signaling a major step forward in the controversial career of director Oliver Stone. It's a meticulously researched docudrama about Edward Snowden, the National Security Agency whistleblower and former CIA undercover agent responsible for one of the biggest security-document leaks in the history of America's secret intelligence operations. It documents a decade in his life, traces his involvement in surveillance from naive nerd to seasoned world player, a patriot inspired to join the armed forces to defend his country after 9/11, fight the global war on terror and get wise to the gung-ho tactics drummed into his head by his CIA instructor (Rhys Ifans) to cast a worldwide dragnet over foreign countries to prove "most Americans don't want freedom—they want security." But somewhere in the middle of his NSA job in Hawaii spying on China, came a wake-up call: The agency was also tapping into the emails, phone records and bank accounts of 3 billion innocent American citizens in government transgressions that were illegal and unconstitutional. Stone doesn't take sides, but it is clear that he believes Snowden's next actions were justified.
Stone is such a firm and accomplished director that without taking a moral stand of his own, he still keeps the trajectory rolling.
What makes Snowden's story controversial is the question: By doing what he thought was the right thing, did he also endanger American security? Where do you draw the line between the public's right to know, espionage and treason? Is Snowden a hero or a villain? Opinions have polarized the country. Some people believe exposing the bad guys is honorable, but what if, by definition, your country labels you one of the bad guys yourself? The movie makes you think before you decide which side you're on. Some achievement. Forced to spend the rest of his life exiled in Russia, if Snowden returns to his homeland, he faces a trial for treason and an almost certain prison sentence. Stone is such a firm and accomplished director that without taking a moral stand of his own, he still keeps the trajectory rolling. At any rate, Joseph Gordon-Levitt's portrayal of the conflicted leading character is overwhelming—the all-American preppie in blue oxford button-down collars and tortoise-shell glasses who realizes early his power is not on the battlefield (he gets tossed from the military when he falls out of his bunk bed and breaks his leg) but in front of a computer screen. Shailene Woodley is a strong, persuasive presence as Snowden's liberal girlfriend whose vitriol against the Iraq War triggers some of his early political awareness and conversion to left-wing idealism, and there is excellent support from a perfect cast that includes Melissa Leo as Citizenfour filmmaker Laura Poitras and Zachary Quinto as the Guardian journalist Glenn Greenwald, whose revealing interviews with Snowden in the Mira Hotel in Hong Kong frame the story as it unravels.
My only problem with an otherwise exemplary, exciting and extremely relevant film is the dialogue in the complicated script co-written by Stone and Kieran Fitzgerald, 90 percent of which is spouted in techno-gibberish about Russian hackers, webcams, data bases, signals shelters and counter-cyber-crypted emails that doesn't make a lick of sense to the average viewer. The intelligence jargon about the internecine plumbing of the CIA is, by itself, infuriatingly incomprehensible. And still, Snowden is a powerful piece of work by a director who has not made much of an impression in the past few years.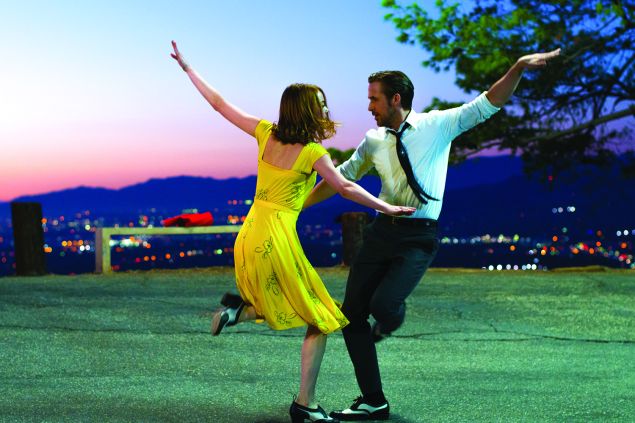 The other big smash is La La Land, a glorious tribute to the golden age of Hollywood musicals enthusiastic viewers are comparing to everything from The Artist and The Umbrellas of Cherbourg to An American in Paris and Singin' in the Rain. The director is Damien Chazelle, whose unexpected hit Whiplash won an Oscar for J.K. Simmons' portrayal of a sadistic music teacher who wrought violent havoc on a talented jazz drummer. Nothing constitutes a farther leap than La La Land, a romantic soufflé that showcases the singing, dancing talents of Ryan Gosling and Emma Stone (who knew?) with nostalgic nods to scenes from classic Hollywood movies, Technicolor cinematography and jazz music, all rolled into an airy dreamsicle of a movie packed with pure entertainment. He plays a jazz pianist, and she's a struggling starlet who works as a waitress in the Warner Brothers commissary like Doris Day in It's a Great Feeling. From a dazzling opening number called "Traffic" on a frenzied Los Angeles Freeway to moonlight dancing at the Griffith Observatory of James Dean's Rebel Without a Cause, framed by the filming of a black-and-white movie-within-a-movie, it's fraught with film references that sparkle with joy. More about this welcome surprise when it opens during the holidays, but put it on your must-see list.
Otherwise, not much to write home about. Film festivals are like people. They have good years and bad. From where I sit, 2016 has been an off year in Toronto.