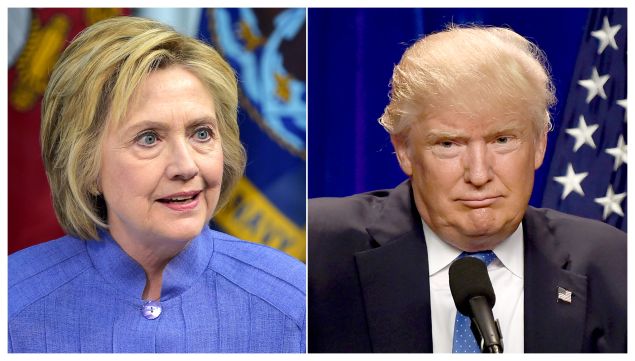 Despite appearing separately, Donald Trump and Hillary Clinton almost seemed to be having their first presidential debate tonight as they worked feverishly to discredit each other's national security and foreign policy leadership skills at a "commander-in-chief" forum.
Clinton and Trump spoke back-to-back at the forum—Trump agreed to go second following a coin toss—sponsored by the Iraq and Afghanistan Veterans of America, a leading post-9/11 nonpartisan veteran empowerment organization, and moderated by NBC's Matt Lauer.
The candidates fielded questions from Lauer, veterans and active service members who were Democrats, Republicans and Independents who either supported one of the candidates or were undecided.
Although Lauer had asked the candidates to avoid attacks and focus on answering questions, they took jabs at each other's records—perhaps a preview of what is to come at the first presidential debate schedule for Sept. 26.  
When Clinton stressed temperament and judgment as key factors to being a successful commander-in-chief, Lauer pointed to the controversy surrounding her use of a private email account while serving as secretary of state.
(Clinton recently came under fire for incorrectly stating that FBI Director James Comey said her statements to investigators about the emails were truthful and consistent with public statements—and has since admitted it was a mischaracterization. Comey said today that the decision not to bring charges against Clinton was not a close call and defended the investigation and document releases.)
Although Clinton acknowledged it was "a mistake to have a personal account," she said she dealt with classified material from the time she served on the Senate Armed Services Committee up to her tenure as secretary of state.
"Classified material has a header which says, 'Top Secret, Secret Confidential,'" Clinton said. "Nothing, I will repeat this—and this is verified in the report by the Department of Justice, none of the emails sent or received by me had such a header."
She dismissed the claim that hostile actors gained access to her personal email accounts, saying there is "no evidence" of it, but still admitting that "anything is possible."
When asked to explain to Iraq War veterans her decision to vote in favor of going to war in Iraq in 2002 while serving as U.S. senator from New York, Clinton again said it was a mistake but asked to be judged for her record of helping veterans. That record, she argues, includes working with Gold Star families to increase the death benefit from $12,000 to $100,000 and working with Republicans like Lindsey Graham to get healthcare for National Guard members.
(An audience member asked Clinton about her comment that veterans are overall satisfied with treatment and that the problems at the Department of Veterans Affairs are not as widespread. She said she was "outraged" about the stories on the VA and that it needs to be moved into the 21st century but does not want it to be privatized.)
She insisted that she is in the "best possible position" to understand what occurred to lead the country into that war and prevent it, blasting her opponent for not owning up to his support for the war.
"He told Howard Stern he supported it," Clinton said. "So he supported before it happened, he supported as it was happening and he is on record as supporting it after it happened. I have taken responsibility for my decision. He refuses to take responsibility for his support. That is a judgment issue."
Trump, for his part, touted his experience traveling to foreign countries and dealing with foreign leaders and frequently blasted the leadership of both President Barack Obama and Clinton on foreign policy and national security issues (he once said that both Obama and Clinton created ISIS but has since backtracked and claimed he was being sarcastic). 
He also said the United States would have a good relationship with Russian President Vladimir Putin, whom he called a "brilliant leader" and "highly respected" in his country despite his reputation as an authoritarian leader. And although he publicly said that he supported the Iraq War at the time of the 2002 vote, he pointed to a 2004 Esquire magazine as proof that he never supported the war. 
At one point, after he was asked about how he'd handle sexual assaults in the military—Trump said he'd set up a military court system (one already exists) to issue proper punishment—Lauer confronted Trump with a Tweet from 2013, in which Trump blamed the assaults (which are typically against women) on the presence of women in the armed forces.
"26,000 unreported sexual assults [sic] in the military-only 238 convictions. What did these geniuses expect when they put men & women together?" Trump wrote in the Tweet.
The candidate defended those comments—calling it a "correct tweet."
When asked what he is doing to research and prepare for handling complex national security issues, Trump pointed to the 88 retired admirals and generals who endorsed him and said his "big campaign" is doing very well. 
And he insisted that he is "100 percent" prepared, blasting Clinton her support for military intervention in Libya in 2011—action Trump himself supported.
"I found this subject and these subjects of interest all of my life, Matt. This hasn't been over the last 14 months," Trump said. "I found these subjects of tremendous interest. That's why they were asking me about Iraq 14 years ago. They were asking me these questions. They don't ask business people."
And the Republican nominee insists that he will do more than just "make America great again"—he plans to make America strong again, too, noting that the military is "very sadly depleted."
"I think it's the most difficult decision you can possibly ever make," referring to whether or not to intervene militarily in a foreign country. "You're talking about death and we're talking death…all over. I would be very, very cautious. I think I'd be a lot slower. She has a happy trigger. Look, she votes for the war."
Disclosure: Donald Trump is the father-in-law of Jared Kushner, publisher of Observer Media.