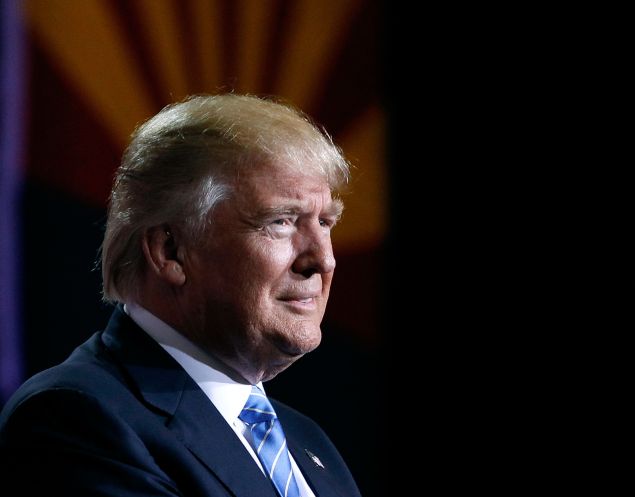 It was international free trade—the free and open trade of political favors. I'm referring to the live from Mexico City two-man television talk show and press conference co-hosted by U.S. presidential candidate Donald Trump and Mexican President Enrique Pena Nieto.
The Trump-Pena trade show coincided with the 271st day of an American domestic no-show. 271 is (by one count) the number of days that had passed since Hillary Clinton's last stand up, unscripted press conference.
As I write this column, the usual menagerie of mainstream media are struggling to interpret the verbally unscripted Trump-Pena trade show. Get a clue: the trade show's thoroughly scripted video imagery dominates the words. Mainstream media in their respective countries portrayed Trump and Pena as inevitable antagonists. Think of that as a Campaign 2016 mainstream media narrative truth.
To the deep dismay of mainstream spinsters on both sides of the Rio Grande, the nattily-dressed Pena and sartorially-appropriate Trump smiled, remained calm, and treated each other with respectful dignity. In fact, they were rather darn friendly—tough guy friendly. Though they held the show on Enrique's home turf, Donald more or less emceed (with interpreters), which seemed to work for both men. Did we witness open diplomacy? I think so—a rare example of authentic open diplomacy, where both men win. Dare we call it Art Of The Deal?
*  *  *
Blogs are dangerous things. Right or wrong, insightful or foolish, elegant or silly—in the eternity of the Internet you will always own them. This post of mine—written after drinking a fabulous Manhattan (Templeton rye and Carpano Antica)—suddenly appeared on instapundit.com late on the night of August 30 (9:54 pm) when the Trump-Pena confab was mere speculation.
Donald Trump and President Enrique Pena Nieto may be able to do one another a favor. We'll have to see if this actually pans out and then mull the photo ops and sound bites. However, this could be an example of the kind of rabbit-out-of-the-hat electioneering magic Democrats fear Donald Trump can pull. So, here's the background to this wild scenario. Pena is currently under a heckuva lot of political pressure. The Iguala Massacre (September 2014) marked a political sea change in Mexico. StrategyPage.com has been covering Pena's political slide ever since. (This update summarizes the cumulative effects. But other updates in the Mexico section back it up with sad details.) The Iguala Massacre became "a national example of 'impunity' — which means the government and political elites ability to escape responsibility and punishment for crimes, corruption, criminal neglect of duty and gross mismanagement."
If this sounds like Hillary Clinton escaping punishment for her criminal mishandling of classified information, well, I report, you decide. Pena's own ethical failures haunt him. Oh, he doesn't think he has ethical failures, but a lot of Mexican citizens certainly do. The Bottom Political Line For This Still Hypothetical Political Encounter That May Or May Not Come Off: Meeting Donald Trump gives President Pena the opportunity to look like he's standing up for Mexico and going man to man with a mouthy Yankee tough guy. As for Mr. Trump — he gets to make the case he isn't anti-anyone. He's for legal immigration. He'll talk and deal with anyone, straight up. Art of the Deal, y'know. As for Hillary? Hillary can stuff the KKK and all the standard issue Democrat racism accusations up her Benghazi.
Oh yes, President Pena faces severe ethical issues and, for that matter, so does his wife, Angelica Rivera. StrategyPage.com files cover her as well. I had a hankering for another Manhattan so I didn't bother with the link, but for the record here it is (November 13, 2014).
How icky and awkward, a First Lady tagged by the perception of corruption and possible bribery.
Meeting Trump changes Pena's media narrative from "ethically challenged" to "national leader" standing up for Mexico. Check the transcript—he did just that.
President Pena gets a win in the trade deal.
At some point in a presidential campaign, Democrats accuse every Republican candidate of racism and consorting with the KKK—to say this smear isn't a standard Democratic campaign ploy is to wage war on honesty. Hillary once called Democratic Senator and former Ku Klux Klan Grand Dragon Robert Byrd "a friend and mentor," but that historical irony seems lost on MSNBC commentators. Trump's tackling of illegal immigration makes him an easy target. His Mexico City trade show blunts the smears. He gets a win in the trade deal.
In retrospect, the key phrase is this: "rabbit-out-of-the-hat electioneering magic Democrats fear Donald Trump can pull."
That's the fear. Trump's unfettered mouth is his worst political enemy. His showmanship is his political genius. At The Mexican Trade Show Trump looked presidential, and far more so than Hillary ever has. Note that President Pena also invited Clinton, but she didn't show. If she'd come she'd have had to face the media and someone just might have asked her about The Clinton Foundation or Benghazi…Which segues into "up her Benghazi," a fill-in-the-blank expletive. Feel free to use it.
*  *  *
In the third week of August, Hillary's campaign hit Trump with a barrage of racism charges. Media were wrestling with new revelations of her State Department's hand in glove connivance with The Clinton Foundation—The State-Foundation, I named it.
Hillary's outrageous accusations erased headline discussions of Clinton Foundation corruption, and that was her tactical goal. The liberal mainstream media followed her lead. It's the Media Privilege Democrats enjoy.
Donald Trump, however, is the rare Republican nominee who possesses media judo. With one move he can shift campaign momentum and in the process shatter a mainstream media narrative. His Mexican Trade Show is just the latest example.
SEE ALSO: WAR ON HONESTY I, II, III, IV, V, VI, VII, VIII, IX, X, XI, XII
Disclosure: Donald Trump is the father-in-law of Jared Kushner, the publisher of Observer Media.
Austin Bay is a contributing editor at StrategyPage.com and adjunct professor at the University of Texas in Austin. His most recent book is a biography of Kemal Ataturk (Macmillan 2011). Bay is a retired U.S. Army Reserve colonel and Iraq veteran. He has a Ph.D. in comparative literature from Columbia University.