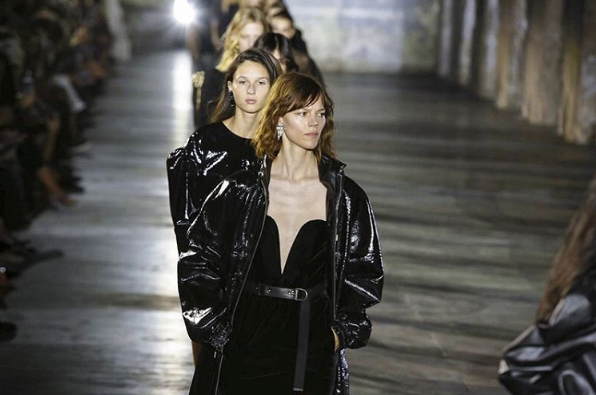 Today, the first day of Paris Fashion Week, was a highly anticipated day for the fashion folk. For one, it was Olivier Theyskens' return to the scene, but it's also Anthony Vaccarello's debut as creative director at Yves Saint Laurent.
In preparation for his big moment, the designer sat down with Vogue's Mark Holgate to chat about his new role and how he is interpreting the brand's history. On the day that YSL announced Vaccarello's hire, the creative director reached out to the keeper of the house, Pierre Bergé, who had some vital information to share.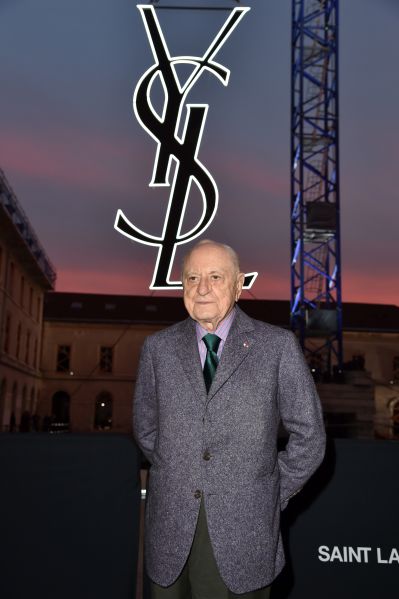 "The first thing he told me, and I really had and have it in mind: Do not copy Yves Saint Laurent. That's why I wanted to meet him, I wanted to know things, his opinion; it was important for me to hear that," explained Vaccarello. Which also explains why he called this inaugural range a clin d'oeil (a wink) to the brand's past.
"He did so many things, I don't want to repeat the things he has done. It's not about the garments, my idea of YSL lies in the attitude and how we handle things. There are fabrics like leather, vinyl, velvet, lace, but then they're put on a girl of today," he told Holgate. As it turns out, that's a pretty spot on explanation of the clothes, which includes puffed up sleeves in the black versions of the aforementioned materials. Gone is Hedi Slimane's punk inclination and admiration of all things rock n' roll and in it's place is pure sex appeal.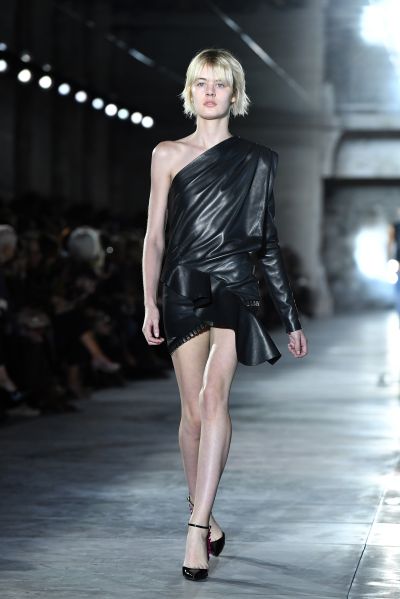 So, naturally, there were slippery leather trousers and geometric leather mini skirts, plenty of gold lamé and lacey, sheer camisoles. But this range wasn't for the club set; there were sharp smoking suits offered up, too. One model with a flattop haircut was dressed in a dress version of le smoking, with padded shoulders, in what seemed to be a direct nod to Grace Jones' Nightclubbing cover. Though the '80s icon was wearing an Armani suit in that memorable pic.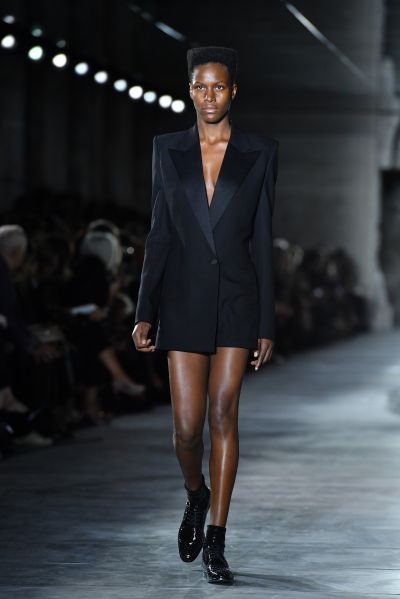 The sex appeal was definitely present here, with plenty of #freethenipple moments, peeking out of sheer black blouses. A leather one-shouldered dress was cut so low it completely exposed a breast, which was given a touch of coverage thanks to a sparkly pasty.
So far it seems that the fashion world is embracing this brand reboot, casting aside the Saint Laurent that blossomed under Slimane's tutelage. For example, Colette's Sarah Andelman took to Instagram to announce her support for the new range, posting a picture with the hashtag #soonbackatcolette. Some might remember that Slimane boycotted her Parisian shop in 2013, which many consider to be a staple on the shopping scene, for carrying a shirt that parodied his change of the brand's name.
Consider this the start of a sexier, kinder and fresher era of Yves Saint Laurent.