"Will we see more of you this season?" we asked Chris Sacca Wednesday night after he paused to Snapchat the selfie he had just taken with fellow shark investor Daymond John. The three of us were in the company of Mark Cuban, Barbara Corcoran and Shark Tank's executive producer Clay Newbill on the red carpet for a panel on the show and entrepreneurship at the Paley Center for Media in NYC.
"I certainly taped a lot more episodes," he said. "We'll see if the powers that be think they're TV worthy."
"Oh so you don't even know?" we followed up.
"Nobody knows,' Chris said. "It's one of the amazing things. As successful as this show has been, they compete to make every episode awesome still. This audience demands really good stuff, and the network executives demand really good stuff, and so it sounds so funny, but they start the season not even knowing how many episodes they ordered, and this is for a show in its eighth season with crazy ratings. We as the stars still don't know when our episodes might air."
READ ALSO: Mark Cuban Has a Plan to Make Silicon Valley Better for Women
What we do know is the scoop on the drama that unfolds in season eight, which premiered on ABC last Friday. From talking to the sharks as well as Clay, it was clear they wholeheartedly agree this is the best and most dramatic season yet.
'With some of the stuff that's going to be shown on the show, I don't know how they got it through the attorneys.'
We asked Barbara to describe the new season in three words. She said "confused—from all the shooting we've done" and "heated," because "the sharks have really gotten cutthroat toward one another, which I don't like at all, but I play the game."
The last word she used was "shocking." This is probably the most commonly used descriptor for new episodes of literally any TV show, but the stories she used to make this point leave no doubt in our minds that season eight will actually be a step above the rest.
"With some of the stuff that's going to be shown on the show, I don't know how they got it through the attorneys," she said. "I can't tell you more about that, but there was one pitch that I didn't say a word for a full hour. I was just so shocked at what I was looking at. And just remember this because you'll identify it, and I'll say to you 'and I've been dreaming about that ever since.'"
Clay, who is also behind shows like The Bachelor and The Mole, echoed this. "Very dramatic. Very shocking and surprising outcomes. Surprising businesses,' he said. "It's by far and away our best season yet. We know it's fantastic when the people who are shooting the show, the crew and the staff, are yelling at the monitors, 'take the deal! take the deal!'"
When talking to Chris, we also asked him to describe the new season, and he went with "edgy," "raw" and "authentic."
"I think they've let the camera roll a little more just to show how real the show is," he said. "You get to this point where you just assume that all reality television is just crafted and kind of invented BS, but there's no script on this show. They don't tell us what to say, which deals to do, who to invest in, who not to invest in. It's all very real. And I think this season shows a little more of that. The pitches often go an hour long, and they're very, very intense—the questions we ask. They have to edit that down to like eight to 10 minutes of television, and when they do it's real. They're not trying to trick anybody. This year I think is a little more edginess and a little more rawness and integrity. "
We also asked Daymond to describe the season in three words, which he eventually did, but not before describing the other sharks first.
"Well the other sharks are morons, know-it-alls and pompous. The new season is challenging and anything goes," he said. "What happens in every season is the public knows us, and we don't know them. So they can do their homework on us, right. So when they walk up, they know I think he [points to Chris] looks like Howdy Doody all the time in those shirts, and that's just how I feel. And they know how to push our buttons. And they come in knowing the shark they want, so I'm busy bidding on something when they wanted Robert the whole time…it makes us clash a lot."
We asked if this comes out more in this season than the others, and he agreed it's more cutthroat and explained the sharks' egos have grown.
"The first two seasons when Kevin O'Leary said something very disrespectful to somebody, I was 'oh my god. who are you?'" Daymond said. "Now it's like the old uncle with no teeth you don't listen to, and I just go 'whatever.' But the fact that I think I'm just as viable for some products and they pick someone else, there's an ego. Ten million people watching you. I may have lost a good deal and lost a lot of money. We wrestle up sometimes."
Later, Daymond revealed he's behind a true Shark Tank first: "I did something this year that's never happened on the show. I finally pitched on the carpet, and I pitched for someone to be my wife, and I got engaged."
The fact that their egos and feelings of competitiveness have grown became even more apparent later on in the evening during the panel, which was moderated by Arianna Huffington. Here's a bit of their conversation on the topic:
Chris: I really expected as an outsider that they were kind of phoning it in once the camera stopped. And I've done deals with guys where Cuban responds to people's emails in four or five minutes. It's embarrassing for the rest of us. These are deals where, ya know, he might have invested $25,000. So there's no way they move the needle for his overall net worth and are on the scale of companies that are going to buy more fuel for his jet or anything like that.

Mark: [Joking] Which jet are you talking about?

Chris: But it's amazing how the only reason you would do that is if you care about the company and you care about winning. It's fascinating. It's kind of made me up my game a little.

Mark: We're really not that altruistic. For me what it comes down to is I want to win. I'm very, very competitive, and so if my companies fail, that's a big ol' black mark against me.

Barbara: I can't stand it when one of the sharks has a big hit. I hate myself for it. I'm like 'oh yeah?' Watch mine.'

Daymond: We're missing here the queen of crap. I'm telling you, if it's under $19, made of plastic and falls apart, she's selling it.

Mark: That becomes a feature.

Daymond: Yes!

Mark: Guess what. For only $19.95 it will break in half and you can have two of them!

Daymond: The scrub baby. The scrub puppy. Crap.

Chris: There is so much scar tissue there.

Clay: A little bit of jealously there perhaps.

Mark: No, the Scrub Daddy had its shit together before he got there.

[Mark, Daymond and Barbara groaned and threw their hands into the air]

Daymond: How many people here are proud to say they have that crap called the Scrub Daddy?

*About 50 percent of room raises hands*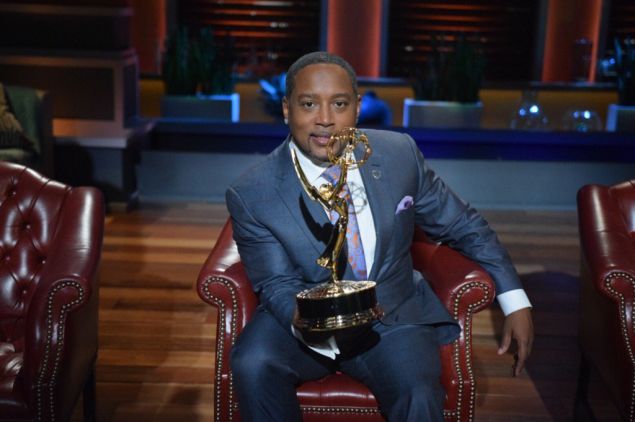 But other than an increase in shark fights and shock factor, fans can expect the same Shark Tank they love. While the premiere episode featured a panel of six sharks, that may happen occasionally during season eight but won't be a regular occurrence.
Clay told us that every season, the producers throw around ideas for how to change the show.
"We consider, do we want to shoot in front of a live audience? Do we want  to do a live show? Do we want to take it on the road?  Do we want to bring in kids and put them on the panel as mini sharks? (An idea Mark Cuban made clear he hates)Do we want to use interactive elements in the show so the audience can play along?" Clay told us. "And we always come back to the place that the show is working. It's not broken. We don't really need to fix anything."