Take-out is delicious, but it just isn't the same as a home cooked meal. So for those who want home cooking but don't have the time to do it themselves, a new company has created a way to replace your delivery from nearby restaurants with delivery from nearby home chefs.
Umi Kitchen, a new food startup—which officially launched yesterday in Manhattan—connects customers with exceptional local home cooks who make and sell small batches of their signature dishes. While the variety of meals available on the app is wide, the focus is food that you can't get other places, such as the kind of meals not typically on take-out menus (meatloaf, casserole, etc.) and family recipes from cuisines not authentically available in all neighborhoods that have been passed down for generations. 
Co-founder and CEO Khalil Tawil decided to start Umi Kitchen after having some serious cravings for homemade food and discovering a fleet of home cooks eager to make it for him.
"'Umi' is the Arabic word for 'my mother,' and our venture is inspired by my mother, who used to vacuum seal and send me her Lebanese home cooking to far-flung locales while I was serving in the U.S. Army,' he told the Observer. "The idea for Umi Kitchen was put into action while I was attending Yale Law School. Too busy to cook for myself but craving a home cooked meal, I posted a Craigslist ad asking if anyone in New Haven was willing to make me a home cooked meal. Within 48 hours, I had 17 responses."
On the Umi Kitchen app, you can browse meals available for each day, place your order and select your preferred one-hour delivery window. There are a few limitations: Umi Kitchen is not quite on-demand (you have to put your order in a few hours in advance), and it's currently only available for dinner. Also, meals can sell out.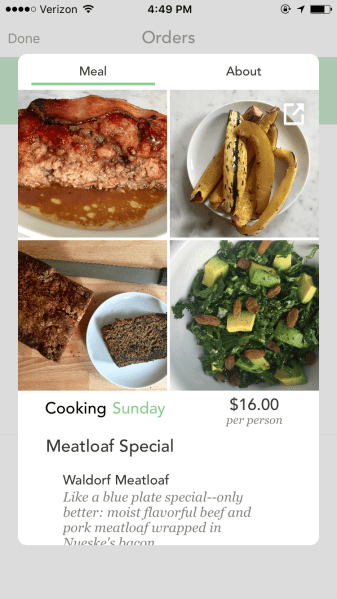 We tried Umi Kitchen last Sunday, and overall, we liked the experience. There were six meals available to choose from for the day, which isn't a bad variety considering the app hadn't even officially launched yet. We went with the "Meatloaf Special" from Ame's kitchen, which came with Waldorf meatloaf wrapped in bacon, winter squash, a kale and avocado salad as well as a slice of chocolate chip banana bread. The listing included an extremely detailed description of each meal component, an ingredient list, reheating instructions and Ame's bio, in which she wrote about herself and her history with food. The meal arrived packaged nicely and on time, exactly at the beginning of my delivery window. I was pleasantly surprised by the hand-written note from Ame herself, in which she wrote to me about how she's come to appreciate meatloaf, reiterated the heating instructions and said that she picked the kale earlier that very afternoon. And most importantly, the food was pretty delicious.
When we asked Tawil what makes Umi Kitchen different from the countless food startups, he said "the Umi experience is unparalleled in its personalization." 
We have to agree. The only setback is that the personalization comes with cost. The Meatloaf Special was $16 and delivery was $3.99, bringing the total of this one-serving meal to $20. All meals on the app so far are priced at $12, $14 or $16.