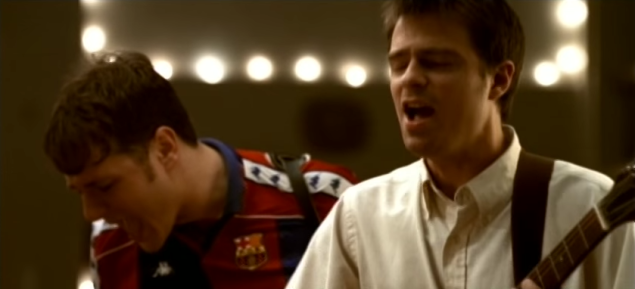 There is perhaps no bigger cliché in music than proclaiming an album saved your life. But in the fall of 1996, Weezer's second album for DGC, Pinkerton, did just that.
I picked it up on cassette at Media Play in Poughkeepsie about a month after it came out on September 24, 1996, and a few short weeks before my grandfather had finally succumbed to lung cancer the week of Veterans' Day. It was a sorrow compounded by a breakup with my girlfriend that summer. As college relationships go, a breakup also meant the fracturing of any kind of shared social circle, prompting me to enter my second year at SUNY New Paltz a little more alone than when I'd started.
All of this was soundtracked by Pinkerton's songs about unrequited crushes, alienation and regret. Loosely based on on the opera Madame Butterfly and its chief protagonist and namesake B.F. Pinkerton, Weezer's sophomore effort was the most visceral the band had ever sounded, a height they haven't reached ever since.
Initially, I was just expecting an extension of what the band was doing on the Blue Album. However, once I popped in that cassette copy of Pinkerton in the Pioneer system of my grandfather's beloved Buick Century for the first time, these 10 songs—every one of them—spoke to me on a level I never quite experienced with an LP at that age.
What Rivers Cuomo was writing about with this record, sprung from the rib of a failed concept album called Songs from the Black Hole, was the litany of weird emotions he felt while he was back in school at Harvard while rehabilitating from reconstructive leg surgery, a successful rock star displaced in academia by his own accord. While I could never personally relate to the shit he was going through when he was crafting these tunes, the feelings conveyed across tracks like "Why Bother?", "El Scorcho", "The Good Life" and especially its penultimate cut, "Falling For You", hit me like a wall of amplifiers.
I sang the shit out of these songs from inside my car almost daily for a good few months. It was like primal scream therapy, a necessary exercise in catharsis in a time when I desperately needed emotional release.
The nakedness, candor and emotional intensity of "Pinkerton" ignited a generation of imitators in genres as disparate as emo, punk, indie rock and metal.
At the time of the album's release Pinkerton cut too close to the bone both thematically and sonically for it to be the smash follow-up to the Blue Album that Geffen was hoping for; Rolling Stone, SPIN, NME and a young Pitchfork Media all levied fairly indifferent reviews. The album was a commercial disappointment by major label standards, particularly in comparison to the success of its predecessor.
But through the years Pinkerton—which would become the group's final album with bassist and songwriting foil Matt Sharp—has been given a generational re-evaluation a couple of times over these last two decades, and apparently I was not the only who connected with this record on such a deep level. There are many personal stories attached to these songs from scores of fans like me, and not just from fans but many bands who cite this particular period of Weezer as a inspiration for their own sounds, its nakedness, candor and emotional intensity igniting a generation of imitators in genres as disparate as emo, punk, indie rock and metal.
"I really wanted these songs to be an exploration of my 'dark side'—all the parts of myself that I was either afraid or embarrassed to think about before," Cuomo wrote on July 10, 1996 in an open letter that was featured in the liner notes of the deluxe edition of Pinkerton that came out in 2010. "So there's some pretty nasty stuff on there. You may be more willing to forgive the mean lyrics if you see them as passing low points in a longer story. And this album really is a story: the story of the last 2 years of my life. And as you're probably well aware, these have been two very weird years."
In honor of Pinkerton's 20th anniversary, we spoke with some of our favorite modern rock and punk acts to find out how this landmark LP, warts and all, impacted them as both a listener and an artist. The crunch, the melodies, the slide-guitar harmonics, the manic pain in Cuomo's voice, they're in my bloodstream now. And I'll still sing "El Scorcho" at the top of my damn lungs every time I hear it.
[youtube https://www.youtube.com/watch?v=U7RKnXZHpC0?list=PL81_CtYCym2-1Bvs9v0m4Z-CKtRREJ8nb&w=560&h=315]
John Nolan, Taking Back Sunday
In 1996, I was kind of a casual fan of Weezer's Blue Album so I wasn't necessarily looking forward to the release of Pinkerton. I don't think I knew it was out until a friend bought it and played it for me. I didn't expect it but on my first listen I was hooked. I immediately went out and got it and it was all I listened to for months. Other than becoming obsessed with Pinkerton, one of the main things I remember was being shocked that it wasn't a huge commercial and critical success.
I remember wondering why I wasn't  hearing the songs on the radio or seeing the videos on MTV. But that lack of mainstream coverage also gave you the feeling that you were in on a secret. That you had discovered something no one else knew about. Pinkerton has the status of a classic album now and I think that's mostly because the people who heard it early on became obsessed with it and couldn't stop talking about it or playing it for their friends. The album's success was very gradual and very organic. Pinkerton is still one of my favorite albums and its story is still really inspiring to me.
Zach Fisher, Good Looking Friends
I didn't fall for Pinkerton until late in high school. I was 7 years old when it came out, too young to appreciate anything on my own, really.
A friend's sister later turned me onto Pinkerton, saying it was a perfect album. My relationship with this girl definitely impacted my opinions on the album: she was four years older than me and depressed in a way that made her seem unattainable and too cool. Eventually, she would proposition me for my virginity, which I tried and failed at giving. The relationship was always one of playing catch up. In a very Pinkerton way, my feelings for her were always going to fail to have any impact. There was always a deep yearning and a failure to launch. I had something to prove, that I was worth more than my twitching penis, and listened to the album with gusto.
Like my high school failures, the lyrics of Pinkerton were loaded with an unfairness that permeated every scene. Aging, misdirected love, the failure of sex to bring completeness, all conspire against the narrator's search for happiness. The songs are heavy with guilt, that the narrator cannot overcome the tragedies of life to find happiness.
" 'Pinkerton' is foundational for me in such a way that it's hard for me to even be influenced by it. It was just so important to my first impression of what it meant for a record to be really moving that it's always underneath my own work like carpeting."
Many of the songs talk about happiness like it's just around the corner: "I curse myself for being across the sea," he sings after his predatory fantasies about a girl who is likely underage. In one line, he dismisses the fantasy as unattainable, and therefore, not truly predatory, as well as dismisses his own ability to hold the happiness he is able to squeeze into a simple letter from a fan. This confession is almost too big to be believable, bordering on obsession. It is seemingly the kind of obsession of the mentally ill, embarrassing at first, until the listener realizes that she too has been moved by such a small token; she simply is too proud to admit it.
Popularity and fan reception can be a dangerous thing. I believe that Pinkerton represents the most earnest attempt the artist could make to try and understand his place in the world. Exposed to the harsh truths of life but not yet corrupted by malaise, Weezer expelled a sense of honesty onto wax that would serve as a guide post for artists for years to come. Its blend of genres, especially pop with punk, is itself without genre. It taught me to be bold, to not be afraid to explore the darkness, to idolize failure.
Ironically, it is the repetition of "I'm sorry" that taught me never to apologize for craft. Be honest, especially about your failures, and maybe you can write an album as good as Pinkerton.
Lelah Maupin, Tacocat
Yesterday I had brunch with a stranger and he started singing "El Scorcho" and then so did I and we sang the whole verse and chorus together. Now we're friends. When I was in high school a friend of mine named Chase Kinder, who was in my art class, did a pencil drawing of the cover of Pinkerton and gave it to me. I had it in my room for a long time. He put a portrait of Rivers in the middle of the snow scene. I thought it was AMAZING. One time Eric and I had a tender teenage moment sitting on the couch in his mom's living room to the last track "Butterfly", which years later we would decide was not a song we really, really loved on that album.
It was very cool to LOVE Pinkerton; to talk about how much better it was than the Blue Album and why. It was "weirder" or something. And all the trivia about how it was written when Rivers was struggling with being a rock star while attending Harvard and having surgery and stuff for his leg thing. It was cool to know about that. It is everyone's favorite sing-along-in-the-van album, probably while you were driving to Portland in Eric's mom's purple minivan to see Ben Kweller or something like that.
[youtube https://www.youtube.com/watch?v=okthJIVbi6g&w=560&h=315]
A record that came out 20 years ago is old and irrelevant. This is easy to miss because blogs are always celebrating them. Music writers love stuff from 20 years ago, and talking about how it's "hard to believe" it's been 20 years. Is it? Is it really hard for you to believe that? What do you think the progress of time is supposed to feel like? Maybe if you had been listening to new music instead of the same record that seemed exciting when you were 14, it would be easier to believe that it's been that long.
Pinkerton is an important record, which is why it gets a tribute 20 years after its release. What makes a record important? Two things in combination: it sold a lot of copies at some point, and multiple bands that were popular thought it was good enough or cool enough to reference in interviews.
I have never cared about the Importance of records. I care if they move me or inspire me. This is entirely separate from Importance. For example, the song "You Were Meant For Me" by Jewel has moved me very much at various moments, once when riding in a cab in the pouring rain in Boston, about to leave town after ending a love affair. The record that song was on sold a lot of copies but hasn't been mentioned by bands in interviews much, so it doesn't get the Important tag.
A record like Paul Baribeau by Paul Baribeau, one of my favorites throughout my 20s, doesn't get mentioned much and never sold much, so it really doesn't have a chance. And honestly, I think I'd rather it didn't get a tribute for its 20th anniversary. The only reason I wouldn't mind it is because it'd probably mean good things for Mr. Baribeau making money, which seems like a deserved side benefit of being one of the best songwriters I've ever heard.
I really loved Pinkerton when I first heard it in 2001. I was 14. My friend told me Weezer was an "emo" band, which meant they made emotional music. I had never heard of emo as a genre. Another friend told me Weezer made "sweater music," they were one of the "sweater bands." I've never heard this term since but I always liked it. I guess it meant they were nerds who wore uncool sweaters, and even had songs about sweaters ("The Sweater Song" from their debut album, that "you left your sweater in the basement" line in "Falling For You").
Pinkerton is great for a mildly troubled 14-year-old from the suburbs. It allows you to scream along about how bad you feel about not living up to your own expectations, and also forgive yourself for it, because it makes it seem kind of cool to be a failed human being. When the first taste of self-pity is still fresh, Pinkerton acts as a flavor enhancer. That was very useful then. Now, those feelings are enjoyable mostly on a nostalgic level.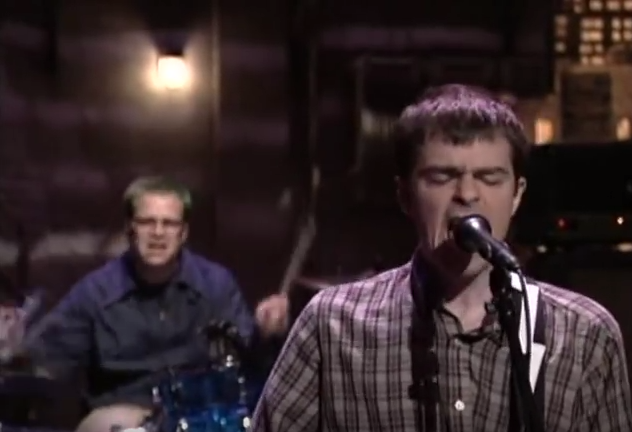 Beyond the lyrics and general emotional stance, the music on the album is really good. It is better than it needs to be. There are a lot of bad emo bands that serve the same function for angsty teenagers as Weezer did for me, but their music isn't as fun to listen to if you're not a teenager. Weezer holds up, and Pinkerton is probably their best moment, though it's always neck and neck with their debut.
I'm always impressed by the middle sections of their songs. The bridge of an early Weezer song is often in a different key from the verses and choruses, and it always takes the song to a new place so that when you get back to the main part all the emotion has been deepened and it doesn't feel like a repetition. They took that great trick from the Beatles ("Day Tripper" is an example at random) where the band builds and builds more than you think it could possibly build, and then it drops cathartically back into the familiar and you just go, "oh fuck yeah."
So yeah, I love Pinkerton. It's foundational for me in such a way that it's hard for me to even be influenced by it.
It was just so important to my first impression of what it meant for a record to be really moving that it's always underneath my own work like carpeting, not so much actively inspiring me. If anything I should probably be trying to shed its influence on me. Practically every musician I know loves it. The ones who don't know it are the ones who might have something to teach me, because they grew up on jazz or reggae or something instead of alternative rock like me and my friends.
To hold onto Pinkerton and keep listening to it is to wallow in a teenage past, a rock culture that no longer exists in the same way, and a power-pop baseline that has very little to teach me that I haven't already learned.
Regardless of all that, I still haven't made anything as good as Pinkerton. It's still possible to view it as a benchmark to beat, and so I have to admit it's an important record for me. Though I'm more interested in new bands like Japanese Breakfast. Have you heard Japanese Breakfast? God, they're good.
[youtube https://www.youtube.com/watch?v=gkroIXktjgE&w=560&h=315]
Jake Orrall, JEFF The Brotherhood
I think it took a really long time for the lyrics to this album to sink in for me, probably because I was 10 when it came out and didn't know very much. In high school I was really intrigued and inspired by how sex was written about so forwardly in these songs. Plenty of the bands I was listening to at the time talked about sex, but it was always some innuendo, or some seductive suggestion.
"Tired of Sex" as a opener for a sophomore album is just so perfect for a band that blew up on their first record, just throwing it all out there tongue and cheek. My 15-year-old self never would have thought to write a lyric about an 18-year-old Japanese girl masturbating, or the shame of knowing you really messed somebody up by using them. Thanks, Weezer.
Katy Goodman, La Sera
I used to walk around in the hallways in my high school listening to Pinkerton on my Discman on repeat for hours.  The songs just seemed so personal, more personal than felt appropriate. It was like Rivers was letting us into his mind, allowing us to cross a boundary we probably shouldn't have crossed, and I remember finding it pretty shocking and addicting. While some of the lyrics were very relatable, others were drastically the opposite, which had the effect of dragging me into the music, making me want to know more about his weird, unique world.
The lyrics still stand out as some of the most candid and revealing that I've ever heard in my life. When I started writing my own songs, I would often think things like, "Oh, I can't say that, that's crazy" and then I'd remember lyrics from Pinkerton and be like, "Well, if Rivers said THAT, I can surely say THIS." I like to think that Pinkerton helped me (and continues to help me) push my own boundaries of what I express to the world about myself. PS: also, the music fucking rocks.
James Alex, Beach Slang
There's a devastating charm to this record, you know? I suppose the thing that really smacked me was how raw it sounded. It felt wide open or something. It felt messy and dirty and honest. It felt right. Look, rock 'n roll deserves to be loose and unguarded, to be a troublemaker, to wear its heart on its sleeve. For me, a whole lot of that stuff fell together on Pinkerton.
Greta Morgan, The Hush Sound/Springtime Carnivore
When I was 12, my friend Jackie dated a boy with a driver's license and he played Pinkerton for us. It was the first time I'd ever taken a joyride to the city without chaperones so that record is bound inextricably with the exhilaration of early teenage freedom for me.
I loved the distortion, the sloppy charm, the humor in the lyrics, the super-catchy melodies. I was so confused about what a "pink triangle on her sleeve" meant. (Did she love putting patches on her jean jacket?) I didn't understand why he was "tired of sex." (Don't adults love that?) I misheard "Why Bother" as "WHY, FATHER?" and wondered why they'd had a family estrangement.
[youtube https://www.youtube.com/watch?v=2wb9J1_DQqU&w=560&h=315]
Nick Furgiuele, Gringo Star
The part that I really liked about Pinkerton was the way the music and the songs would go in different directions throughout each track and the noisiness of it all. I loved all the feedback and how the whole record was always on the verge of exploding. I really related to how the songs would start and just keep going into new ideas, rather than being so repetitive. I liked all the tangents and the ending was great…how it was so stripped down and somber.
Jackson Phillips, Day Wave
As a kid I was obsessed with the Blue Album, and it wasn't until I was a teenager that I discovered Pinkerton. I couldn't believe I hadn't heard it earlier (it came out when I was in first grade). I love how the songs retain the classic Blue Album sensibilities, while embracing a more reckless and chaotic energy. Over the years I have continued to come back to this album, especially since I have been writing and recording my own songs. It taught me that it's O.K. to be honest in my songwriting, and that I don't need to follow any rule book; and that when you throw away the rule book, you can make something timeless.
Louisa Rachel Solomon, The Shondes
I was a card-carrying member of the Weezer fanclub when I was 12 (I mean…literally I still have the card) just before I found Riot Grrrl and started my first band. I was in love with ALL the members during the Blue Album era and have found over time that their brand of pop rock made a huge mark on me. And I could say plenty more about that!
But, I hate myself for saying this as we approach an anniversary that is probably very meaningful to a lot of people: I found Pinkerton to be a huge let-down. The disappointment is definitely in part due to my own adolescence and burgeoning feminist identity, but I was totally unable to appreciate their musical growth in the face of lyrics that seemed so blatantly exploitative and stupid to me. I mean, "God damn you half-Japanese girls do it to me every time"? REALLY? Even at 12 I was aware that lots of white men were walking around fetishizing Asian women and it wasn't (and isn't) cute!
And even "Pink Triangle" annoyed the shit out of me. This sad-sack white dude bemoaning a hot lesbian being sexually unavailable to him totally alienated me!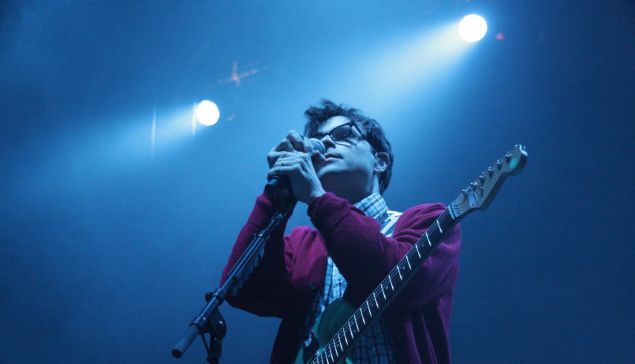 Daniel Peskin, Dinowalrus
Looking back, it's amazing to think this album came out 20 years ago. I discovered Pinkerton in my teen years, which was probably four to five years after its release. For me, though, it was still so relevant to the music coming out at that time—I don't think I ever really differentiated that its release was long before that period of my life.
Pinkerton spoke to me more on the level of identity, dysfunctional relationships and the overall angst of the songs. I was new to a school and didn't have many friends, plus my parents weren't exactly amicable. So listening loudly to this album and similar ones was an outlet for me to let go of those problems. However, the biggest thing that resonated with me is that listening to it made me happy, made me smile. That's how I think Weezer really helped shape me as a songwriter.
Pinkerton showed me you could make expressive, emotional music that is also fun. It's the difference between how you feel listening to Weezer and listening to Nirvana. That's something special in my opinion. I want to be able to express myself in my music, but I don't want to be living in my emotions and miserable while I'm doing it.
Mike V, The Everymen
Perhaps it was the confluence of the heart-on-sleeveness of the album juxtaposed against my blossoming young manhood. Perhaps it was the raw, arcane recording approach the band took, combating their whip-smart, hook-laden, commercial-radio-in-a-gift-basket debut album. Perhaps it was how the album seemed to somehow shepherd me from Guns N Roses' cold shoulder to Robert Pollard's loving embrace, as it was the album that spearheaded my maturation from musical adolescence to rock 'n' roll manhood.
Perhaps it was because the album acted as a provocateur, the window that allowed me to peer into the world of indie rock. Perhaps it was the topical subject matters that I had heard about on the playground and in the schoolyard, but had yet to experience in real life; the libido, genuine earth-crushing heartbreak, the frailty of my own emotions, lesbianism.
Perhaps it was that back then I was primarily a drummer, a guitar player on the side, and Patrick Wilson created what is, as I like to argue, one of the greatest drumming albums of all time. Every beat is perfect, every sound sits exactly where it should, his playing is singular and humane and understated, yet fantastically integral to every single thing the band around him is accomplishing.
Perhaps it's the dark, foreboding album cover that almost hid amongst the CD racks, artwork that was the antithesis of what a pop band should produce, artwork which almost perfectly captured the music and emotion therein. Perhaps it's all of these things.
To ask you me give you my thoughts on one of the most seminal albums of my life in a blurb of two to three or 400 words is a Herculean task so I'll give you this: For me Pinkerton is a perfect album. Perhaps for you it is, too.