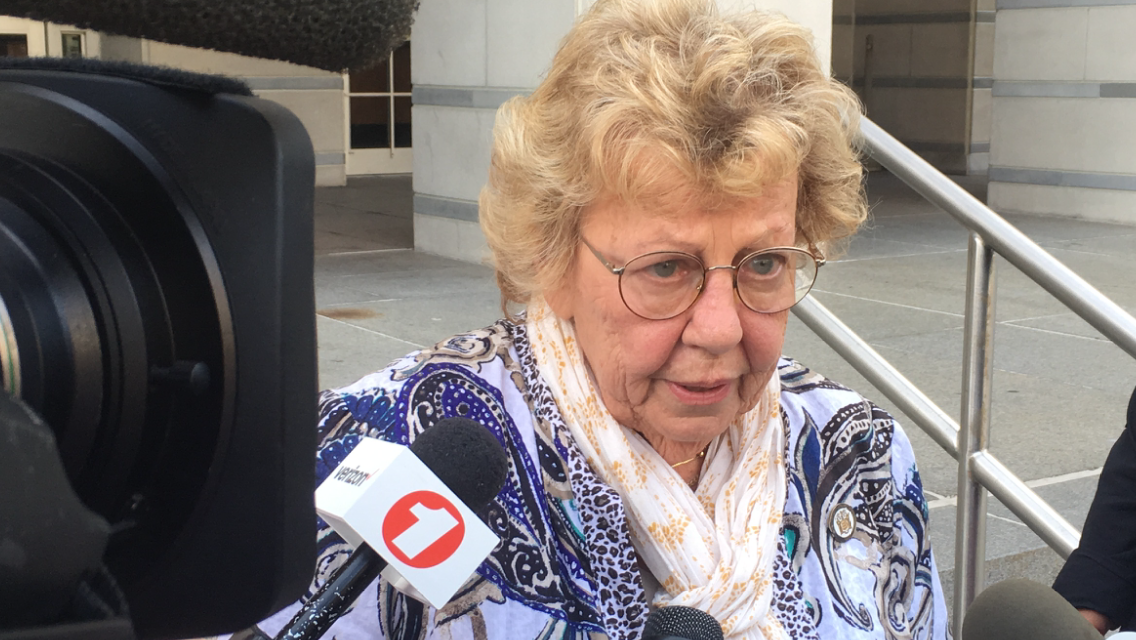 NEWARK – State Senator Loretta Weinberg (D-Teaneck) commented on the testimony of former Port Authority employee David Wildstein immediately following his court appearance on Tuesday. From the steps of the Newark Federal Courthouse, the co-chair to the legislative panel that investigated Bridgegate zeroed in on the portion of Wildstein's testimony where he claimed that he and former Deputy Executive Director of the Port Authority Bill Baroni openly bragged to New Jersey Governor Chris Christie about the lane realignment that crippled Fort Lee traffic from Sept. 9 to 12, 2013. According to Wildstein, he and Baroni discussed the lane closures to Governor Christie during a 9/11 memorial service that year.
"This story has been out in the press and in the public almost since the beginning. I think what happened today is Mr. Wildstein added some texture or some more context to the alleged conversation," Weinberg said about the discussion Wildstein said he had with Baroni and Christie. "The governor has been denying this from the beginning. Mr. Wildstein just testified to it under oath."
In Wildstein's testimony, the former director of interstate capital projects did not say that Christie specifically knew about the conspiracy before it occurred. However, he did say the governor was informed and seemed to approve of the Fort Lee events during that Sept. 11, 2013 conversation.
According to Weinberg, it is the culture created by Christie at the Port Authority that allowed for the closures to happen. Earlier in his testimony, Wildstein said that he and Baroni operated under a mentality they termed the "one constituent rule." That rule meant that Baroni, Wildstein and other members of the New Jersey side of the Port Authority's main objective should be to take Governor Christie's wishes into account. Namely, Wildstein said, what was good for Christie was good for them and what was bad for Christie was bad for them. Wildstein said that that idea is what spawned the Fort Lee lane closure scandal because the nature of the jams were punitive in order to "send a message" to Fort Lee Mayor Mark Sokolich for his failure to endorse Christie in his gubernatorial reelection big.
"The two of them seemed to thrive on… the fact that they needed his approval. Everything was Trenton, etc," Weinberg said of Wildstein and Baroni based on Wildstein's testimony. "What he said, or the way that I understood Wildstein's testimony, is that both he and Baroni told the governor that there was a big traffic jam and they were punishing Mark Sokolich. That came across clearly."
During his Tuesday testimony, Wildstein also mentioned how Baroni testified to a New Jersey legislative panel using misleading statistics in an attempt to validate the "traffic study" cover story that he and Baroni had concocted as the reason for the lane closures. According to Wildstein, Baroni wrote a draft of "study results" based on data kept by Port Authority engineers during the lane closure. That draft was later used as the primary source material for his testimony, Wildstein said. Baroni claimed that 95 percent of traffic coming from main entrances to the George Washington Bridge was funneled into 75 percent of the lanes (9 of 12) and that only five percent of traffic was given 25 percent of the lanes (3 of 12). However, Baroni drew that five percent statistic from the number of EZ Pass users registered in Fort Lee and did not take into account the number of residents from other municipalities in the Fort Lee area that drive through the town rather than get on the highways to approach the bridge. According to Weinberg, Wildstein's Tuesday testimony confirmed what she had already known about Baroni's legislative testimony.
"Anybody who knew those roads knew that Mr. Baroni's testimony was a coverup. I went to the Port Authority myself and told them: 'There are no private roads.' The coverup wasn't even a good coverup," Weinberg said.
According to Weinberg, Christie should have stepped up and looked into the lane closure issue after an Oct. 1, 2013 article in the Wall Street Journal published the Sept. 13, 2013 email from Port Authority Executive Director Pat Foye reversing the lane closures.
She said: "It was up to the governor between October 1—and I use that date because that is the date Pat Foye's email appeared in the Wall Street Journal and said laws were broken here—and January 5 or whenever the governor finally stood up. There was lot of time there for him or any commissioner in the Port Authority to find out what really happened and not one of them seemed to have tried."
During his Tuesday testimony, Wildstein said he was contemplating leaving the Port Authority in November of 2013 in order to avoid the lane closure scandal from impacting others at the agency. He described a November conversation with New Jersey political public affairs professional Michael DuHaine. Wildstein called DuHaine a "friend." According to the testimony, when Wildstein told DuHaine what he had done two months prior, DuHaine told him that he would have advised against it if he had heard about the idea in advance of the lane closures.
"It is hard for me to imagine that two intelligent people thought they could get away with this bizarre idea to begin with," Weinberg said. "I think Wildstein said that Mike DuHaine said 'If you called me, I would have told you it was a bad idea.' I sort of smiled to myself thinking that my 11-year-old grandson would have figured that out too."
Wildstein's testimony will continue on Wednesday. Currently, he is facing up to 15 years in prison but is working as a cooperating witness with the prosecution.