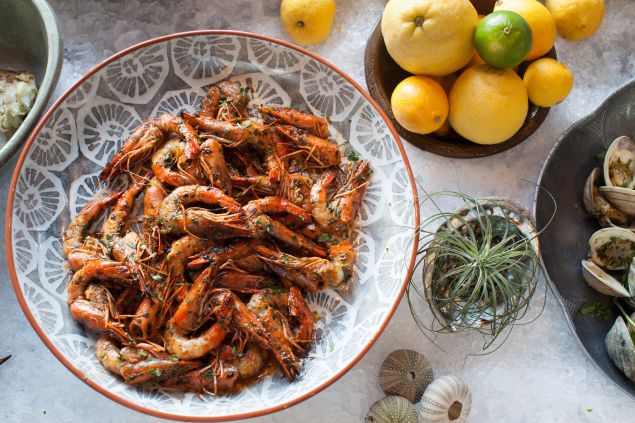 The moments that really change your life don't usually adhere to your schedule, so there Cassia chef Bryant Ng was at 7:30 on the morning of September 6, turning over in bed, looking at his iPhone, when he realized that everything was different.
"I read The New York Times every morning," he says. "So I click on it, I see our photograph of the pig's tail. And I hit that thing and immediately right at the top, I see three stars. I look at that and I'm like, holy shit. Then my thought is, 'I hope it reads well.'"
The chef's wife and business partner, Kim Luu-Ng, was still asleep as Ng read the review.
"I'm quietly trying to read this," Ng says. "And as I'm reading this, I'm getting more and more excited because he gets it, he really understands what we are trying to achieve with the restaurant, not only in terms of the food, but also he talked about our hospitality and our service. This was a central part of it, that's really important to us.
"He talked about share plates and how it's truly shareable. Not only that, when we have these shared items, we change plates or bowls or serving utensils. We think about this. We say, 'Well, you're eating this, it's going to get dirty, so we're going to have to change it and, yes, you're sharing.' He picked up on all of those things. I'm reading this and thinking this is the most amazing thing. I turn over to Kim, who's still sleeping, and I don't want to jar her or anything."
"But he did," Luu-Ng says.
"I'm trying to be as gentle as I can," Ng says. "And I say, 'Honey, we just got a three-star review from The New York Times!' I'm trying to say it calmly—I'm a pretty calm guy, too. I thought I was calm, but she told me I wasn't."
There was no reason to be calm. This truly was a holy shit moment.
It was historic, in fact. This was the first starred New York Times review for a restaurant outside of New York, and it was a three-star rave. It elevated Cassia, a tablecloth-free hot spot where the best seats in the house might be at the back counter by the woodburning stove or at the seafood counter, to the same three-star stratosphere as Danny Meyer's best restaurants (Gramercy Tavern and The Modern), Daniel Boulud's best restaurant (Daniel), Major Food Group's best restaurant (Carbone), Michael White's best restaurant (Marea), David Chang's best restaurants (Momofuku Ko and Ssam Bar) and Keith McNally's best restaurant (Minetta Tavern).
This might seem pretty goddamn insane, but it's also completely correct. I've been to all those New York restaurants and I've enjoyed Cassia as much as any of them. What the Ngs and partners Josh Loeb and Zoe Nathan have done is astounding: Cassia serves elevated versions of Asian street food, glistening charcuterie, grand seafood towers, redefined bistro fare and phenomenal, uncompromising sambal-laden clay-pot dishes in a setting that feels like the L.A. version of Balthazar. That was their wildly ambitious, high-degree-of-difficulty goal from the start—and they succeeded.
And the most powerful food critic in New York, a man the Ngs didn't even notice when he visited Cassia, recognizes this accomplishment.
"We had no idea Pete Wells ever came in," Ng says. "We had no idea, obviously, because we're not looking for the guy. That's part of the beauty of it, too, because we didn't know he came in and that he had, I guess, what you probably assume is maybe the average experience you would have, a very normal one. Which is great."
Even when The Times called about shooting some food photographs, Ng still had no idea what was happening.
"I think the word 'review' was thrown out there, but at the same time, a formal starred review [for a restaurant not in New York] never existed," Ng says. "I did think in my head, for a moment, I think it was maybe three minutes, 'Wouldn't it be great if we did get a three-star review?' But then immediately, I was thinking, 'Well, that doesn't exist.' So that's out of my mind. I figure they're doing some sort of roundup, it is what it is."
But then The New Yorker's profile of Wells dropped, and in it was a crucial piece of information Ng hadn't known.
Ng read maybe a quarter of the profile on September 5, then he had to go to work.
'It can be thought-provoking, it can be modernist, it can be whatever it is. It has to be delicious first.'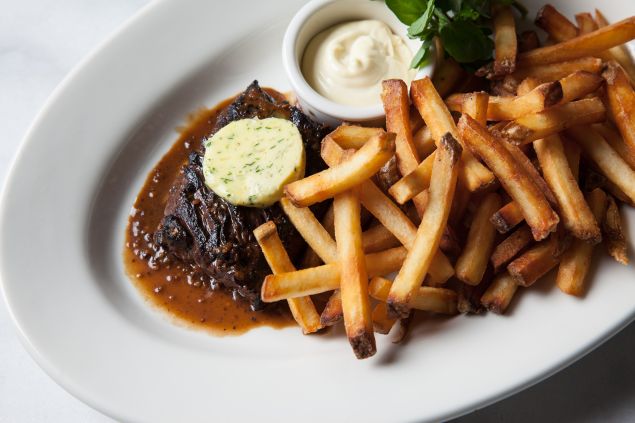 "At the end of my shift, one of our servers, Jack, he comes up to me and goes, 'Hey, did you read the New Yorker piece on Pete Wells? It's really good. You know, there's a portion in there that says they're going to be doing a review of a L.A. restaurant and it's coming online on September 6.' And I look at Jack and go, 'Jack, that's us!' Still, in that moment, maybe it's partially denial and partially I really don't know what's going on, I'm thinking it's still not a starred review."
If you read Wells' review and also The New Yorker profile, it's clear that the critic made a statement by choosing Cassia to represent L.A. As he noted in his review, he could have written fun, enthusiastic pieces about Baroo, Night + Market Song, Petit Trois or one of Roy Choi's restaurants. (Wells told The New Yorker that cheerful two-star reviews tend to be the easiest to write.) Those restaurants might even have more compelling storylines than Cassia, but they're not three-star restaurants, just like Mission Chinese, The Dutch, Prime Meats and Ivan Ramen aren't three-star restaurants in New York. All of these places are among the most interesting and thrilling spots to dine in their respective cities, but Cassia offers a higher level of elegance and spectacle even in relaxed-chic Los Angeles.
And it serves delicious and exciting food.
"Isn't that the beauty of Los Angeles?" Ng says. "We can be a certain level of casualness but still have the seriousness about the service and the food. When I say seriousness, I just mean commitment. It's not that we're so focused on it that our minds are spinning all the time. At the end of the day, we're just cooking food. That's the other beauty of what [Wells] said. All I want when I go out to a restaurant—whether it's a mom-and-pop shop or a three-star Michelin or a four-star New York Times place—I just want it to be delicious. It can be thought-provoking, it can be modernist, it can be whatever it is. It has to be delicious first."
Ng isn't trying to figure out the future of fermentation, he's not fixated on molecular gastronomy, he doesn't have tattoos, he isn't a TV chef who hangs out with celebrities. But what he happens to be is a disciplined, classically trained, indie-leaning chef who's created a blockbuster restaurant. (Wells, I suppose, could have also led off his starred national reviews with L.A.'s perhaps-three-star-worthy—or-perhaps-even-four-star-worthy, in some cases—Spago, Providence, N/naka, Shunji, A.O.C. or Mozza. But Cassia is, of course, a newer, more of-the-moment pick. )
"This is our livelihood," Luu-Ng emphasizes when we talk about the impact of the review. "We don't make money off of TV appearances. We don't make money off of endorsements. This is how we make a living."
Strangely, Los Angeles hasn't made a big deal out of Cassia's New York Times review. Yes, Eater, L.A. Weekly and Time Out all mentioned it, but didn't play up the significance of this honor—something that's so singular that I believe it will ultimately matter much more than any Food & Wine Best New Chef nod (which Ng got when he was at The Spice Table) or any Bon Appetit list (Cassia made the magazine's latest 50 best new restaurants in America).
Maybe there's a refreshing flip side here: L.A. has grown into a confident city that doesn't care about how it's viewed by the rest of the world.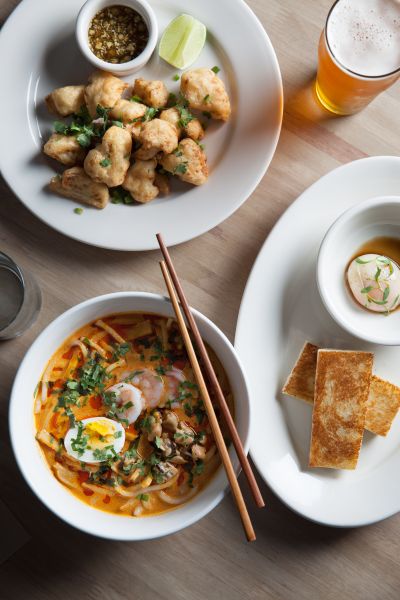 Despite all of its chest-pounding and cheerleading, the boosterish L.A. food media often ignores context and overlooks the biggest stories because explaining the actual impact of something is harder than reporting that there is a new restaurant that serves a certain kind of food. A lot of this has to be attributed to laziness. Eater regularly scoops all the legacy media because it works the hardest. I still don't get, for example, how the daily newspaper, the best city magazine (where I briefly edited the online food coverage) and the alt-weekly all haven't reported a story about the most high-profile restaurateur in the city leaving his restaurant group. (Can you imagine if Meyer departed Union Square Hospitality Group or McNally walked away from Balthazar? That kind of shocker would be a front-page New York Times story that would get huge tabloid play, too. Phil Suarez leaving Jean-Georges, Maguy Le Coze leaving Le Bernardin, Jeff Zalaznick leaving Major Food Group, Ahmass Fakahany leaving Altamarea Group or Will Guidara leaving Make It Nice would, at the very least, be big business-section or food-section stories.)
It seems like, the peerless Jonathan Gold aside, that L.A.'s food scene would get even more credit than it already does if the local media gave half a shit about putting in the effort to tell the important stories. Instead, it feels like the legacy media here aren't competitive with one another because they've collectively decided to stop trying.
It's odd that Cassia, which was named the best new restaurant of 2015 by both Los Angeles magazine and L.A. Weekly (and the Observer) and which Gold ranked higher than any restaurant that opened last year in his latest Los Angeles Times list of the city's top 101 restaurants, hasn't gotten the proper local attention for its New York Times rave. But maybe there's a refreshing flip side here: L.A. has grown into a confident city that doesn't care about how it's viewed by the rest of the world. It doesn't exist to be defined by other cities' standards, especially when it comes to food. Maybe the L.A. culinary community doesn't care so much about Cassia being a three-star New York Times restaurant because it loves Cassia on its own terms.
But Ng, who worked at Daniel, Campanile and Mozza, is a student of formal dining who can't help but care about what this all means, now that Cassia has as many stars as Babbo and Blue Hill and Bouley. ("I did work in New York, and it's a significant thing, and it makes or breaks people in New York," the chef says of New York Times reviews overall.) I hope he understands that this is a gigantic fucking deal that will forever be part of his narrative. I hope he realizes that he has one of the best restaurants in the country, and that this is recognized on both coasts. I hope he knows that he deserves it.