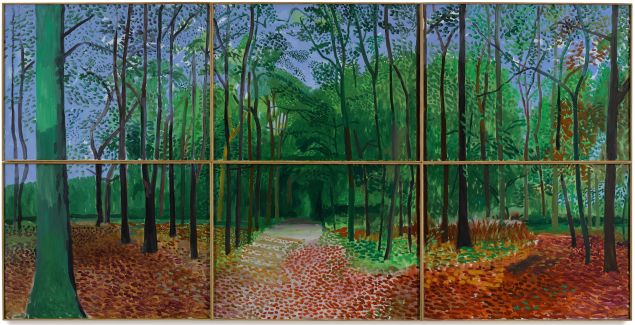 The hulking Citroen building in Brussels will become a satellite museum of the Centre Pompidou. The Paris museum and the Brussels city government have signed an MoU, the two entities announced yesterday. (The Art Newspaper)
The first work from David Hockney's "Woldgate Woods" series is hitting the block at Sotheby's this fall. With an estimate of $9 million to $12 million, it would easily set a record for the artist at auction.
Nelson-Atkins Museum of Art announced the reopening of the renovated Bloch Galleries (made possible via a donation from the collector of H&R Block fame) early next year. The collection—which includes important Manets, Cezannes and a variety of other French and Dutch Impressionist works—will be on view for the first time in ten years.
The Armory Show has hired Nicole Berry as deputy director. Berry formerly held the same title at Expo Chicago, which we wrote about earlier this week.
Two Van Goghs—missing for more than 15 years—were recovered near Naples by an Italian anti-Mafia squad. This underscores both the Italian reverence for art and its usefulness as collateral. (The Art Newspaper and The Guardian)