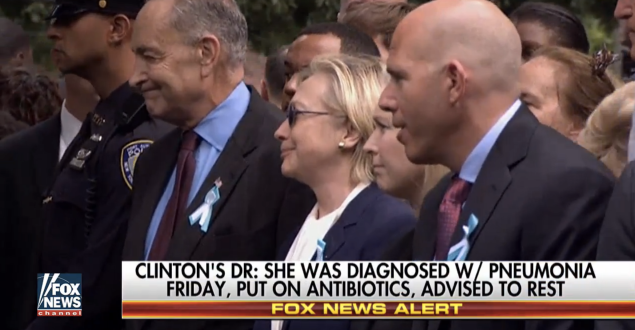 So what happens if Hillary Clinton's pneumonia gets worse and she has to drop out of the race for president? It has forced her to cancel Monday's planned trip to California. What if it gets worse?
Could the Democratic Party select a new candidate less than two months before the Nov. 8 election to run—and win—against the Republican Donald Trump?
Sure they could and, on normal weeknight cable news shows, the question might have been discussed on all three outlets. But yesterday was not only a Sunday but also the 15th anniversary of the terrorist attacks of September 11, 2001.
So the afternoon reports were sketchy and most of the evening shows were prerecorded pieces about the attack on the World Trade Center and the Pentagon. There were plenty of glimpses on amateur video of Clinton stumbling while trying to get into her vehicle at Ground Zero.
In the 10 p.m. hour, on a special CNN show not originally scheduled, journalist Carl Bernstein said: "It's clear she tried to hide this." David Gergen added that Clinton should release all her health records—as should Trump.
"She has two weeks to get these health records out," Gergen said. "The debate is two weeks away. She wants to dispose of this issue before she gets there. If in fact, her health is good, this will be a two-day, three-day story . . . She can put (Trump) on the defensive."
By coincidence, Sunday was the debut of Brett Baier's Special Report, which will run on Fox News on Sundays at 8 p.m. until the election. That gave Fox a chance to win the evening in the sweet spot of prime time.
Unfortunately, only the beginning of Baier's show reported Clinton's illness, which forced her to leave early from a 9-11 memorial service in Lower Manhattan.
At the time, it was blamed on dehydration and heat. Later in the day, her doctor said she was diagnosed with pneumonia—on Friday, two days before.
Fox reporter Rick Levanthal suggested that Sunday morning weather in New York was neither too hot nor too humid and that a nice breeze blew.
"Not the kind of day when you would expect someone to overheat," he said.
It wasn't until 8:04 p.m. that Baier got around to mentioning the word "pneumonia." Fox showed an old clip of Trump saying Clinton "lacks the mental and physical stamina" to serve as commander-in-chief.
Reporter Jennifer Griffin showed the highlight of Clinton's coughing fit last Monday. Guy Benson of Townhall.com discussed the amateur video of Clinton stumbling as she tried to enter her vehicle and leave Ground Zero.
"It's a red-flag video that's hard to watch," he said.
A.B. Stoddard of Real Clear Politics said of Clinton's pneumonia: "She can't stop lying… Sure, it was her choice to hide it."
And Tucker Carlson opined about how busy Clinton has been.
"It's nuts that they let her keep a schedule like that," he said, adding that pneumonia is "one of the leading killers of people over 65. You would not let a loved one keep a schedule like that with pneumonia."
So who might replace Clinton if she were to drop out before the election? Here's a few guesses.
Tim Kaine, senator of Virginia and Democratic candidate for vice-president. Plus side: He smiles a lot and has a clean reputation. Minus side: Relatively unknown nationally. Trump might bull-rush him in debates.
Joe Biden, vice-president. Plus side: Well-known nationally, still vigorous, well-informed and likely to take Trump apart in the debates. Minus side: Grief over son's death kept him from running in primaries; he would be 74 when sworn in, older than both Clinton and Trump.
John Kerry, secretary of state: Plus side: He's up to the minute on foreign affairs and respected by many Democrats and Republicans. Like Richard Nixon, could avenge a prior presidential defeat. Minus side: He'd be 73 when sworn in. Swift-boat attackers would revive their successful smear campaign of 2004.
Sen. Elizabeth Warren of Massachusetts. Plus side: She's a liberal female and a much feistier campaigner than Clinton. She'd energize the Bernie Sanders primary supporters. Minus side: Trump would ridicule her with his "Pocahontas" taunt. And Warren might come on too strong for some male voters and conservative women.
Bernie Sanders: Plus side: Solid bloc of support in his party. Experienced on campaign trail this year. Minus side: narrowly focused on domestic economic issues in period of global tension. Would be 75 years old when sworn in. And is America ready for a Jewish president?
Sen. Al Franken of Minnesota: Plus side. Highly intelligent with great sense of humor. Would humiliate Trump in debates. Minus side: Would be a target for anti-Semites like Steve Bannon, who departed alt-right Breitbart web site to be Trump campaign's chief executive officer.
Should Clinton drop out before the election, the Democratic National Committee would choose a replacement. Should she become unable to serve before the Electoral College votes in December, the College would choose a president. Should she fall seriously ill after the College votes but before inauguration, the vice-presidential winner (Kaine) would become president.
'We want to be friends with the Russians. The problem is that Putin just doesn't seem to be a guy we can trust.'
Hand me the remote . . .
FOX NEWS SUNDAY Host Chris Wallace asked Jeh Johnson, the secretary of Homeland Security, about Trump's continuing praise for Vladimir Putin, the president of Russia.
"I think we have to be extremely careful . . . in what we say about foreign leaders," Johnson said. "Republicans and Democrats on both sides of the aisle have a lot of concerns about what Vladimir Putin is up to. And so I think we need to be careful in our rhetoric, and that's a non-partisan, bi-partisan statement."
George Will, speaking of Russian efforts to interfere in the American election by hacking the Democratic National Committee, said the Russians were trying to demoralize Americans into thinking that their election is tainted.
"An enormous benefit for the diminution of American power," Will said, adding that Trump's pal Putin is "an extremely dangerous man."
Newt Gingrich, a Trump booster, was quizzed by Wallace about Trump.
WALLACE: "But you can't be comfortable with this continuous praise of Vladimir Putin?"
GINGRICH: "I'm not comfortable or uncomfortable with it . . . "
WALLACE: "Trump went on RT, that's Russian Television, a propaganda arm, to praise Putin and criticize American media."
Much was made on all the shows of Clinton's Friday night comments about half of Trump's supporters being "the basket of deplorables: Racist, sexist, homophobic, Islamaphobic—you name it."
She later apologized for labeling so many of Trump's supporters in this manner.
Will took it to a deeper level.
"The problem is cultural in that this country, not just economic, people don't feel just left behind, they feel looked down upon, despised by their elites," Will said. "That's much more volatile than an economic grievance."
Juan Williams replied that Clinton's words have "sharpened the focus on who Trump is and people who choose to associate with Trump
"Trump is not your normal conservative," Williams said. "He is not your normal Republican. Trump is trying to mainstream a lot of fringe groups, the birthers, racists. I mean, you look at the poll numbers. Thirty-five percent of Americans think Trump is a racist and about 56 percent think that he has negative attitudes toward women, immigrants and minorities."
MEET THE PRESS Host Chuck Todd and guest Tom Brokaw recalled the 9-11 attacks but focused specifically on the war in Iraq, which began 18 months later when President George W. Bush and other officials said Sadaam Hussein had weapons of mass destruction.
They seemed to be pointing out that Bush, by kicking over a hornets' nest in Iraq, started the new round of chaos that prevails to this day in Middle Eastern nations like Syria.
"It unleashed the wrong war in the wrong place for the wrong reasons," Brokaw said. "There were no weapons of mass destruction. It's been terribly costly. What we now have is a very destabilized Middle East."
One of Todd's guests was Paul Wolfowitz, the former deputy defense secretary, who takes offense at being called the "architect" of Bush's Iraq war.
"I was not in charge," Wolfowitz said. "I was not the commander-in-chief… There were a lot of things that should have been done differently."
And then there was this moment about the 9-11 hijackers, most of whom were Saudis.
TODD: "Why didn't we ever hold Saudi Arabia accountable? …So they're harboring terrorists?"
WOLFOWITZ: "No, they are cultivating terrorists, ideologically. The point is, you don't deal with that by going to war."
Todd finally said to him: "Somebody got us into this… Who lied?"
Wolfowitz replied: "The real liar was Saddam Hussein."
THIS WEEK George Stephanopoulos was back in the ABC anchor chair and one of his visitors was Rudy Giuliani, the former mayor of New York and currently a Trump surrogate.
Stephanopoulos asked Giuliani about Trump's constant assertion that the U.S. should have taken Iraq's oil after invading the nation in 2003.
"Wouldn't that just be theft?" he asked. "That's not legal, is it?"
Giuliani found this funny.
"Of course it's legal," he said. "It's a war. Ha, ha, ha, ha. Until the war's over, anything's legal."
Later, Stephanopoulos put a similar question to retired Marine general John Allen, a Clinton supporter.
Allen recalled the old slogan "To the victor go the spoils" and added "We as a community of civilized nations stopped saying that and stopped doing that years ago."
As for Trump's claim that President Obama has reduced American generals to "rubble," Allen replied: "I don't feel much like rubble." He said generals and admirals still serving are "spectacular leaders and they haven't been reduced to rubble."
Rep. Marsha Blackburn got it wrong when she said Clinton had called 50 per cent of the entire nation deplorable. In fact, she spoke only of Trump supporters and she later backed off even from that.
"It was so insulting to so many people," Blackburn said. "Firefighters, military, law enforcement."
FACE THE NATION John Dickerson gets good guests for his CBS show and one this week was CIA Director John Brennan who said of ISIS: "It's now a failing organization. Their narrative has been refuted. Their claims of a great victory have been debunked."
Then came conversation about Trump's buddy Putin and his meddling in the American election. Brennan called Putin "very aggressive, every assertive. I think his intelligence background gives him a certain perspective. A lot of the senior Russian officials are also former KGB and so he is someone we need to be very wary of his ability to manipulate environments for Russia's advantage."
DICKERSON: "Is he manipulating the election? IS that an environment you think he's trying to manipulate?"
BRENNAN: "I think that we have to be very, very wary of what the Russians might be trying to do in terms of collecting information in that cyber realm as well as what they might want to do with it."
Rep. Devin Nunes—chair of the House Intelligence Committee—was asked by Dickerson about Trump's claims that Putin is a better leader than President Obama.
"You have a view on that?" he asked.
"We want to be friends with the Russians," Nunes said. "The problem is that Putin just doesn't seem to be a guy we can trust."
In a panel discussion, investigative journalist Steven Brill discussed "lone wolf" terrorists who get radicalized in their homes in American cities with propaganda from the internet.
"The one thing that one of the parties doesn't seem to want to do when it comes to Homeland security is to do what most other countries do: Keep assault weapons and military weapons away from terrorists," he said. "It's one way to adapt. It doesn't cost much, it's logical and it works."
STATE OF THE UNION Jake Tapper's first CNN show of the morning was a 9-11 memorial but his second—at noon—overlapped the start of Clinton's health episode.
"We do know that there have been questions from the other side and her critics and Donald Trump who says at campaign rally after rally that she's low energy and she's not feeling well," Tapper said. "This certainly will feed into the sort of lingering questions that are out there."
He showed a clip of reporters outside Chelsea Clinton's apartment, where Clinton went to recover.
"What happened?" shouted a reporter.
"It's a beautiful day in New York," Clinton said.
Michael Morell, the former acting director of the CIA, said "I think Vladimir Putin considers him (Trump) an unwitting agent. Putin played to Trump by telling Trump what he wanted to here, which is 'I'm a great guy. I'm smarter than anybody else. I'm a great person.'"
Describing the Russian president further, Morell said, "This is a very bad guy. This is a thug and a bully. This is a guy who only understands relative power . . . If he punches you in the face, you've got to punch him back in the face."
On video, Tapper showed the first look at Clinton stumbling as she tried to get into her vehicle.
Bakari Sellers noted "The only time the Republican Party seems to care about women's health is when they're talking about Hillary's health."
He also spoke of Trump supporters.
"The people who wear Confederate flag tee shirts at the rallies and say 'Let's make America great again,'" Sellers said. "That petrifies me."
Disclosure: Donald Trump is the father-in-law of Jared Kushner, the publisher of Observer Media.