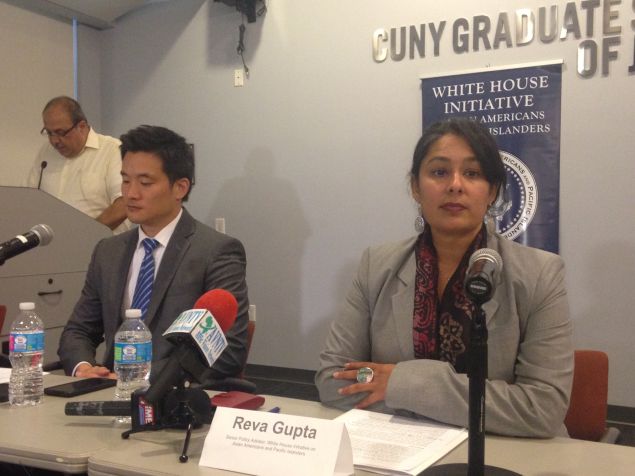 As Republican presidential nominee Donald Trump reiterated his plans to deport immigrants if elected president, a White House senior policy advisor and advocates for the Asian and Pacific Islander communities weighed in on the future of the Deferred Action for Childhood Arrivals program.
At a media roundtable at the CUNY Graduate School of Journalism today, Asian American groups and the White House Initiative on Asian Americans and Pacific Islanders—housed within the Department of Education—discussed the Deferred Action for Childhood Arrivals and its implications for individuals of Asian and Pacific Islander descent.
In 2012, Homeland Security Secretary Jeh Johnson announced that certain people who came to the United States as children and meet several requirements can request to avoid deportation for a two-year period, which would be subject to renewal. They were also permitted to request work authorization.
Panelists were asked how Trump's speech last night, in which he reaffirmed his plan to deport nearly 12 million foreign nationals living in the United States without the necessary paperwork, and whether they were facing an uphill battle to get people to apply in light of the rhetoric about immigrants throughout the race.
Annie Wang, staff attorney for the Asian American Legal Defense and Education Fund, said she believes the next president can have a say in whether DACA moves forward.
"I think that I am often asked during this presidential season what is the future of DACA," Wang said. "And so my response has been that I believe that it will continue if the next president supports the continuation of DACA and perhaps even going beyond it. But it's hard to predict exactly what will happen."
James Hong, interim executive director of the MinKwon Center for Community Action said his organization has seen more interest in politics and greater civic engagement.
"We have not noticed a big drop in terms of applications coming through," Hong said. "I will say that the rhetoric has heightened the interest of undocumented and DACA recipients in politics generally. And so as an organization that wants to have greater civic engagement, that's actually great news for us."
More than 130,000 AAPI individuals in the United States may be eligible to request DACA, which would affect roughly 14,000 individuals of Asian and Pacific Islander descent across Brooklyn, Queens and Manhattan, according to Reva Gupta, senior policy advisor for the White House Initiative on Asian Americans and Pacific Islanders—but requests for DACA are still disproportionately low in the AAPI community.
"Unfortunately, Congress has been unable to pass a comprehensive immigration reform bill that would provide a pathway to citizenship for undocumented individuals," Gupta said. "Because of this gridlock, the president and his administration took a number of steps to address the broken immigration system."
In November 2014, Obama tried to expand DACA and add exceptions to Deferred Action for Parents of Americans and Lawful Permanent Residents (DAPA), to protect roughly 4.3 million undocumented immigrants, but an injunction went into effect after Texas and 25 other states filed a lawsuit.
Wang noted that the case would likely not be rescheduled until a ninth justice is confirmed to replace the late Justice Antonin Scalia, who died earlier this year—a process that would only kick off a new president is elected.
"And then in this scenario, if the Supreme Court were to grant rehearing or petition for rehearing, the re-argument would not likely be scheduled until…and therefore a decision would not be expected until 2018," he said.
Juliet Choi, chief of staff for the U.S. Citizenship and Immigration Services, said progress will come from a collaboration among different people and entities.
"You know, on one hand, we are the world's largest immigration agency," Choi said. "But we also take it very, very seriously importantly that as it relates to DACA, this is a very personalized, individualized decision for that young person and that family."
Jo-Ann Yoo, executive director of the Asian American Federation, moderated the panel discussion. Steve Choi of the New York Immigration Coalition, James Hong of the MinKwon Center for Community Action and Howard Shih of the Asian American Federation also participated in the panel.
Disclosure: Donald Trump is the father-in-law of Jared Kushner, the publisher of Observer Media.