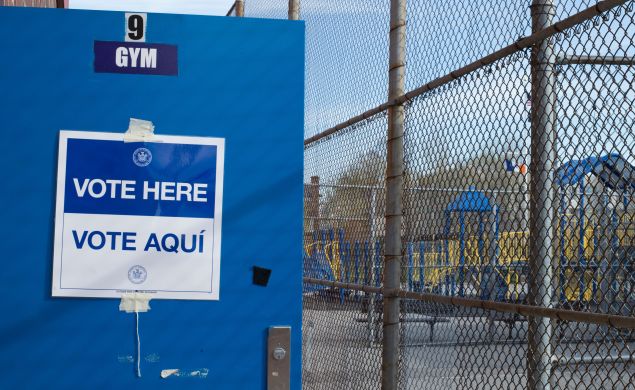 Thanks to the gerrymandering and de facto one-party rule that prevails throughout the bulk of the five boroughs, the real election day for most political contests in New York City is in September. But the magnitude and gravity of this year's presidential primary in April, the congressional primary in June and the impending presidential election in November have eclipsed the smaller revolutions going on in the city's political firmament.
Nonetheless, the small percentage of voters who show up to the polls today could undercut old political machines, uplift new ones and determine the power structure in the State Legislature next year. This isn't meant as an exhaustive catalogue of all state races across the city, just a summary those with the biggest political implications—or the most memorable weirdness.
State Senate District 10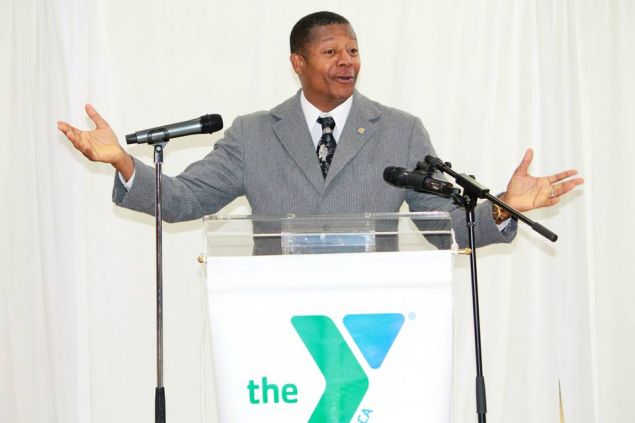 Queens State Senator James Sanders made a potentially career-ending political blunder when he filed last December to challenge long-sitting Congressman Gregory Meeks. Meeks, after all, is the protege of former Congressman Floyd Flake—today the pastor of the 23,000-member Greater Allen African Methodist Episcopal Church and a major political powerbroker in Southeast Queens. Congressman Joseph Crowley, the Queens Democratic boss, maintains influence in the African-American enclave through an at-times uneasy alliance with Flake.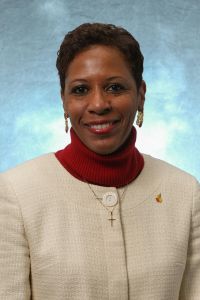 Rumors of misconduct and federal probes had for years haunted both Sanders and Meeks, but the political lights of Queens made sure to resurrect the claims about the state senator in the press. And even though Sanders pulled out of the congressional contest, Crowley and Flake have put up a tough challenger against him for his state seat covering Laurelton, Rosedale, Springfield Gardens and the Rockaways: Adrienne Adams, chairwoman of the local community board and a member of Flake's flock.
Adams has the advantage now of stronger fundraising and greater institutional support. But Sanders has monopolized labor endorsements in the race and enjoys the inertia of incumbency—plus the 15 years of name recognition he's built up in the area since he won his first election for the City Council in 2001. Should he fail, unions, the Working Families Party and Mayor Bill de Blasio would lose one of their tightest allies in Albany.
An Adams triumph would also strengthen both Flake and the Queens machine, and fortify the bond between the two.
State Senate District 19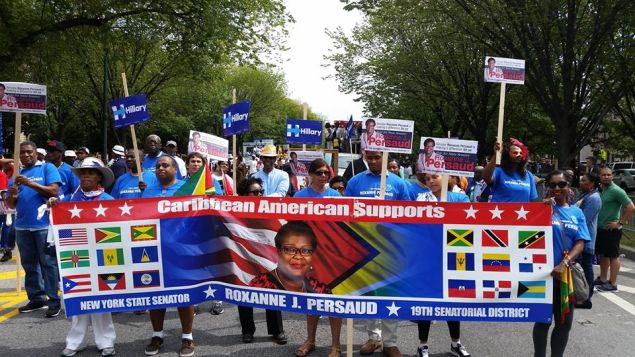 Last year, federal perjury and witness-tampering charges finally felled former State Senate Majority Leader John Sampson. His conviction triggered a special election for his seat, where the local county committee—a panel of party insiders usually aligned with the Democratic machine—picked freshman Assemblywoman Roxanne Persaud as his successor. She moved into the upper house of the State Legislature virtually unopposed.
The district has always been an establishment stronghold, in large part because at its geographic and political heart sits Canarsie, the home base of current County boss Frank Seddio and his once-powerful Thomas Jefferson Democratic Club. At one time home mostly to Italian and Jewish immigrants, the neighborhood now boasts a large West Indian population.
It is from this population that both Persaud and her rival, small businesswoman Mercedes Narcisse, hail. But the real threat to Persaud and County actually comes out of nearby East New York, the source of most of Sampson's votes in his most recent re-election.
County has relatively little influence in impoverished, predominantly black East New York. Instead, the Democratic Party there is under the control of Assemblyman Charles Barron and his wife, Councilwoman Inez Barron, and their Operation P.O.W.E.R. Operation P.O.W.E.R. is far to the left of Seddio's moderate machine, and heavily influenced by the ideology of the Black Panther Party, to which Mr. Barron once belonged.
The Barrons have aligned behind Narcisse, who has a long and fraught relationship with County and with Seddio. Seddio was godfather to one of Ms. Narcisse's children, but the two split after the County chairman repeatedly declined to back her when she attempted to run for office—most recently for City Council in 2013, in a race she lost to Seddio's former chief-of-staff Alan Maisel.
Persaud's camp has accused Narcisse of not really residing in the district, while Narcisse has lobbed allegations of bullying and intimidation at Seddio and County. The Democratic machine in Brooklyn, like County machines across the city, has atrophied substantially in recent years and truly controls only a few corners of the borough. If the Barrons and Narcisse can successfully mount a coup against Persaud, the only seats left in Seddio's grasp will be Persaud's old Assembly post, Maisel's spot in the Council and a handful of judgeships and district leader positions.
Thus, the deciding votes in the majority-minority district may end up getting cast in the white ethnic enclaves of Sheepshead Bay, Mill Basin and Bergen Beach, where County remains relatively strong.
State Senate District 31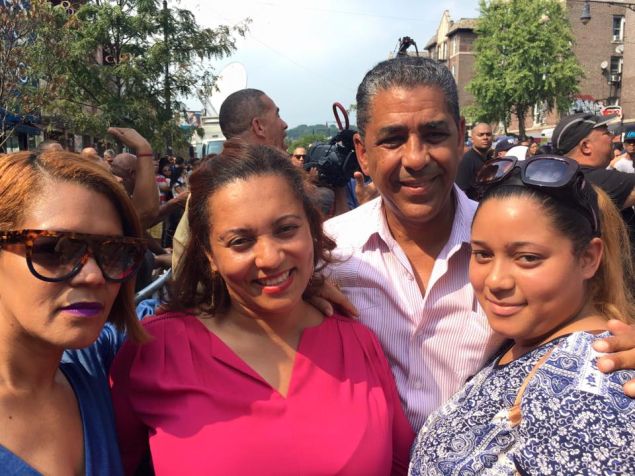 In June, Upper Manhattan State Senator Adriano Espaillat finally realized his twice-deferred dream of taking over retiring Congressman Charles Rangel's seat (or, rather, he won the Democratic primary, which in that district amounts to the same thing). As early as this spring, two candidates had already emerged for his seat, which covers Washington Heights, Inwood and a long, narrow riverside strip stretching down the West Side as far as Hells Kitchen. The first contender was Espaillat's 2014 rival, ex-Councilman Robert Jackson, who came close to unseating the incumbent in the Democratic primary two Septembers ago.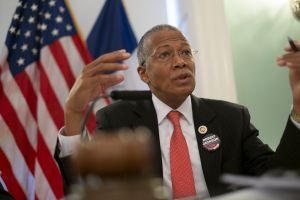 Jackson is an African-American with historically close ties to teachers unions, Rangel's Harlem machine and to an array of predominantly white liberal clubs in the southern reaches of the district. He broke into politics by co-founding the Campaign for Fiscal Equity, which in 1993 sued Albany for billions of dollars it argued the state owed to city public schools—and eventually won, though Gov. Andrew Cuomo's administration has since resisted delivering the funds.
More recently, he's become a lobbyist for the styrofoam industry.
A white candidate, Micah Lasher, announced his interest in the seat this spring. Lasher is a familiar figure to New York politicos. In 2001, the then-20-year-old Upper West Side whiz kid went to work for then-Public Advocate Mark Green's bid to replace outgoing Mayor Rudolph Giuliani. It was Lasher who made a mailer out of a New York Post cartoon depicting Green's chief Democratic rival, then-Bronx Borough President Fernando Ferrer, kneeling to kiss the Rev. Al Sharpton's then-abundant backside—a bit of literature the Green campaign distributed in mainly white outerborough neighborhoods.
Later, Lasher would work as an aide to Congressman Jerrold Nadler, co-found SKDKnickerbocker—one of the state's top lobbying/consulting firms—and serve as director of state legislative affairs for the man who bested Green, Mayor Michael Bloomberg. After a short stint as executive director of pro-charter school group StudentsFirstNY,  he became chief-of-staff to state Attorney General Eric Schneiderman in 2013.
Schneiderman held the State Senate seat prior to Espaillat, and the two have preserved a friendly relationship, so when Lasher announced his candidacy—and vowed to drop out if Espaillat lost his House bid and sought to return to Albany—many observers saw him as a placeholder for the incumbent.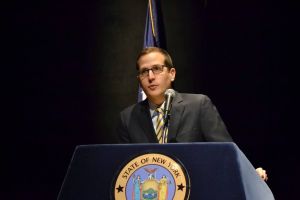 The odd part was that neither Jackson nor Lasher fit the predominantly Dominican-American district demographically. What Lasher's candidacy did, however, was undermine Jackson's traditional base of support on the Upper West Side. And after Espaillat captured the congressional seat, the triumphant pol backed a leader in his political club, Marisol Alcantara, for the seat.
Not only is Alcantara's ethnicity right, she quickly stacked up cash and endorsements from unions looking to get in good with the newly-minted congressman. She's also drawn thousands of dollars in contributions from the State Senate's breakaway Independent Democratic Conference.
Since 2012, the five-member IDC has colluded with the State Senate Republicans to control the upper house of the legislature. It's unclear whether the renegade sect will defect back to the Democrats after this year's elections. What is clear is that the IDC, which for most of its existence has consisted of white pols from bucolic sections of the outer boroughs and the suburbs, is desperate for a minority member—so it can deflect claims it has disempowered the blacks and Latinos who make up much of the mainstream Democratic conference's constituency.
Two years ago, the splinter faction unsuccessfully sought to recruit newly-elected Brooklyn State Senator Jesse Hamilton, an African-American. Alcantara, who has refused to comment on what conference she'll sit in if elected, represents an opportunity to add some color to the monochrome caucus. And for all his vaunted political savvy, Lasher seems to have served as little more than a handmaiden to this effort.
The only thing that might trip up Alcantara at this point is community activist Luis Tejada, another Dominican-American candidate.
State Senate District 33
In 2014, Bronx State Senator Gustavo Rivera repelled a primary challenge from Councilman Fernando Cabrera with nearly 60 percent of the vote. This year, Cabrera decided to treat Kingsbridge Heights, East Tremont, Crotona Park, Van Nest and the Fordham area to a rerun.
Given that going to Albany would mean a smaller paycheck and a longer commute, and that Cabrera won't be term-limited until 2021, sources suggested Cabrera's main motivation for mounting another assault on the sitting state senator is nothing more than personal acrimony.
Rivera, one of the most liberal members of the State Legislature, has reprised his attacks from two years ago: namely that Cabrera—an evangelical pastor—used to be a registered Republican, maintains ties to conservative groups like the Family Research Council and has praised the government of Uganda, which subjects homosexuals to imprisonment. Cabrera has slammed Rivera for what he claims is a failure to bring capital funds for schools and playgrounds back to the district, even though state legislators don't receive the individualized disbursements of public cash (often called member items) that Council members do.
Rivera has once more dominated in endorsements and fundraising, and most insiders the Observer spoke with predicted the incumbent would triumph again, though maybe by a smaller margin of victory than before.
But if Cabrera somehow pulled out a win, it would inject yet another unstable element into the State Senate, where the loyalties and alliances that undergird power are tenuous already. Given his past political vacillations, it's possible he might join the IDC, which flirted with supporting him in 2014—or that he would simply sit with the Republican caucus while remaining a nominal Democrat, a la Brooklyn State Senator Simcha Felder.
One source even suggested that he might form a two-man coalition with the mercurial State Senator Rev. Ruben Diaz Sr., a fellow Bronx Democrat who shares his fundamentalist Christian faith and right-wing social views.
Assembly District 46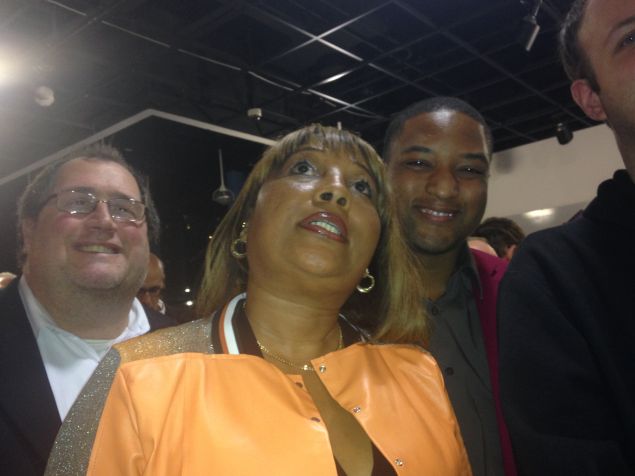 Last November, Pamela Harris became the first African-American to win a majority-white seat in New York City when she captured the Assembly district covering Bay Ridge, Dyker Heights and her native Coney Island. But her election was really a fluke: previous Assemblyman Alec Brook-Krasny abruptly resigned mid-term to assume a job in the private sector, setting up a battle in the county committee to pick his replacement.
Vying for the position were Harris, founder of the nonprofit Coney Island Generation Gap, and Brook-Krasny's chief-of-staff Kate Cucco, a Bay Ridge resident. After hours of fierce politicking in the basement of an Italian catering hall, Harris prevailed. But Cucco has decided to try again.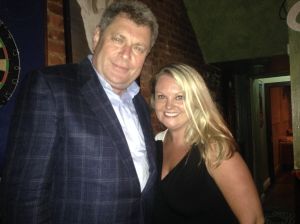 Beyond the racial implications and neighborhood rivalries, another battle for power underlies the contest between the two. Harris's political bridegroom is Councilman Mark Treyger, who represents Bath Beach and Coney Island—and who himself is an outgrowth of Assemblyman Bill Colton's United Progressive Democrats club in Bensonhurst. For years, Colton commanded fanatical devotion in his home neighborhood but had no ability to project power outside his base, and few Brooklyn leaders took him seriously.
But the weakening of the Kings County machine has left Frank Seddio increasingly dependent on operations like Colton's, and has enabled the assemblyman to expand his turf. In 2013, he installed Treyger in the vacant Council seat that formerly belonged to Domenic Recchia, a despised rival. And Harris's victory last year let him set a foot down in Bay Ridge and Dyker Heights.
Democrats based in Bay Ridge have supported Cucco in an effort to confine Colton and Treyger to their own backyard.
The district is nearly two-thirds Caucasian, and just nine percent black. But Harris enjoys considerable support from labor, the WFP, County and from Assembly Speaker Carl Heastie. Still, she has had to deal with unflattering news reports about financial irregularities at her nonprofit and her own personal bankruptcy in 2013.
Assembly District 62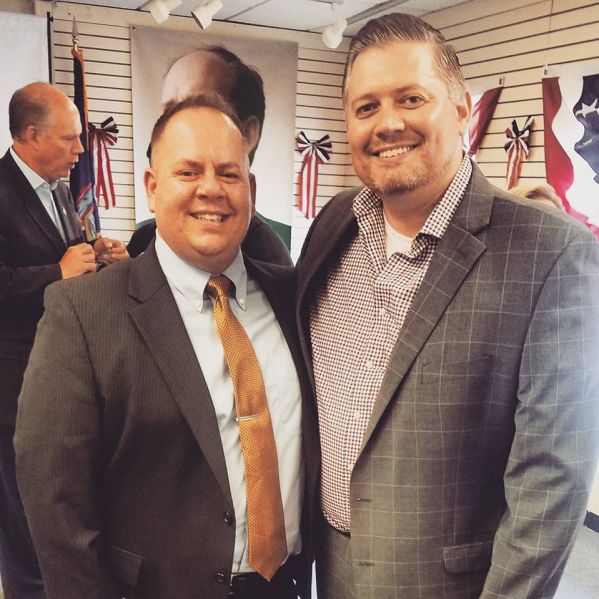 The South Shore of Staten Island often seems like a parallel universe to the rest of New York City, a place where all the usual political virtues are sins and Republicans rule everything instead of Democrats. This alternate reality has hosted one of the wackiest primary rivalries of the year, as freshman Assemblyman Ronald Castorina fights to fend off a challenge from local activist Janine Materna.
Castorina, a longtime GOP operative, had lived a little more than two years in the district when the County Republican Party picked him as its candidate in this April's special election for the Assembly seat that had belonged to Joseph Borelli. Borelli, another Republican, had stepped down to run for the empty seat of his mentor, former GOP Councilman Vincent Ignizio.
In keeping with the area's mirror-image of the New York city norm, the Democratic Party on the South Shore is so negligible it didn't even field a candidate against either man.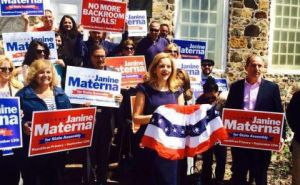 Materna, a South Shore lifer who heads up the Pleasant Plains-Prince's Bay-Richmond Valley Civic Association, eyed both seats but couldn't get the Republican Party to consider her—mostly because she ran as a Democrat against Ignizio in 2009. Her current bid against Castorina has turned into a contest of local bona fides against GOP credentials, with a sprinkling of bizarre accusations and recriminations.
The challenger has claimed the incumbent is ineligible for his office, arguing he secretly lives outside the boundaries of the 62nd. For proof, she has pointed up that Castorina claims a tax credit reserved for primary residences on a home he owns in the adjacent 63rd. The assemblyman insists he got the break as result of a government error, likely because his parents live at that address and he and his father share the same name.
Castorina, with the backing of the GOP machine, has harvested photographs from Materna's well-documented past life as a Democrat—pictures showing her with Hillary Clinton, Bill de Blasio and Anthony Weiner—and plastered them on campaign literature and social media accounts. Materna has fought to have several fake Facebook "fan" pages featuring these images taken down.
The usually secluded contest exploded across headlines citywide this past week when Materna accused Castorina of having failed to disclose what she alleged was his 2001 arrest in Rhode Island. The assemblyman furiously denied ever getting cuffed in the Ocean State, an a Staten Island Advance investigation revealed the offense in question was a mundane speeding ticket and that police never took Castorina into custody.
Staten Island GOP Chairman John Antoniello subsequently demanded Materna abandon her bid for Assembly—a request she has rejected.
Assembly District 65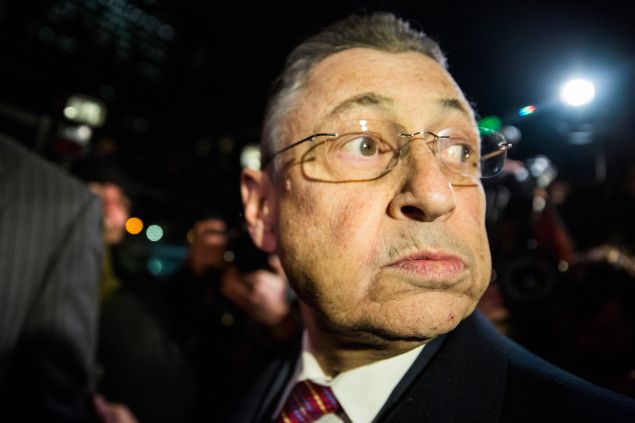 In April, disgraced ex-Assembly Speaker Sheldon Silver pulled off one last act from beyond the political grave: getting Alice Cancel, his handpicked successor, elected to his Lower Manhattan seat.
It was the fallen pol's lackeys on the local county committee—including his wife and his former chief-of-staff—who secured the longtime district leader the Democratic line in the special election to succeed him, boxing out an array of rivals. Cancel herself praised Silver, who was convicted on corruption charges last year, as a "hero" who "did wonderful things in our district."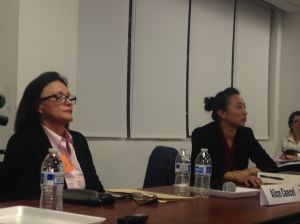 One of Cancel's rivals for the Democratic nomination, Yuh-Line Niou, carried on her campaign in the special election on the Working Families Party line. Despite being an extremely recent transplant to the district, Niou accrued support from unions and much of the Democratic power structure in the Assembly. This is likely because the true power behind Niou, who served as chief-of-staff to Queens Assemblyman Ron Kim, was Queens boss Joseph Crowley and his ally, former city Comptroller John Liu.
Sources tell the Observer that many leaders in the Asian-American community based in Liu's native neighborhood of Flushing consider Chinatown, which makes up a large chunk of Silver's old district, as part of their rightful turf. Seto Chung, one of Liu's confidantes, has served as Niou's campaign manager.
All that muscle failed help Niou overcome the inherent handicap of not appearing on the Democratic line in a deep blue district in the April special. She continued her campaign through the summer in anticipation of today's primary, and retained all of her formidable powerbroker backing.
But she now must compete against two other Chinese-American Democrats, both of whom have far deeper roots in the district than hers. One is businessman Don Lee, the other is local community board chairwoman Gigi Li, a close associate of Chinatown Councilwoman Margaret Chin. It's worth noting that the Chinese community doesn't usually boast a spectacular turnout rate.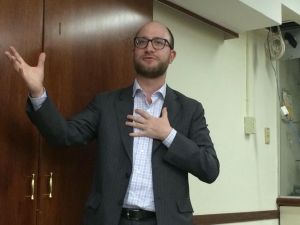 Also vying for the seat is Silver's 2008 challenger Paul Newell, who enjoys some name recognition among politically active white voters in the area. But, just like when he tried to capture the party line earlier this year, his bid is hamstrung  by the candidacy of Jenifer Rajkumar, his fellow district leader and member of the anti-Silver Downtown Independent Democrats club.
Both of the DID candidates have posted strong fundraising numbers, especially Rajkumar, a successful and well-connected attorney (Newell appears to have missed the final fundraising deadline, though). But they will likely split the "reform" vote in the district between themselves and Niou.
And so it seems likely the assorted challengers to the freshman assemblywoman will "Cancel" each other out. Or maybe that she has a "Silver" bullet. Or something like that.
Assembly District 72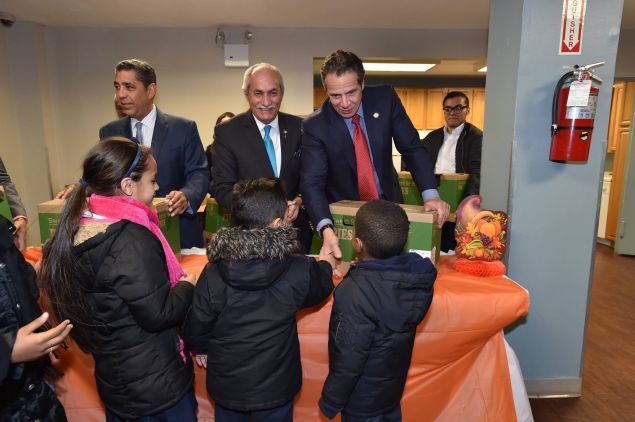 Here Adriano Espaillat has the opportunity not only to solidify his grip on Upper Manhattan, but to vanquish his oldest and bitterest rival: Assemblyman Guillermo Linares.
Linares candidacy for Rangel's seat earlier this year made for one of the congressional race's strangest subplots. The assemblyman rejected a suggestion from Councilman Ydanis Rodriguez, an Espaillat attache, that he sit out the House competition and instead seek the State Senate seat. Having challenged Espaillat for State Senate in 2012 and lost badly in their overlapping turf, he must have known he would not even carry his own Assembly district in the federal primary in June.
He raised hardly any cash, and his filings with the Federal Election Commission were filled with irregularities. The only explanation was that he was looking to thwart the State Senator's congressional hopes by splitting the uptown Dominican vote, and help elect Assemblyman Keith Wright, Rangel's favored successor. After all, Linares became the first Dominican-born individual to hold elected office in the United States when he won a City Council seat in 1991 with the help of the Harlem machine.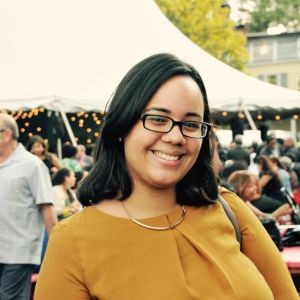 If that was Linares's intent, he failed, and may in the process have sowed his own political doom. He faces a robust challenge from district leader Carmen de la Rosa, Rodriguez's former chief of staff and Espaillat's former campaign manager. With both their endorsements, and with Alcantara's campaign distributing literature with de la Rosa's name on it, the insurgent Linares himself has seemed strangely apathetic about getting re-elected. Sources say the assemblyman has been virtually invisible in the district since his congressional defeat. He's missed state fundraising deadlines, and pulled together little money despite a last-minute cash infusion from a few unions. Unless he can coast on name recognition alone, he may face the end of his long career in elected office.