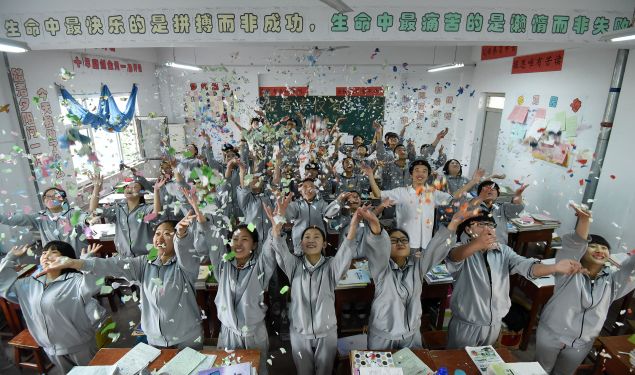 Earlier this month, roughly 10.4 million boys and 8.9 million girls in China trudged to school to begin their third and final year of high school. Senior 3 will be the culmination of a period in their young lives that most recent graduates describe with dismay. They know that next June, 9.4 million of them will spend three grueling days sitting the Gaokao, China's well-known university entrance exam, intensely dreaded by students and parents alike. For the ambitious and the driven, their last year of high school will consist of a nearly unbroken schedule of classwork and homework, punctuated by six or seven hours of sleep a day—or less. In some cases, parents will rent small apartments near school, and cater to every aspect of their children's lives to maximize hours spent preparing for the entrance exam.  
The Gaokao is so important because it alone determines for the vast majority of students whether they join the seven million high school graduates entering university next year. More importantly, it decides which university they will be able to attend and, for many, even decides their major. Competition is intense, because the selection process for the relatively small number of places at good or respectable universities is brutal.
At the pinnacle of the Chinese university system are Peking University and its across-the-street rival, Tsinghua University. It is the dream of every student to break into this implacable duopoly and thus join China's elite political, business and cultural circles. Excluding Beijing, whose students benefit from a strange system of provincial quotas, these two schools accept only one test-taker in roughly 10,000 from favored cities like Tianjin and Shanghai—and a brutal one in roughly 50,000 from less-favored provinces, like rich Guangdong or poor Anhui.
Students are more or less randomly matched to majors with no room for interest, capability, and excitement to play a role.
Admission isn't much easier at another 10-15 elite schools, among the most famous of which is Shanghai's Fudan. The selection process remains fairly stringent among another 200 favored universities below them before quality and prestige fall precipitously away, with most students attending the 2,000 schools at the bottom of China's university system. This is why students focus so intently on the Gaokao, and why teachers drill into their heads as many specific exam answers as the students can absorb.
"My students are rarely curious about biology, but when they ask questions," lamented a high school biology teacher with whom we spoke last year, "I answer by telling them that it isn't on the Gaokao, and we are wasting time. It breaks my heart, but I must be strict for their futures."
There is much to be said in favor of the Gaokao system. It enforces fairly high educational standards in a huge but poor country of tremendous variety. In spite of almost institutionalized cheating and tutoring advantages for wealthier families, it is also fairly objective. There is near-universal agreement that a discretionary admissions policy at elite universities similar to that of the Ivy Leagues would become so corrupt, so quickly that the quality of the student body would collapse.
But the Gaokao system is widely criticized for suppressing curiosity, playfulness and any natural tendency of students to explore their subjects. Parents and teachers often name it as the main reason for China's presumed weakness in developing new science and technology. The system showers resources on students whose abilities fall within a very narrowly defined range of excellence, while limiting those kids—the dreamers, the doers, the incurably curious, those enthused by sports or romance—who may be no less intelligent, but were more easily distracted, or less efficient at processing the knowledge needed to score well in the Gaokao.  
There is another, subtler problem. School systems always risk training students to value education too instrumentally, but in China this occurs to an extraordinary degree. Within the elite schools, every department has its own minimum score, and departments are ranked hierarchically in a way known by heart to almost every student. At Peking University, for example, the two most prestigious majors are math and finance; in Tsinghua, they're finance and physics. The result is that two thirds of the top students major in finance, and these are the majors that receive almost all the highest scoring students.
It is not just the most prestigious majors. The prestige of each major is so strictly tied to the minimum required score that many students choose their majors almost wholly according to their Gaokao result: they select the most prestigious major for which they qualify, whether or not they have any interest in it. At a school like Peking University, however, the selectivity is so high that differences in test results between those in the most selective departments and those in the least are probably too small to be determined by differences in ability, and are more likely to be based on differences or conditions that are irrelevant. This means students are more or less randomly matched to majors with no room for interest, capability, and excitement to play a role.
China's educational system has done a great job so far in providing the kinds of students the country needed for its period of rapid growth from a primarily rural economy to the world's second most important manufacturing power. As both China's economy and worker productivity begin their rapid deceleration, however, it is widely recognized within China that the educational system is reaching the end of its capacity to contribute to growth.
It isn't at all clear what China must do to change this rigid process, so that its brightest students are able to push China into becoming a more creative society, but whatever it does will be too late for kids throughout China who have just entered Senior 3. For them, the next ten months will be the awful, mindless grind they have long dreaded.
After 15 years on Wall Street as a trader and banker, Michael Pettis moved to Beijing in 2002, where he is an economics professor at Peking University, a senior associate at the Carnegie Endowment, and the owner of 20 Percent Picture House, a private art gallery.
Josh Feola moved in 2010 from the US to Beijing, where he is a writer, musician and former booking manager at two of Beijing's leading live music venues. He has written about Chinese music and art for a variety of foreign and Chinese publications, operates the net-label Sinotronics, curates Sally Can't Dance, China's leading experimental and avant garde music festival, and plays drums in Beijing band SUBS.