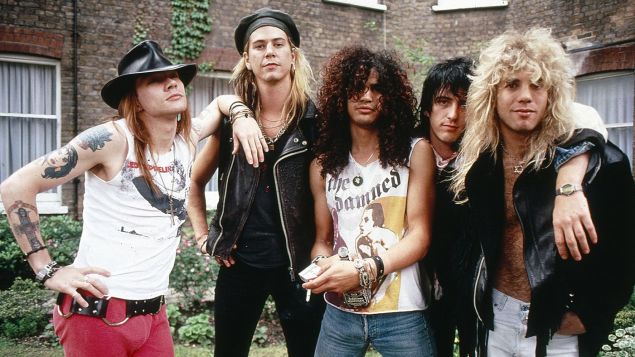 September 17 marks the 25th anniversary of Guns N' Roses' epic Use Your Illusion I and II albums. The two-part record was the last gasp of the colossal, trying-to-fit-the-world-into-an-album rock release—hard rock's take on The Wall, "The White Album" or Physical Graffiti.
The band itself is celebrating the reunion the same way it celebrated the release—on tour. Original members Slash and Duff McKagan (along with Illusion-era member Dizzy Reed) have joined Axl for the appropriately-named "Not In This Lifetime" tour, which finds GN'R re-creating its Illusion-era shows down to the stage banter and unaccompanied guitar solos.
With all of the recent focus on Gn'F'nR's (as their old T-shirts had it), and in light of Use Your Ilusion I and II hitting the quarter century mark, we thought it was time to settle the age-old question: Which one of the Use Your Illusion albums is superior?
Below: a scorecard to see which album triumphs in a number of very important categories. Place your bets.
[youtube https://www.youtube.com/watch?v=8SbUC-UaAxE&w=560&h=315]
Best Use of Cheesy Synths: ("November Rain" and "Live and Let Die on I vs. "My World" on II)
The use of synthesizers was contentious during the Use Your Illusion sessions, and that's putting it lightly. Looking back in 2011, Slash said, "The only catch with the Illusion records was the introduction of synthesizers. I disagreed with synthesizers—and I still do."
It's not hard to tell why. Keyboards aren't nearly as associated with rock n' roll as guitars. Hard rock acts from Kiss to Iron Maiden to Van Halen have had a love-to-hate-them relationship with keyboards and synths, using them frequently but often hiding it, even to the point of making their keyboard players perform offstage, as chronicled in this fascinating L.A. Weekly article.
For Use Your Illusion, we have a battle of the synthesized strings on "November Rain" and "Live and Let Die" pitted against Axl's proto-industrial album-ender "My World," which has the synth-iest of synths.
Winner: The faux strings of "November Rain" and "Live and Let Die" win here for one simple reason—the sheer mystery that they exist at all. Use Your Illusion was an epic undertaking. It took a year to record, used six different studios, and was mixed two separate times. Since they spent all of that time and money, why didn't the band just hire a string section? (I)
[youtube https://www.youtube.com/watch?v=p4CUa-GOo1g&w=560&h=315]
Best Cover Song: (Paul McCartney's "Live and Let Die" on I vs. Bob Dylan's "Knockin' on Heaven's Door" on II)
Guns N' Roses never shied away from playing covers. While they didn't record any for Appetite for Destruction, their debut EP contained a pair, and they would release an entire album of covers after Use Your Illusion.
So it only makes sense that the band's epic would contain not just one, but two cover songs. The group's version of "Live and Let Die" is fantastic, though not that different from the original. But "Knockin' On Heaven's Door" is epic, with soaring solos, a breakdown, and even a spoken-word interlude delivered, for some insane reason, by the guy who played Tony in River's Edge.
And that's not even counting live performances of the song, which could stretch out well over 10 minutes. They would feature reggae interludes, piano solos, audience sing-alongs, and, as any true fan of the era remembers, the backing vocal stylings of "the lovely Tracey and Roberta." See this bombastic rendition from Tokyo in 1992, which starts with Slash playing unaccompanied on a double-neck guitar.
Winner: "Knockin' On Heaven's Door," obviously. Shouts to Tracey and Roberta. (II)
[youtube https://www.youtube.com/watch?v=nDaGr4y6AMs&w=560&h=315]
Best Very, Very, Very Long Song: ("Coma" [10:16] on I vs. "Estranged" [9:24] on II)
Use Your Illusion does not suffer from a lack of long songs—half a dozen tracks break the seven-minute mark. But even by that standard, two tunes stand out. "Coma" ends I, and is a rocker that despite (or possibly because of) its length is so beloved among fans that the group brought it back for their current reunion tour.
"Estranged" is in the "November Rain" school of epic ballads, but manages to stand out by virtue of Slash's beautiful guitar melodies and the fact that the arrangement is strong enough that the song can go on for nine and a half minutes with no chorus in sight.
Winner: This is perhaps the single hardest decision in the whole contest, pitting two of the band's most beloved songs head-to-head. However, some of the best-composed solos of Slash's career push "Estranged" to victory. (II)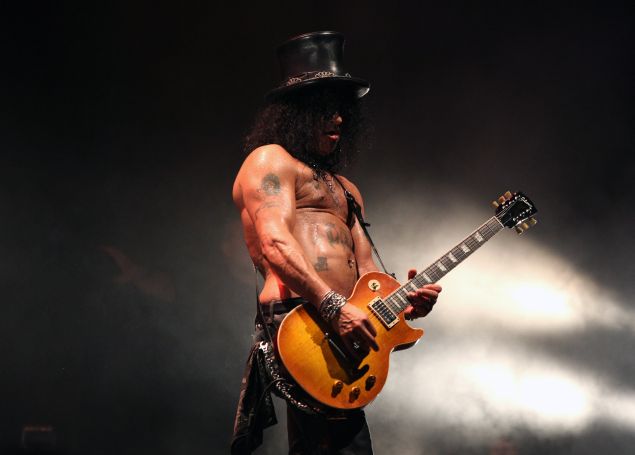 Best Music Videos: ("Bad Apples," "Dead Horse," "The Garden," "Live and Let Die," "November Rain," "Garden of Eden," and "Don't Cry" on I vs. "Yesterdays," "You Could Be Mine," and "Estranged" on II.)
The videos for Use Your Illusion are, to put it mildly, a mixed bag. All most people remember, and rightfully so, is the so-called "trilogy" of "Don't Cry," "November Rain," and "Estranged." Those videos, loosely based on a short story by Axl's friend Del James, contain tons of iconic images and, despite the often-confused plot and sometimes overwrought imagery (dolphins—need we say more) are an attempt to do something big and, yes, meaningful with the music video form. (You can read a great defense of the trilogy here.)
But there were other videos as well—lots of them. The video for "Bad Apples" wasn't released until 2009, and bizarrely consists of footage from the "Don't Cry" video shoot, manipulated to hide the fact that no one is playing or singing anything remotely near what we're hearing. It's as weird and bad as that sounds, and we feel bad for whatever sap had to edit the thing. "Dead Horse," while not nearly as bad, still looks thrown together from random live footage, as well as some inexplicable shots from a "head cam."
As for the non-trilogy videos on II, "You Could Be Mine" is a serviceable T2 tie-in. But "Yesterdays" is a real gem, with the band rocking out in black-and-white while old photos are interspersed.
Winner: II, if only because it lacks the horror that is "Bad Apples." Plus, dolphins.
[youtube https://www.youtube.com/watch?v=cvnlpMwQBKY&w=560&h=315]
Best Revamping of an Old-ass Song: ("November Rain" on I vs. "You Could Be Mine" on II)
Axl Rose is nothing if not determined. Well before he spent 14 years and $13 million to make Chinese Democracy, he was taking years to craft the perfect power ballad with "November Rain." Some reports have him working on the song as early as 1983 (you can check out a circa-1986 acoustic version here). There was also an 18-minute-long version recorded for, but thankfully cut from, Appetite for Destruction.
"You Could Be Mine" was already finished by the time Appetite was released in 1987 (lyrics from the song appear in the album's liner notes), but it wasn't until Ah-nold got his hands on it for the soundtrack to Terminator II in June of 1991 that the world would get to hear the rocker in its entirety.
Winner: "November Rain" triumphs for sheer obsession. (I)
[youtube https://www.youtube.com/watch?v=bZtJhYl8_ks&w=560&h=315]
Best Insults Directed at Actual People: ("Right Next Door to Hell" on I vs. "Get In the Ring" on II)
"Right Next Door to Hell" was inspired by Axl's real-life next door neighbor Gabriella Kantor, who accused the singer of assaulting her with a wine bottle and a piece of chicken before throwing her keys over a 12th floor balcony. Axl insisted she was an obsessed fan who was drunk and had been harassing him for some time. The courts sided with Axl, declining to prosecute him and awarding him a restraining order against Kantor. He decided to celebrate by writing this vicious rocker and, to add insult to injury, making it the opening track on the most highly-anticipated album of the decade.
For "Get in the Ring," Axl took a song by bassist Duff McKagan and changed it into a rant against critics who gave the band bad reviews—in particular, Bob Guccione Jr., publisher of Spin. Guccione had pissed the band off by publishing their notoriously restrictive conditions for interviews and actually reporting on Axl's pre-fame background.
The song calls writers out by name (Guccione, Mick Wall, and Andy Secher, as well as all of Circus magazine) for "printing lies instead of the things we said." Axl famously challenged his antagonists to actually fight. Guccione responded with a letter accepting, but Axl never followed up. Possibly related fact: Guccione was a karate expert.
Winner: "Get in the Ring" for Rose's immortal (if admittedly juvenile) shot at Guccione, whose father founded Penthouse: "What, you pissed off 'cause your dad gets more pussy than you?" (II)
[youtube https://www.youtube.com/watch?v=WlkUaHKruek&w=560&h=315]
Best Version of "Don't Cry": "Don't Cry" on I vs. "Don't Cry (Alt. Lyrics)" on II)
Both versions of "Don't Cry" have the same music, so we're left with the lyrics. The original is held back by the end of the first verse, which awkwardly attempts to rhyme "been there before" with "don't you know." When it comes to slant rhymes, Axl Rose is no Eminem. The alternate lyrics version also contains the creepy phrase "I was the one who was washing/Blood off your hands," so there's that.
Winner: "Don't Cry (Alt. Lyrics)" (II)
Best Izzy Song: ("Dust N' Bones" on I vs. "14 Years" on II)
Founding member Izzy Stradlin was pretty much out the door by the time Use Your Illusion was released; he would officially leave the group in November of 1991. But that didn't stop him from singing lead on not one but two songs on his final GN'R albums.
Both tunes are true to Izzy's Stones-influenced vibe. But "14 Years" brings a little extra edge and, with the distance of time, seems to almost serve as Stradlin's final kiss-off to the band. "You just don't step inside to 14 years," he sings achingly, only months before leaving the band led by his high school friend Axl, who he'd been playing with continuously since 1983.
Winner: "14 Years" (II)
[youtube https://www.youtube.com/watch?v=hiBjCKKEe_E&w=560&h=315]
Best Foolish Use of Misogyny: ("Back Off Bitch" on I vs. "Pretty Tied Up (The Perils of Rock N' Roll Decadence)" on II)
"I've been doing a lot of work and found out I've had a lot of hatred for women," Axl told Rolling Stone when asked about the viciously misogynistic lyrics of "Back Off Bitch." His defense? It was an old song. But he was silent about why it took him 10 years to perfect lyrics like "Back off, bitch/Down in the gutter, dying in the ditch."
Everything you need to know about "Pretty Tied Up" is contained in the song's subtitle. It sort of uses S&M as a metaphor for the difficulties of life as a rock star…or something.
Winner: "Back Off Bitch," obviously. (I)
Best Super-Long Guitar Solo: ("Double Talkin' Jive" on I vs. "Breakdown" on II)
Slash, as anyone who saw GN'R during the Use Your Illusion tour remembers, is partial to long, often unaccompanied guitar solos. But on the actual albums, his excellent playing is mostly kept to standard rock solo lengths, with a few notable exceptions.
"Double Talkin' Jive" isn't even really a song. It's more like a minute-long sketch with an epic two-minute Slash solo attached, the last half of which is done flamenco-style on an acoustic guitar.
"Breakdown" is very different. It's a seven-minute-long rocker that, "Paradise City"-style, devotes its entire ending minute and a half to a ripping guitar solo. Unfortunately, Axl is simultaneously reciting dialogue from the film Vanishing Point for no discernible reason.
Winner: "Double Talkin' Jive," because the band had the sense not to insert random movie dialogue over a killer solo. (I)
Winner: By a score of 6-4, Use Your Illusion II is scientifically proven to be superior to I.