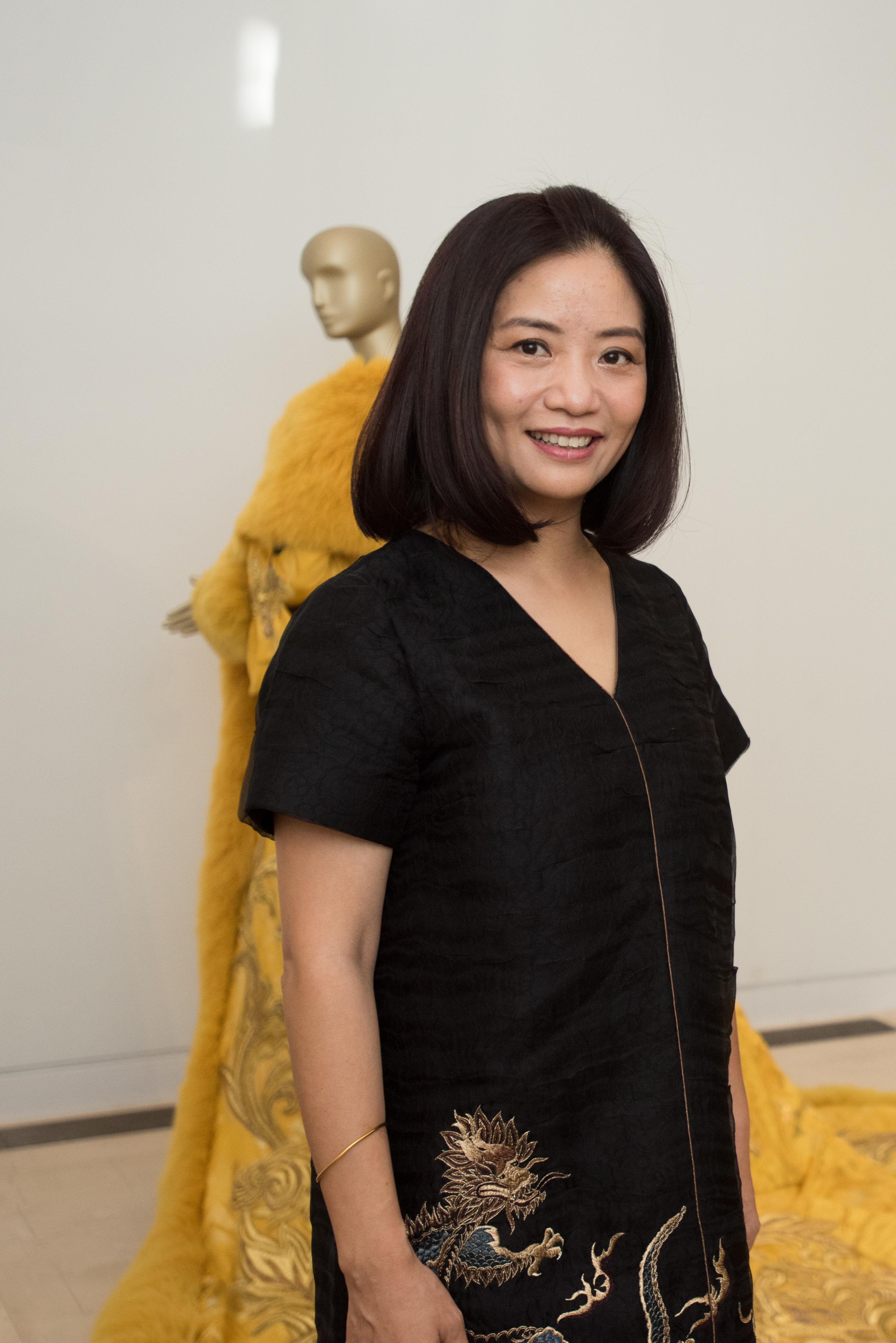 On a crisp, cold morning, fashion designer Guo Pei spoke to an intimate gathering in the Waterfall Mansion and Gallery. She sat before a glass wall, behind which was a two-story room with a waterfall cascading into a shallow geometric pool. In front of the pool, stood a mannequin wearing the famous canary yellow dress worn by Rihanna to the 2015 Met gala.
That dress, and the subsequent media attention surrounding Rihanna's grand entrance, propelled Guo Pei into fashion fame, putting her on track to becoming the first Chinese designer to become a guest member of the Chambre de Syndicale de la Haute Couture, showing at Paris Couture Week this past January. And it culminated in the China Institute Blue Cloud Gala, in honor of its 90th anniversary, where Guo Pei was one of the honorees.
For almost an hour, she answered questions put forward by Yue-Sai Kan, a philanthropist and trustee of the China Institute who introduced Guo Pei to New York.   "Nobody knew Guo Pei," she told me later. "And they asked if I was sure I wanted to bring her over here."  I said, 'Yes, I'm sure! Guo Pei is very talented designer.'" The talk finished with a stellar fashion show of the designer's creations.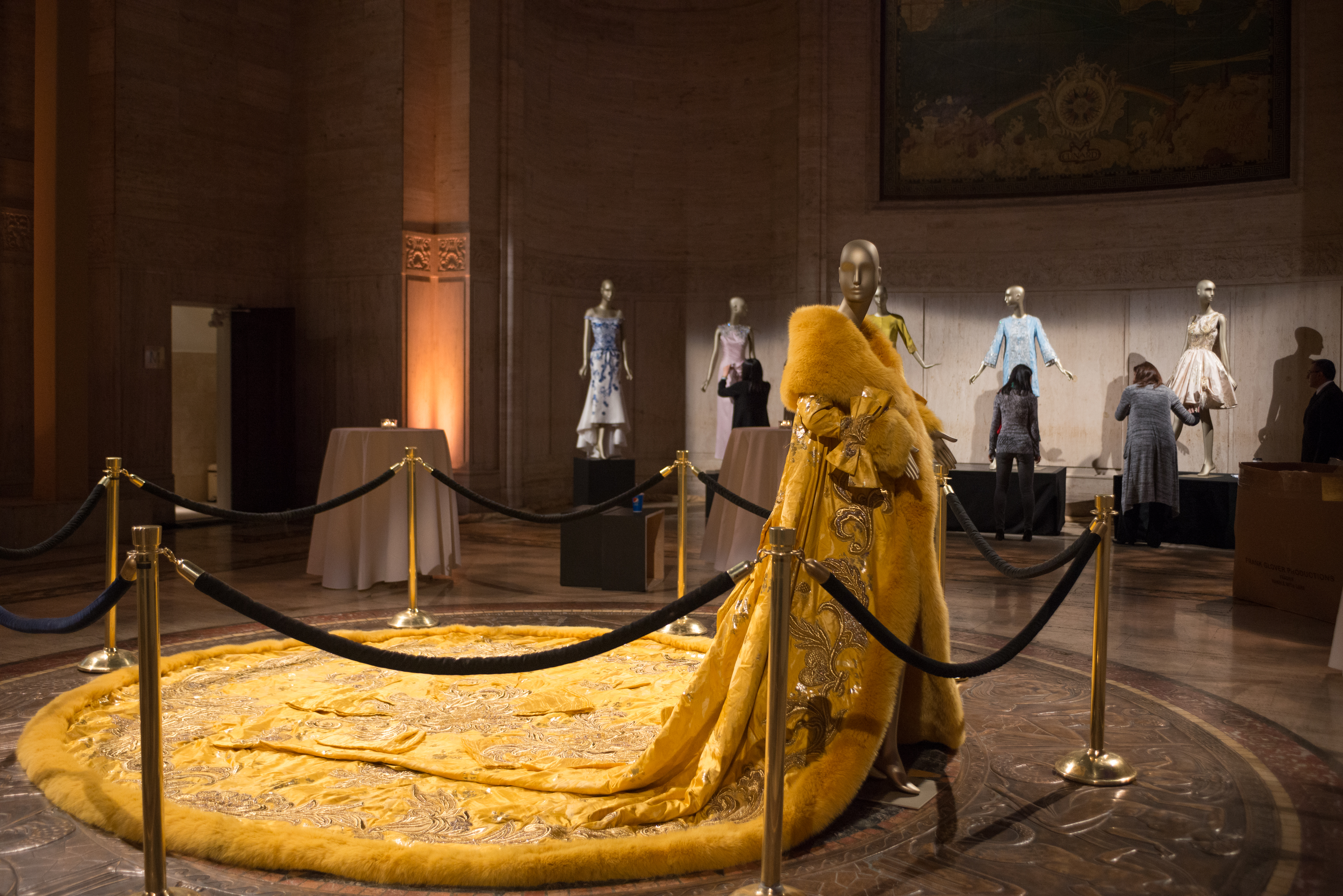 Despite the heavy Chinese cultural influence in Guo Pei's designs, there is also something very Westernized about her work. Such artfully designed pieces wouldn't seem out of place in the atelier of Charles James or Carolina Herrera. It's vaguely reminiscent of work of inspired by the exoticism of the East. She co-opts stereotypes of Chinese culture and renders them in opulent embroideries on fluid, mermaid silhouettes and boxy shifts.
Even the dress she wore on this Monday morning expresses this paradox – the golden dragon embroidered onto her black dress is a copy of one she saw in Germany that was a bastardization of the traditional Chinese dragon. Jack, her husband, said, "I remember a long time ago, I said, 'whoa, this is something really Western' and she said to me, 'no Jack, it's not, it's Chinese.' Because for her, it's not two separate worlds. It's one world."
Guo Pei was born in 1967, just as Chairman Mao's Cultural Revolution was in full-swing. The Cultural Revolution lay waste to China's excesses, destroying the "Four Olds": customs, culture, habits, ideas. It was in this climate that forced Guo Pei's grandmother to destroy her beautiful collection of qi-paos (also known as the cheongsam), leaving Guo Pei with only her grandmother's grandiose stories describing life during the reign of the last emperor and empress.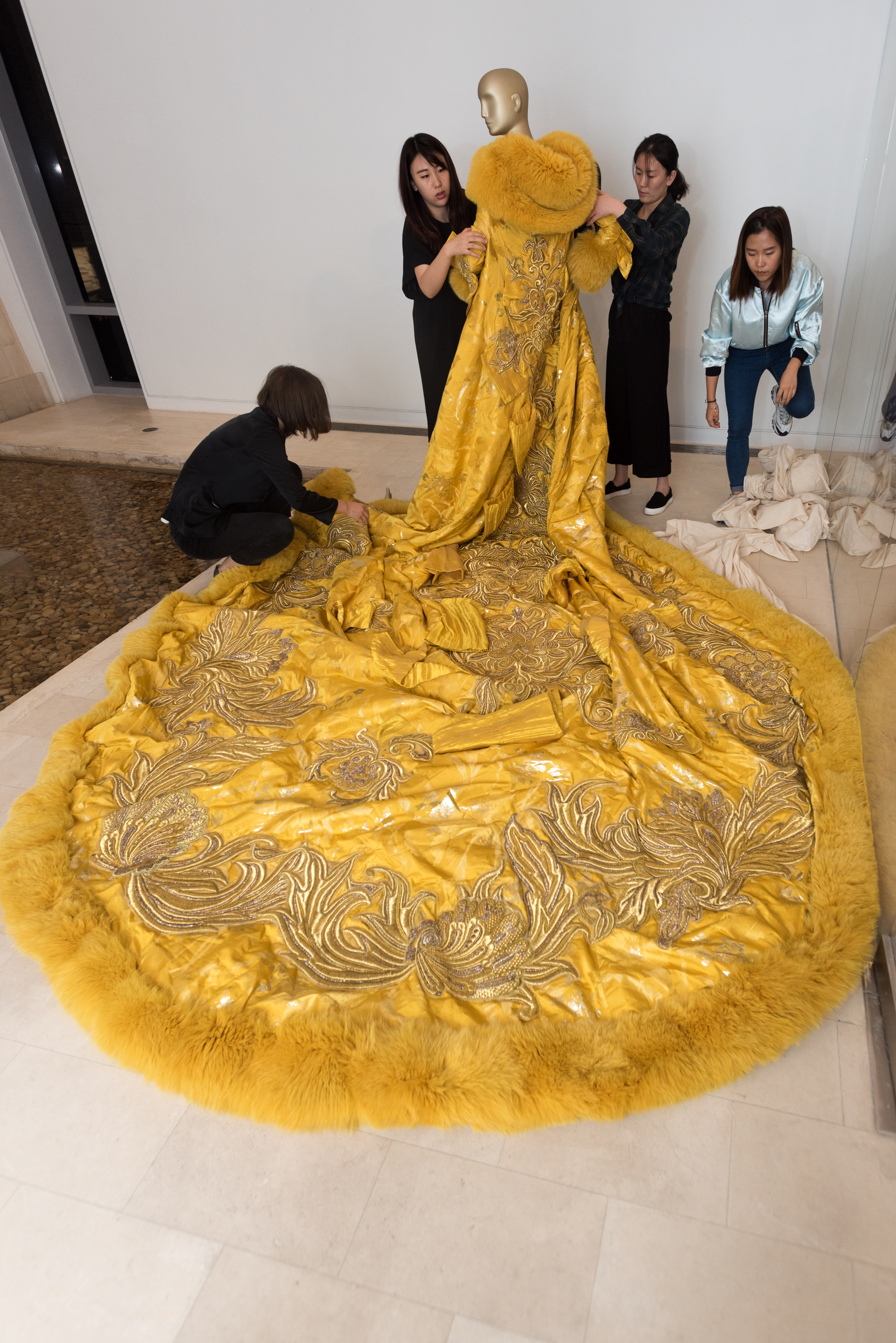 Like many others of her generation, Guo Pei was given a good Communist name – Pei means "to cultivate," as in "To cultivate a Red generation." "Pei" can also mean "to lose money," speaking to her future as an artist sacrificing business over the art. But to her, the "red" her name references means a heart full of passion. "A professional with a red heart," she said. "So my father gave me a very good name because I'm doing what my father wants me to do."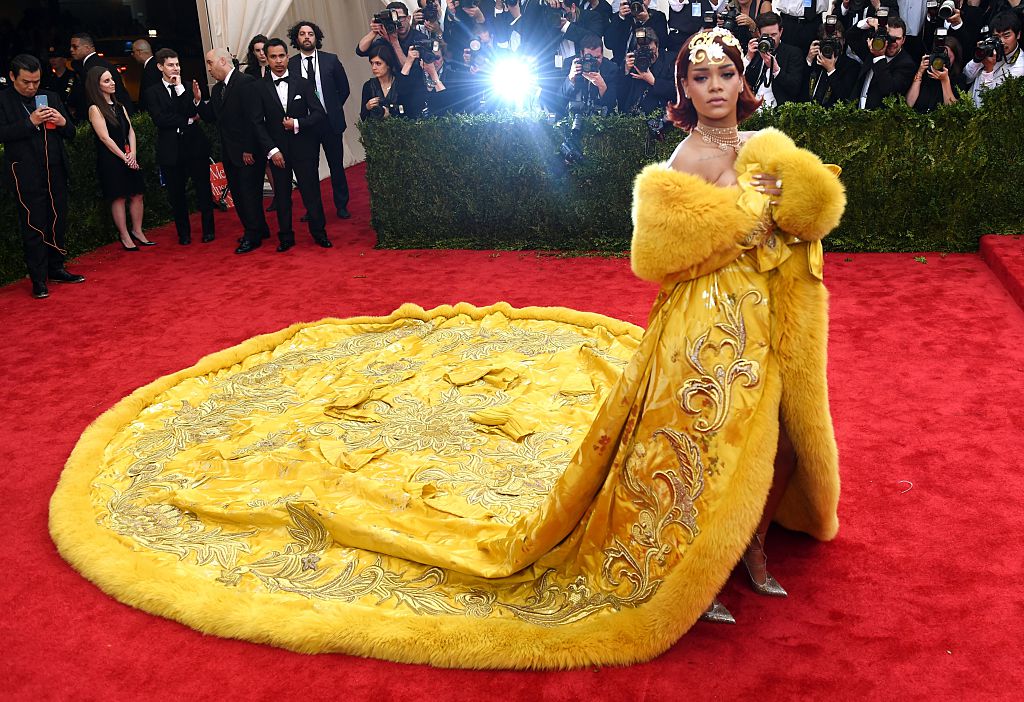 Key to Guo Pei's rise as a designer was her husband and stalwart cheerleader, Cao Bao Jie, better known as Jack. "She loved museums. She would go to different museums and art galleries to understand [the culture]," said Jack.
These museum visits inspired her regal aesthetic, and she would take the filigree, the pottery, and embroider the stylized designs onto sumptuous fabrics. Her work represents the China that worships the luxury of the West, the Gucci, the Prada, the Louis Vuitton. But, in November 2012, the anti-corruption campaign by Xi Jinping, the General Secretary of the Communist Party of China, like the Cultural Revolution before it, forcibly funneled those luxurious tastes to designers with a distinctly Chinese aesthetic. Into this framework, Guo Pei flourished, culminating in the Met Gala of 2015, which propelled her to ever greater professional heights.
And although  Guo Pei enjoys her newfound fame, it has been a struggle. Before, she would present collections once every two years. But, in the stringent rules of the Chambre de Syndicale de la Haute Couture she must create two collections a year. In January, she will present her third collection as a guest designer on the show calendar. "The collection I'm showing next January I started designing three years ago. So I'm racing [against] time," said Guo Pei.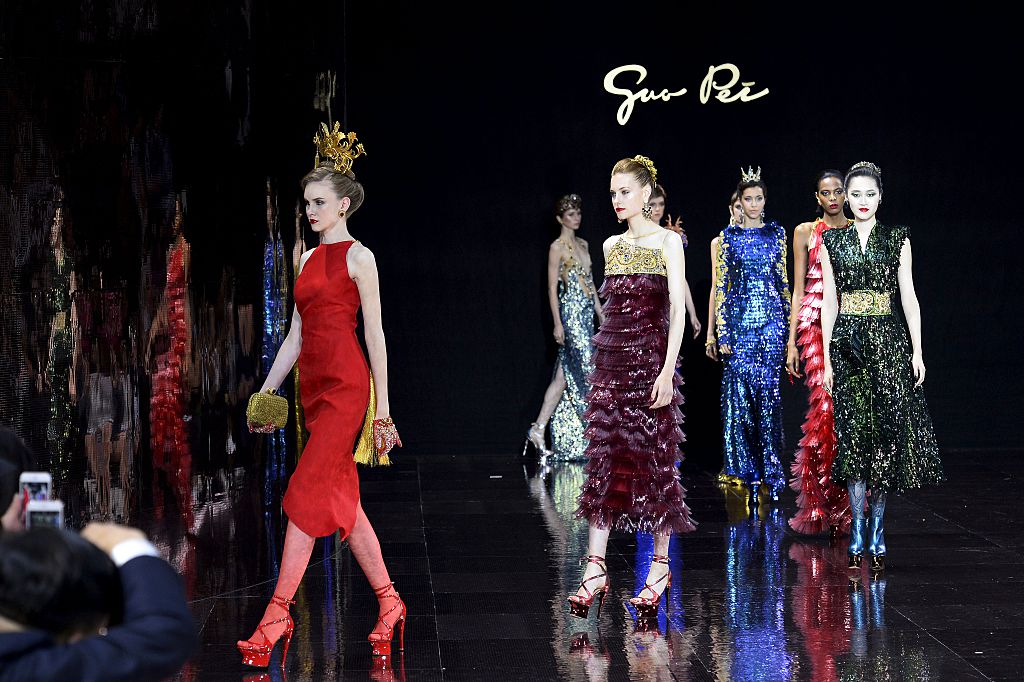 The fashion show presented over 50 of Guo Pei's designs from over the years. It was a parade of Guo Pei's "every day" pieces, with very few gowns on display. The silhouettes were simple, allowing the luxurious fabrics and embroidery and the golden tassels to shine. There were deceptively simple sheaths exhaustively embroidered in traditional Chinese symbols. There was a periwinkle fitted velvet cocktail dress, whose bodice had the flattened, rolling hills similar to the designs found on traditional Manchu Court Robes. The pieces were classic Guo Pei: elegant, with intensive handwork designed to catch the eye. The guests admired the clothes, the occasional gasp audible above the music.
After the fashion show, some women gathered upstairs. Discussing the beautiful show they had just witnessed, an immaculately dressed woman told her friend, "I am so proud of China."