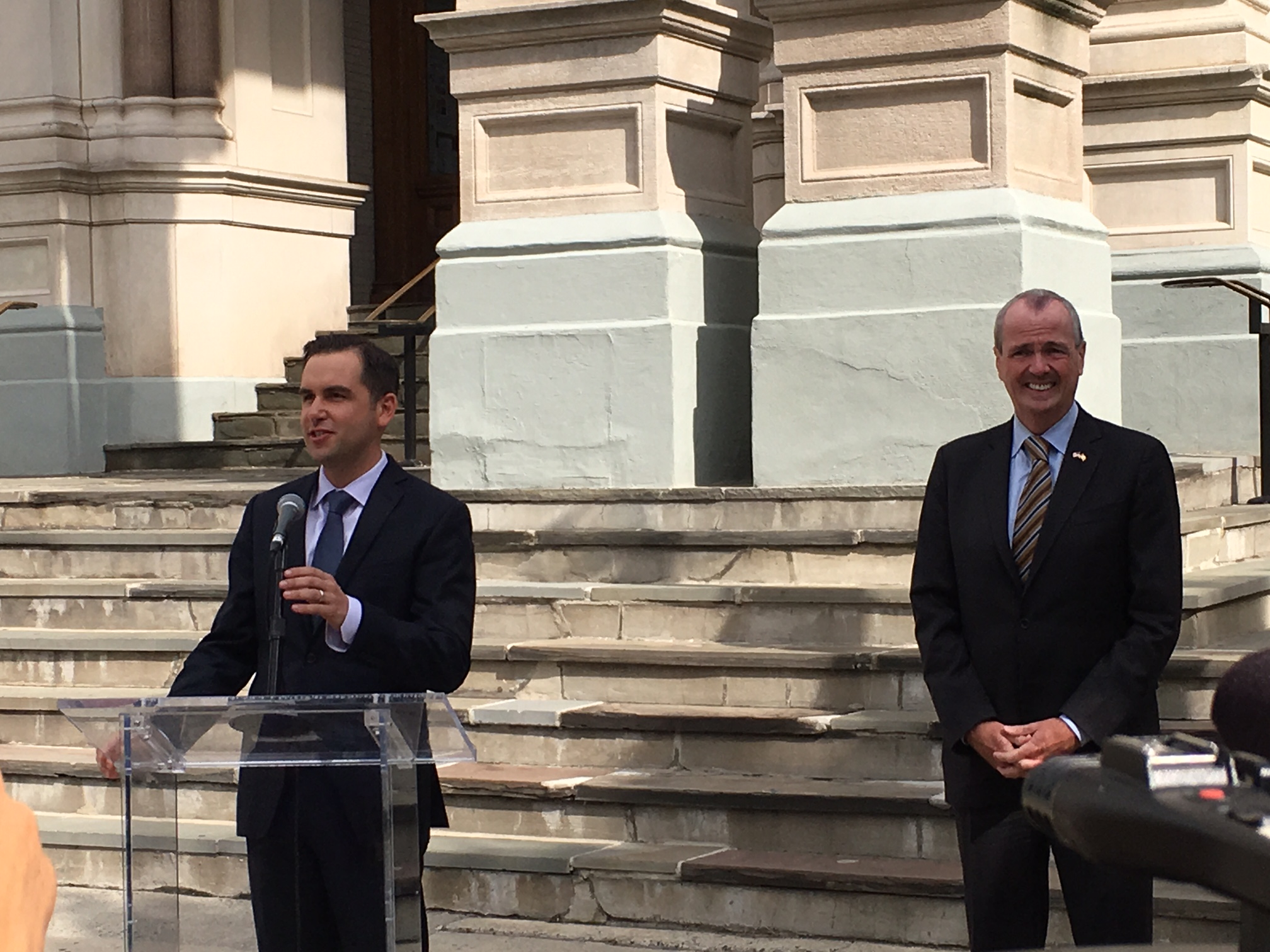 WINNERS
Phil Murphy
Sometimes, it pays to work by increments. After gradually collecting endorsements from municipal Democratic parties across all-important Bergen County, Murphy came out this week's biggest winner. The former U.S. Ambassador to Germany and Goldman Sachs executive made a major stride in his gubernatorial bid as his anticipated primary rival, Jersey City Mayor Steve Fulop, announced that he will not be running for governor. That contest, which will likely decide the next governor well in advance of the 2017 election, looks like it will come down to Murphy and Senate President Steve Sweeney.
Hillary Clinton
When the worst the commentariat can call a candidate's debate performance is 'overprepared,' a politician would be hard pressed to come out the loser. Despite objections from supporters of her Republican opponent Donald Trump over NBC anchor Lester Holt's decision not to ask Clinton about her use of a private email server during her time as Secretary of State, Hillary Clinton struck the difficult balance of debating with an outlandish personality without repeating Al Gore's 2000 eye-roll gaffe.
Brendan Gill
Murphy's campaign manager managed to build a brand for a man who has never held elected office by running an effective traditional campaign at a time when more established players like Fulop and Sweeney were still being cautious and weighing their options. After the inspired idea to court Bergen on a ground-up town-by-town basis, Murphy has a niche in the state that didn't exist before.
Kevin McCabe
The Middlesex County Democratic Committee Chairman made the right bet when he lent insider support to Murphy early on.
Richard LaBarbiera
The mayor of Paramus helped to hoist the flag for Murphy's victory over Fulop when he officially endorsed him this week. His vote of confidence was the cherry on top after Assemblyman Gordon Johnson and Democratic committees in Teaneck, Englewood Cliffs, Elmwood Park and Dumont officially endorsed.
Dick Codey
The former governor and current State Senator for the 27th legislative district, in Essex, joined in the raft of North Jersey politicians from influential counties who embraced Murphy over Fulop.
Cory Booker
Only the U.S. Senator from New Jersey could turn out a winner for turning down a job. Insider sources told Observer this week that the only politician who could conceivably reverse the tide against Murphy declined to run for governor when approached by party bosses. By steering clear of an office that would saddle him with responsibility for a flagging state economy, Booker may have secured his place as the state's most popular political figure.
Jimmy Davis
The mayor of Bayonne withstood a recall effort this week, beating back attacks from a childhood friend to keep his office.
UNDECIDED
David Wildstein
The star witness in the Bridgegate trial continues to be the most-watched figure in New Jersey politics as the trial closes out its third week. Whether his sworn testimony will prove to be the prosecution's sole evidence that Governor Chris Christie knew about the Fort Lee lane closures as they were happening remains to be seen.
LOSERS
Steve Fulop
Despite fierce ambition and progressive bona fides, Fulop proved to lack a statewide campaign apparatus. Though the 39 year-old has plenty of time to run for governor in future cycles, his early exit this week will sting.
The state of New Jersey
Murphy's victory, which may have anointed him as the next governor with the rest of North Jersey's crucial counties likely to fall in line, show the decline of county organizations and the corrosive influence of money on state politics. With his well-heeled and largely self-funded campaign, Murphy arguably bought himself the cachet he lacked at the start.
Lou Stellato
The Bergen County Democratic Chairman saw many in his organization move ahead without him. Stiletto has not, as of this writing, offered an official endorsement.
Donald Trump
Trump flailed throughout his debate with Clinton, falling back on talking over his opponent.
Sweeney
With Bergen all-in for Murphy and Essex, Passaic and Hudson likely on their way, the numbers in the primary election are against the Senator from South Jersey now that the more populous North is turning into Murphy country.
Ras Baraka
The Mayor of Newark could be vulnerable as an early and enthusiastic Fulop supporter.
Chris Christie
Whatever the verdict in the trial of Bridget Kelly and Bill Baroni, no good can come of the Bridgegate trial for the governor. This week's choice revelation: Christie staff offering Democratic mayors scraps of steel wreckage from ground zero in exchange for endorsements.