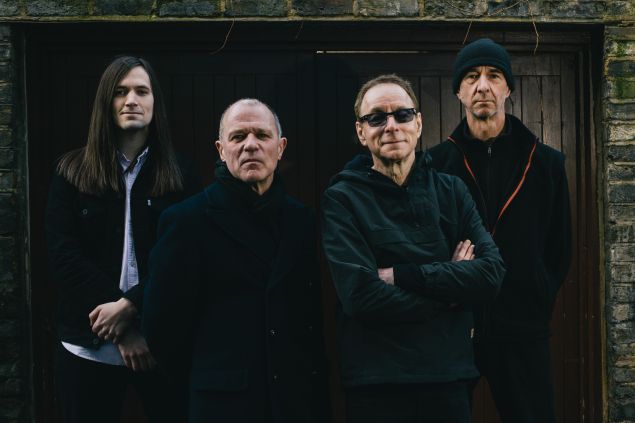 One day, Wire may stop making records that are as good as the ones they made when Jimmy Carter was president. But that moment hasn't come yet.
Their first three albums—Pink Flag (1977), Chairs Missing (1978), and 154 (1979)—are easily among the 100 best LPs ever made. But what makes their story remarkable—in fact, not just remarkable, but singular—is that the four albums Wire have released since 2011—Red Barked Tree (2011), Change Becomes Us (2013), and Wire (2015)—have equaled the artistic and creative accomplishment of their "classic" work.
That incredible streak—how many artists stay at the top of their creative game after four decades?—continues with Nocturnal Koreans, Wire's 15th album.
Nocturnal Koreans finds Wire doing what they always did best: never staying in one place, yet never appearing to change just for the sake of change (by the way, Nocturnal Koreans was released this past spring, and I apologize for the delay in this review; this magical band have a way of being both in back of us and ahead of us at all times).
Wire's ability to sustain this kind of consistency for over 39 years may be unprecedented in the pop/rock world, so it's worth putting this incredible achievement into some perspective.
When the Rolling Stones had been around for about 40 years, they put out the virtually invisible A Bigger Bang; but what if they had still been releasing music as good as Let It Bleed? Likewise, the Who at a comparable age released Endless Wire (to which some of you have just responded, "Endwhat What What?"). What if they had made something as good as The Who Sell Out?
That's exactly the scale of the achievement that Wire accomplishes with Nocturnal Koreans.
[youtube https://www.youtube.com/watch?v=lxKPgMP5Oq0?list=PL_stP2KdRPYeZr19B9ZRTH9ps0UsPzTWV&w=560&h=315]
Nocturnal Koreans reveals a 39-year-old band still reinventing themselves, still delivering finely conceptualized and precisely executed happy revolutions, still releasing albums where the whole comprises a seamless, virtually flawless experience (as Pink Flag, Chairs Missing, and 154 did).
Nocturnal Koreans, along with Wire, Change Becomes Us, and Red Barked Tree, are not only extraordinary additions to the catalog of one of the rock era's greatest bands, but also stunning music that will engage those unfamiliar with the band's past.
Nocturnal Koreans is a curious and wonderful corollary to the album that preceded it, the eponymous Wire (both albums were released exactly a year apart); in fact, the new(er) album is a kind-of extension/commentary on Wire, since Nocturnal Koreans' eight songs were recorded at the same time as the 11 tracks that made up Wire (with its 26-minute running time, many will regard Nocturnal Koreans as a "mini-album"; but since it has the depth and affect of a full album—and a whopper of one, too—I think it's fair to consider it a full-length work). Although Nocturnal Koreans clearly resembles Wire, it also presents a markedly different suite of material, and the deliberate division between the two albums is very clear.
More layered, studio-divined, and cathedral-like than the song-and-shock-oriented Wire, Nocturnal Koreans shares Wire's aching, sugar-tears melodicism (and it is clearly the same band performing), but Nocturnal Koreans is decidedly more of an exercise in the ambience that has always been implied by Wire's multi-dimensional, wispy/wistful, silk and razors sound. Although it initially seems less immediately appealing than the more compact and "traditional" Wire, after multiple listenings Nocturnal Koreans opens up like a morning orchid, revealing stunning colors and scents.
When push comes to shove, I likely prefer it to the astounding Wire (which I had rated last year as the band's best album since the 1970s).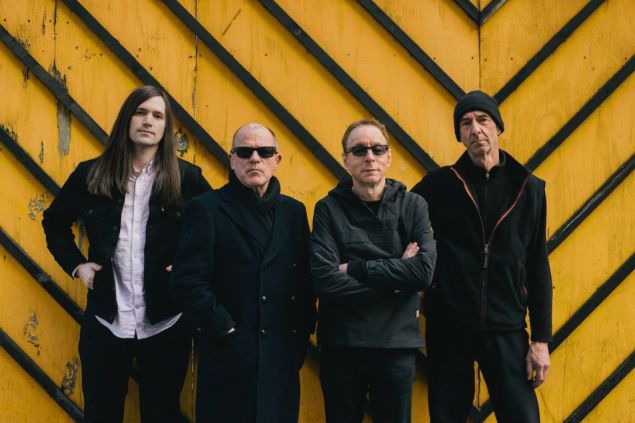 Warm and cinematic but entirely based in the minimalist language of punk, Nocturnal Koreans is luscious, speedy, ever changing, always gorgeous, often melancholy, sometimes immediately graspable and evident to the ear, other times comprised of an acre-long quilt of infinite seams. Nocturnal Koreans is built of controlled madness, repetitive figures, rhythmic precision, and sluicing, sliding puffs and screens of color, the elements sounding like clouds passing each other in the sky, sometimes fluffy and alone, other times part of an opaque curtain, sometimes eight shades of gray, other times revealing a Joseph's coat worth of purples and violets.
Interchangeably pastoral and modern, Nocturnal Koreans reminds us of the beautiful failures and doomed achievements of both technology and man's memory. In "Forward Position", Colin Newman, in a soft but persuasive creamy lilt that roots the album without overshadowing it, sings "I am black box I remember/every promise that you broke" over a stately hum of mind-melting arpeggios, synthy harmonics, Ebow-ish swan-swoops, repeating beeps and random noises. (Newman, one of rock's foremost alchemists of future sounds and profound introspection, will re-release his woefully under-appreciated first three solo albums in October on Sentient Sonics.)
The line between drone and melody, the organic and the synthetic dissolves. Like many of the album's tracks, it is a stunning interface between Krautrock, wide-screen technicolored Eno-ism, and the hypno-strum Feelies-ism that Wire always hinted at. Heck, it's Michael Brook playing "Sister Ray" in heaven.
Which is all to say that dear freaking god, this is the real deal that everybody has been pretending Radiohead is for all these years, this is the apogee of the majestic and vastly inventive interface between rock and art, obscurity and attraction. On Nocturnal Koreans Wire display that rare gift of being able to create music that is deeply different yet exceedingly listenable and user-friendly. Not one moment of Nocturnal Koreans is hard on the ears, and not one moment isn't riveting and engaging.
Even the album's purest three-chord rock song ("Still") transforms the most archaic "Farmer John"/"Cant' Explain" forms into buttercream Eno-ism; and the track on Nocturnal Koreans most recognizable as "old-school" Wire ("Numbered"—it even puns on the lyric to Pink Flag's "Three Girl Rhumba"), still whirrs with multiple layers of subtle, delicious tone, feedback, arpeggios, echoes, and texture, texture, texture.
Likewise, the opening of "Fishes Bones" hops and buzzes in amiable hyper-confusion, hinting that the drums are going to kick in and it will head to classic Wire territory; instead, it adamantly refuses to become a rock song, and remains a gorgeous twist of post-punk melody over spacious, whistling and sighing hypnotic noise.
On Nocturnal Koreans, Wire paint heavenly, impressionistic punk with the lightest selection of brushes, creating a gorgeous caress, a glorious harmonic electronic rainbow, neatly contained but implying eternity. After 40 years, Wire is a genre unto themselves, and Wire seem to only reflect themselves, their own past, their own inventions, their own movement into the future.