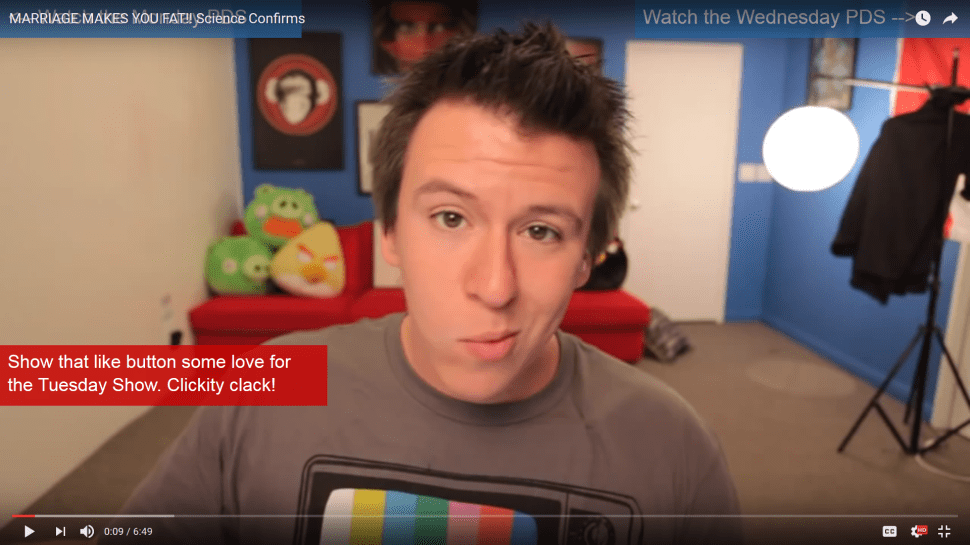 Yesterday, a YouTuber with 4.5 million subscribers posted a video titled, "YouTube Is Shutting Down My Channel and I'm Not Sure What To Do," and while it hasn't been nearly as popular as some of his other videos (such as "Hot Chick Zombie Takeover!" and "Marriage Makes You Fat"), it has been generating a lot of response across the leading video-sharing channel, Twitter, Reddit and etc. In the post, Philip DeFranco, a user of the service for the last nine years, describes how several of his videos have been de-monetized based on YouTube's guidelines for content friendly to advertisers.
The content guidelines forbid monetizing videos that are too sexual, too violent, too coarse, too stonerish or too controversial.
A YouTube spokesperson confirmed that DeFranco's channel is in no danger of getting shut down, making his headline a bit misleading. The actual content of the video isn't that far off from describing the situation, though. That said, there are two ways of looking at the tension between the star and the site that made his fame possible: either YouTubers have misunderstood an attempt by Google to be more transparent or transparency has only accelerated a lingering resentment toward YouTube from the very people who keep internet denizens glued to the site.
First things first: the rules for what videos can be monetized haven't changed. This can be verified by checking the link above on Archive.org. Here's the page from March 2015. They are the same rules. YouTube also says it hasn't stepped up its enforcement of the policies. That said, YouTube user @MrRepzion felt blindsided by a barrage of de-monetization notices.
"If my videos don't get re-monetized, and more videos get taken off monetization," @MrRepzion, who has 1.5 million followers, says in his August 29 video, "I will quit YouTube this fucking year."
A YouTube spokesperson emailed the Observer that the recent changes (which have not yet reached all monetized YouTube accounts) were meant to create more transparency around the site's decisions. Users of the site could always see if one of their videos got hit by the policy, but the notice hid deeper inside their dashboard. Now, the notifications are coming out on top of the main administrative page that YouTubers use. Plus, the creators get emails when a video loses ads. Once a video gets de-monetized, creators have the opportunity to ask that the decision made by an automated system get a review by a human.
"Whereas before the information could be found at the video-level analytics, now it is available in their video manager which makes it much easier to view status at-a-glance," the spokesperson wrote.
Becky Boop, another YouTuber did a deep dive of her own. It's good:
More transparency and an accessible appeals process sound positive. So why are YouTube stars so mad?
"There's been grumblings," Eric Schiffer, chairman of DigitalMarketing.com, told the Observer in a phone call. In other words, it didn't start with the new notices. "I would say they are sitting on a powder keg." His company represents a number of YouTube stars in their efforts to reach audiences using other media (DeFranco is not one of them). For example, the books from video stars have been a hot way to sell dead wood pulp accessorized with ink.
Schiffer said that the new notifications have the effect of aggravating an already festering wound. "I think part of this is just the reminder," he said, explaining that if you know you have to pay your taxes every year, but the IRS suddenly sends you a letter every month reminding you that a bill is coming, it's going to start making you resent taxation.
If another major internet company wanted to create a YouTube alternative, Schiffer argued, this kerfuffle presents an opportune moment to lure stars who have concerns about "why there's almost any restriction," Schiffer said. He especially thought that Amazon, with its existing efforts in video and cloud services, might be an ideal spot to invite major YouTube personalities to move their content (it already has Twitch, after all). That said, Schiffer acknowledged that no one has a platform ready to go that could challenge YouTube.
What's perplexing about YouTube's approach in this situation is that it's so hamfisted. If comedian Joe Rogan can monetize his podcast, how is it not possible for YouTube to find advertisers comfortable associating with content that's not quite suitable for all audiences? Couldn't YouTubers just tag their content as "mature" and let the site use that to limit the partners that embed with it?
"YouTube has the ability to adjust," Schiffer said. "I think this is a way of further profiting." In other words, if YouTube is able to de-monetize some high traffic videos, the company can benefit from holding on to that traffic without sharing revenue for all of the views content creators helped bring in.
"There are many YouTubers considering moving to other platforms," Schiffer said, confident that audiences would follow (this part makes us skeptical, but time will tell).
We don't have a lot of detail about videos that have been de-monetized, but DeFranco does name one of his pieces in particular that lost ad support recently. It's titled: "Leaked Video of SJW LOSING IT Blows Up In Her Face." The video covers three pieces of news: an incident with an internet personality and a Lyft driver, a rape case and drama at the home of rapper Chris Brown. There's one curse word (which we've used here already) in the Lyft video, which DeFranco shares excerpts from. Then the second story concerns rape, which could run afoul of the last guideline against: "Controversial or sensitive subjects and events."
We asked the YouTube spokesperson if this specific video were one likely to be re-monetized after an appeal for a review by a human, but were told that the company doesn't comment on individual decisions about content, even relatively simple ones, such as copyrighted material. So we asked, broadly, if objectionable content might pass the guidelines if it related to actual news of the world rather than content for pure entertainment purposes, but we were told that the question was too broad without relating it to a specific video. It made for a bit of a Catch-22.
DeFranco was not immediately available after repeated requests for comment.