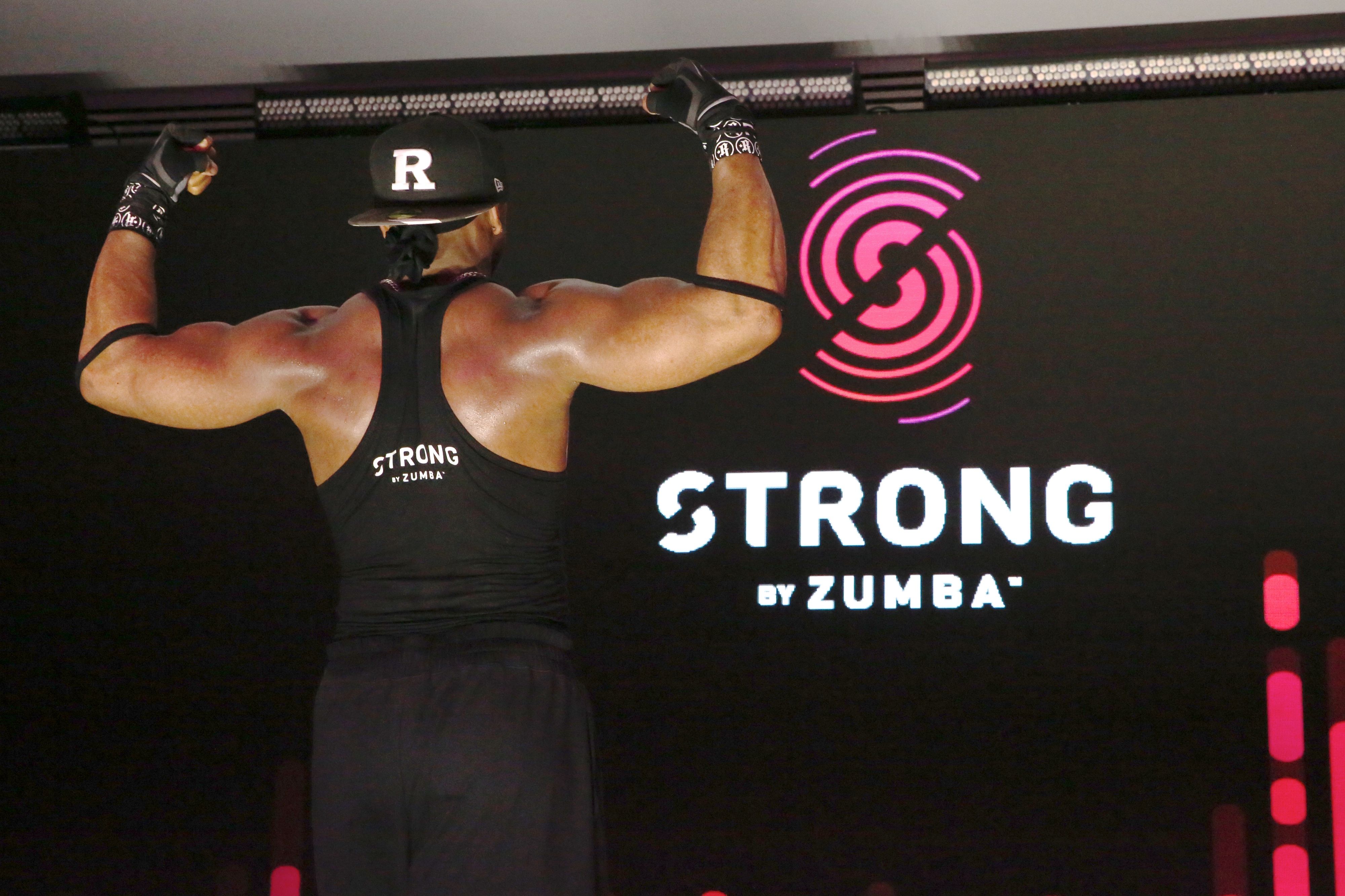 Zumba brings to mind suburban moms busting out their best dance moves while Pitbull is blasting over the stereo system, or college girls in Nike shorts and oversized sorority tank tops pretending they're in a nightclub because they're tired of the elliptical. But the dance-based workout that made it possible for more intense cardio classes to exist has undergone a major makeover recently, all thanks to producer Timbaland. Remember that growling voice on Justin Timberlake and Nelly Furtado songs? Now, Timbaland has made his triumphant return, and partnered with Zumba to create a playlist for their new bootcamp class, offering a trendier, younger version of Zumba. After all, it's pretty difficult for anyone who isn't in peak physical condition to burpee up a storm.
The new Zumba isn't anything like the salsa influenced booty popping classes held at gyms across the country. Now it's a high intensity interval training workout that someone has to already be in semi-decent shape for. While many boutique classes in Manhattan are notoriously difficult and require some semblance of readiness, Zumba is thought of as an entry point to group fitness classes. Sure, you work up a sweat, but no one is going to pass out or hide in the bathroom–unless they're embarrassed about what a terrible dancer they are. Now, with its recent makeover, you at least need to be able to do a modified push-up (otherwise known as the girl pushup).
[youtube https://www.youtube.com/watch?v=ZKME0gKMAzU&w=560&h=315]
Producer Timbaland created the playlist for STRONG by Zumba, syncing his music to the moves that were already created. At a recent event at NYFW hot spot Milk Studios, class-goers got a sneak peek of STRONG by Zumba, taught by Master Instructor Ai Lee Syarief, who traveled from Switzerland for a class that combined sweating with smiling. DJ Freestyle Steve, who works with Timbaland, was in the DJ booth. Syarief began the class by asking who was expecting a regular Zumba class, and there were only a few raised hands. Class-goers had been promised a class like none before. "Squat, punch, kick and sweat to music that matches your movements," the invitation promised.
[youtube https://www.youtube.com/watch?v=z0FJZnYjmrA&w=560&h=315]
The moves involve enough jumping jacks to think you're at ((305)) Fitness, enough burpees to channel a CrossFit class, and a healthy infusion of kickboxing upper cuts and yoga-inspired planks. Moving with the music certainly does make it simpler to follow along, especially if you're not a boot camp regular and have no hand-eye coordination to speak of. Unfortunately, there was no sign of Timbaland, except for on a silent video playing after class, when protein shakes were offered up to a sweaty crowd in hot pink and black skintight Zumba tank tops. It seems athleisure is one trend Zumba hasn't jumped on.
If you're a suburban mom who heads to Zumba at the Y once a week, consider taking a toning class to prepare, so you're not left sweating in a push-up, wishing you were doing your regular dance steps. If you're someone who has avoided Zumba for years because of its reputation for Beyoncé-inspired dance moves, consider giving this class a try. Yes, it's the same kind of music–only this time from Timbaland, not Pitbull–but it's an intense, high energy workout that doesn't involve many grapevines or twerking motions. As of now, it's slowly being rolled out, starting in New York and Los Angeles–so the rest of middle America has time to perfect their push-ups.