Sheila Bridges
Founder, Sheila Bridges Design
Bridges has run her own design firm, Sheila Bridges Design, from Harlem since 1994. She created an iconic fabric and wallpaper pattern, known as Harlem Toile, and also designed the 8,300-square-foot Harlem offices for former President Bill Clinton and his staff.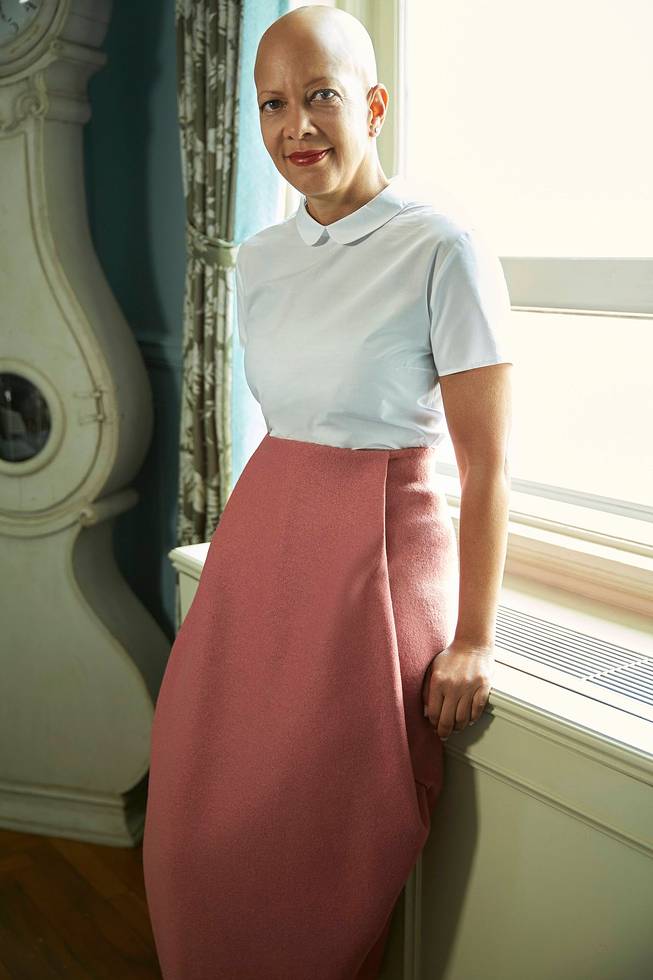 "I own two Australian Shepherds so I spend a lot of time walking in Central Park. One of my favorite places in the park is the Bethesda Arcade, which has one of the most spectacularly ornate ceilings in all of New York City. Like most things in New York, grit and glamour go hand in hand—so if you can withstand the smell of urine, it's worth a look at the architecture, Minton tile ceiling and colorfully designed niches."
Chris Sharples
Founding principal, SHoP Architects
SHoP designed the master plan for the mega-development Essex Crossing; they also designed the skyscrapers 111 West 57th Street and 9 Dekalb Avenue in Brooklyn.
"One Wall is a quiet Art Deco masterpiece designed by Ralph Walker and completed in 1931. It's one of those buildings that's sometimes overlooked, maybe because instead of being flashy, like the Chrysler or Empire State buildings from around the same time, it's just really, really well made. When you focus closely on One Wall, the level of craftsmanship in the stone, the gold tile work in the interior, from top to bottom, is just astounding—it's inspiring to me as an architect in part because, with the digital modeling and fabrication technologies we're beginning to master now, it's possible again, for the first time in decades, to reintroduce that level of material sophistication and craft in everyday construction.
"The nearby stretch of Broad Street, by the Stock Exchange where it's been pedestrianized, is one of the city's great underappreciated public squares. What makes it special is the proportion of the space—down in the famous Financial District 'canyons' but wide enough to feel open and enclosed at the same time—and the fact that it curves slightly as you walk north from Beaver Street toward Wall. That allows the view to open up in stages there, and it draws you forward: First you see the sort of background buildings that step up the street, then the Stock Exchange with that great columned front and finally Federal Hall. It's the kind of perfect urban promenade that people work so hard to design into new construction, and it's just happening downtown in this perfect, very compelling way with no fanfare."
Carol Loewenson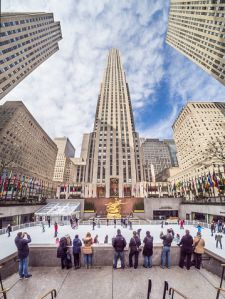 Partner, Mitchell/ Giurgola Architects
Loewenson has worked at Mitchell/Giurgola for over 30 years, and this year she became president of the American Institute of Architect's New York chapter.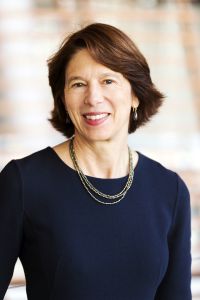 "I think I'd say Rockefeller Center, because it was really bold and aspirational at the time. And it's still, I think, pretty inspiring. But it also very comfortably fits within the grid and engages with the city—it did then, and it does now. The Channel Gardens looking down from Fifth Avenue, the fact that landscape and nature was brought into it, the fountains, that huge sculpture, the skating rink, the restaurants and then the flags. It's very celebratory. It's held up through time remarkably, so I think it's a model for what's uniquely New York and how it's endured."
Angie Lee
Principal and design director–interiors, FXFOWLE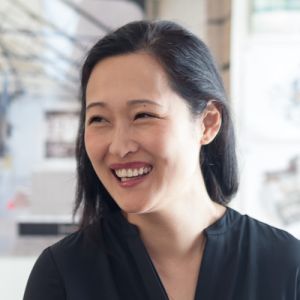 Lee joined FXFOWLE last summer. She's currently working on an adaptive reuse project in Greenpoint, which will transform a former warehouse into a 150-room boutique hotel.
"The Domino Sugar Factory has been subconsciously influencing me since I moved to Williamsburg eight years ago. It's got that modern ruin aspect, the graffiti, the wear and tear. It's a rich history to use…It's inspired me to introduce street art in, and perhaps on, the hotel we're working on in Greenpoint.
"I still have dreams of going inside [and seeing the recent exhibition there by artist Kara Walker]. The materials and the intersection of how the doors came together, the nuts and bolts, the colors—these are colors you just can't find in modern offerings; they can't be easily reproduced. It's such a beautiful sculpture, like a changing, decaying entity.
"It's a bit of a heartbreak the factory is gone [due to the site's redevelopment]. The magic is not being recreated, although I think it'd be impossible to do that. I think the redevelopment will be a vibrant, great thing for the neighborhood. But I wish they had figured out how to insert some of the building's original soul."
Libby Farley
Associate architect, Perkins + Will
Farley has helped design laboratories, campuses and high-end corporate interiors for Perkins + Will's New York office. Currently, she's working on the development of a new tower for University of Pennsylvania Health System.
"Jane's Carousel. It may not be the fanciest, and almost purposely disappears, but there aren't many buildings in New York that are at such an intimate, jewel-box scale while still bridging the historical nature of the city with modern architecture and with beautiful, simple details. Not to mention, you can see the full Manhattan skyline, Brooklyn Bridge and the Manhattan Bridge from one privileged standpoint, so it's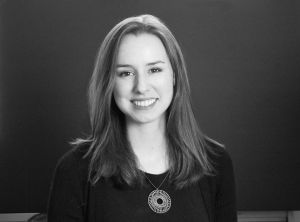 spanning a ridiculous scale of architecture and urbanism. Bonus: How can you beat a building that brings so much joy to little kids…and the occasional adult!"
Michael Chen
Founder, MKCA Architecture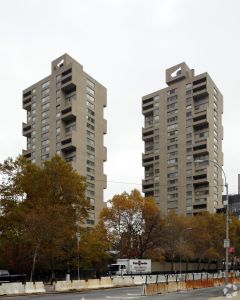 Chen founded MKCA in New York in 2011. The firm has worked on a number of interior design projects, gaining notoriety for its inventive redesigns of tiny New York apartments.
"One of my absolute favorite New York buildings is the Chatham Towers complex, located where Chinatown and the Civic Center meet. A pair of 25-story cast concrete towers built in 1964, it's a terrific example of '60s Brutalism, which seems to be popular again in design circles. Style aside, it's just such a terrific and sculptural piece of architecture made mostly of textured concrete and glass with an alternating Jenga-like form and concrete water tower enclosures on the roof with shapely cutouts.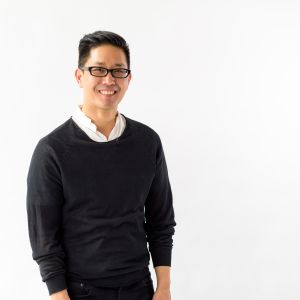 "It was built originally as middle-income housing and is now a co-op. It could have been pretty banal as buildings go, but instead it was supremely forward-looking and loaded with 1960s innovations like the first sheetrock to be used in Manhattan and gigantic pivoting aluminum windows that have integral metal blinds on the inside and rounded corners. It's also a rare residential project that meets the street in a really beautiful way, with a horseshoe-shaped driveway and terraced entries, and an underground parking garage that is capped with a [private] park-like plaza. It's fantastically bold and also sensitive and beautifully planned. I find it to be completely beguiling."
Britt Zunino and Damian Zunino
Founders, Studio DB
Britt and Damian are husband-and-wife principals of their design studio, founded in 2007. The firm is designing the interiors of One Clinton, a new condo development at the site of the Brooklyn Heights library.
"The cast-iron beauty, The Bennett Building, at 139 Fulton Street. The scale of the building and all of its excess Second Empire decoration remind me of an over-the-top vanilla wedding cake. It was once painted pink and mint and cream, which would have been quite a site. It's currently filled with offices and the odd retail space, but I'm always dreaming of restoring it.
"Another favorite is the charming Wall Street Inn, at 9 South William Street. I cannot speak to the interiors, but I find the exterior so comforting for some reason. The proportions are very delicate and refined, with leaded glass windows and a mansard roof. The Inn's scale, compared to its heavy stone neighbors and towering office buildings, is very petite, reminding me of a little dollhouse. The location is a big part of its charm. It sits on a narrow pedestrian alley, which is part of the city's original winding street pattern."—Britt Zunino
"In thinking about my favorite buildings in New York City, I realized that I was attracted to specific moments as much as the buildings. I've always been intrigued by the sky bridges that span between buildings high above city streets. One in particular is the bridge on West 24th Street connecting the Toy Buildings at 200 Fifth Avenue and 1107 Broadway. West 24th is such a narrow street, with very tall and dramatic street walls of cast iron and limestone buildings on either side. The sky bridge is quite delicate in its span between these buildings on this dark block, and it dramatically frames a view from the green and openness of Madison Square Park beyond. Unfortunately, I believe the bridge is coming down as part of the conversion of 1107 Broadway to condominiums." —Damian Zunino
Matthias Hollwich
Partner, Hollwich Kushner
Hollwich, alongside architect Marc Kushner, founded the architecture firm HWKN. The pair went on to develop the website Architizer, a social network platform for architects.
"What I love about New York is that it has an incredible amount of buildings that are incredibly generic…industrial, nondescript. Sometimes we're so concerned about the perfect programming, and the beautiful form, and the materials…but the city itself empowers people to fight back,and find their own kind of places and carve out their niches.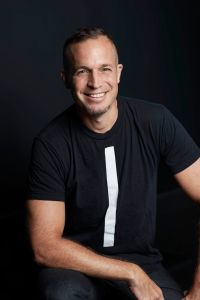 "I live in the Garment District, on 38th and Eighth, and there are all these old warehouse buildings, which do have quite some character with a 'Gotham City' kind of look. But the most exciting about them, besides the details in the facade, is that when you look up, you see into these buildings, the activities of people and what they do, and on the ground floor you have restaurants, galleries, event spaces, pop-ups. All of these things use architecture as a framework for the benefit of intensive programming and intense activity."
Miriam Peterson and Nathan Rich
Founders, Peterson Rich Office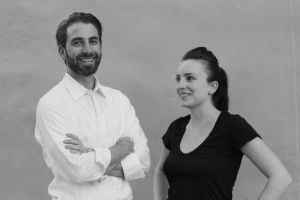 Peterson and Rich founded their firm, PRO, in 2011. The husband-and-wife team is currently designing a 25,000-square-foot space for an international art gallery at 130 Orchard Street, the former headquarters of the Beckenstein fabric company in the Lower East Side.
"The Lower East Side is one of the most dynamic residential neighborhoods in New York City, because of the amount of change it's seen. As different groups of people have come through, the character of the neighborhood has stayed the same in terms of its buildings but has changed in terms of its culture.
"It's interesting to see the transition from, let's say, a Jewish textile business, to a Chinese grocery store, to what's become an art culture. This is a bit self-promotional, but the Beckenstein Building—where we're doing our project—is an absolutely staggering, unbelievable building. And it shows all the parts of history I'm talking about. On the facade, it's painted with beautiful signage from when it was a headquarters of this fabric and textile company. It's got an incredible drama to it. It's the traditional construction technique of the Lower East Side, which is steel with terracotta arches and a masonry exterior. It's got the painting to show what was in there, at a certain point. And now it's going to become the largest art gallery on the Lower East Side."—Nathan Rich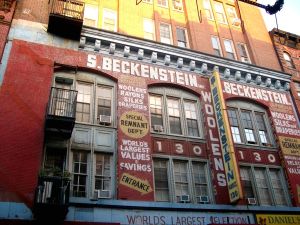 "I'll say something a lot more voyeuristic, and maybe mundane. Something that inspires me, in New York in particular, is when I'm walking around our Brooklyn neighborhood, which is Park Slope, during the evening and dusk hours. It's just looking into the parlor floor windows of all the different buildings and getting a little peek in how people live out their lives inside of the spaces. One of the things we talk about in any project is how the end user and occupants really end up moving through, and experiencing, the space. Seeing those spaces—not necessarily architect-designed—but reconfigured and switched around over time, and getting a peek into how people actually occupy those spaces, is something that inspires me."—Miriam Peterson
James Ramsey
Principal, RaaD studio
In 2004, Ramsey opened his design studio RaaD. The firm is behind the Lowline, a proposal to build an underground park atop a section of Lower East Side rails.
"Hmm…one of the things I love these days is the Russian Turkish Baths in the East Village. Inside, a motley and eccentric cast of characters gathers every day inside a secret watery labyrinth behind a 19th-century townhouse facade. It's quite gritty and unexpected, with various pools of water hidden underneath an otherwise normal East Village building. For me, it's on the one hand a reminder of old, edgy New York City, and on the other it's a startling reminder of all the secret delights hiding in plain sight that make our city so much fun to run around and explore."