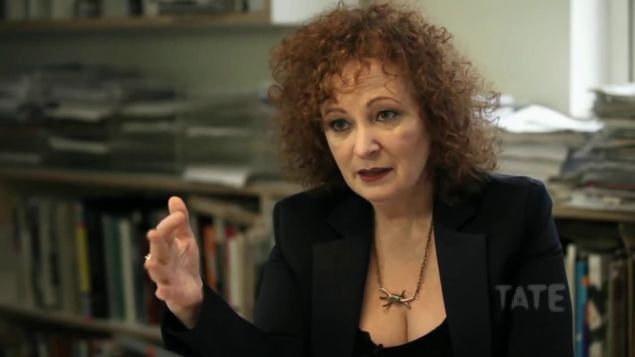 "My taxi ride was a great, great example of how men hate taking instructions from women," said Nan Goldin, who was seated with Adam Gopnik at this weekend's New Yorker Festival, discussing her life, work and the state of the world. She was late to the talk, and although she technically apologized, she didn't seem sorry.
Men refusing to listen, harassing her and disregarding her work were a thruline in the evening. Even men she employs in her studio don't like to take instructions from a woman, she said. "When there are two of them, they can't listen to me," she said. "But I bet it's very hard to be a man."
Unvarnished complaints might be a Goldin trademark, but so is unequivocal praise. The world right now? "Horrific." But Mark Rothko? "God."
Goldin gave a generation a portrait of New York City subculture that either disgusted, excited or resonated with them with her seminal 1986 slideshow work The Ballad of Sexual Dependency. A slideshow (often the photos are seen as stills from her book by the same title) was screened with the original soundtrack on Saturday. The full work is also currently on view at the Museum of Modern Art.
The intimate shots of the denizens of an actually dangerous Lower East Side have been wildly influential, from the "heroin chic" aesthetic of the early '90s to American Apparel ads now. But seeing the iconic photos—of couples in various states of anger, ecstasy, intimacy and death—synced with the music as intended was transporting. Gopnik called it "[her] La Jetée." Reagan-era New York City does look somewhat post-nuclear.
The renowned artist and photographer, who lives between New York and Europe, said the soundtrack was essentially the narrative force of the section of The Ballad that was screened Saturday (the last portion). She describes the story thusly: "happy, alienation, lesbians, gay men, kissing, sex, death."
She wasn't wistful for that time—the height of the AIDS crisis—when her iconic work was made, but Goldin did repeatedly express longing for one thing from the 1980s: her apartment. She used to live and work on the Bowery, near Great Jones. Losing it was "a huge, huge thing in my life." Apparently even famous artists, indeed those with the level influence such that a sitting President blamed her for the popularity of drug use in America, are not insulated from real estate prices here.
On the state of things now, Goldin didn't pull punches, saying she had to stop teaching at Yale because "all students asked was how to become famous," and skewering Robert Mapplethorpe—whose photos she admitted she sometimes admires—for not "helping other artists." She added that Instragram has created a world with "a billion too many" photos, and that galleries and their profit motives have "destroyed the art world."
On the up side, she has made new work, which will be on view at Matthew Marks Gallery starting in November.
"I wanted to do Color Field painting," she said of the photo collages, which are each more than three-feet long and predominantly in one color. So far she's made a black, blue, pink and gold piece, and a red one is in the making. She defended analog photography, not surprisingly, encouraging young audience members to keep up the practice and outlining the remaining photo labs in New York and Berlin. (She does digitally scan her photo collage work, though, she said, and digital reproductions of The Ballad were used for the MoMA show.)
Even though her new work is a huge departure from the documentarian pieces that made her famous, one thing is still the same: "My work is for my friends," she said—not for fame or history or renumeration. "My life is for my friends," she concluded.