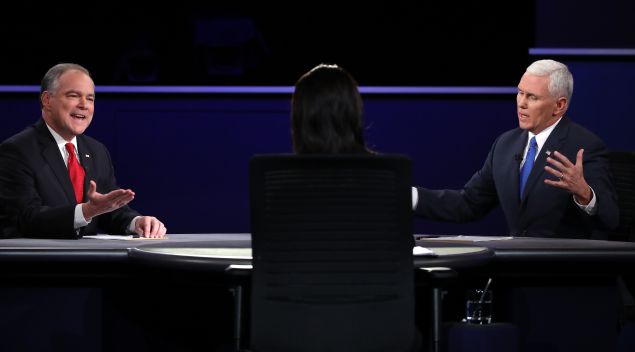 In a normal campaign, the second half of the presidential ticket acts as the attack dog. This, to put it mildly, is not a normal campaign.
Virginia Sen. Tim Kaine, the Democratic understudy, filled the traditional role in tonight's forum, sure. But on the Republican ticket the parts are reversed: Indiana Gov. Mike Pence has to play the straight man to Donald Trump's Rottweiler—especially after the marquee candidate's particularly frothing, rabid performance in last Monday's debate.
How did they do?
"Governor/senator, please."
That was the refrain from moderator Elaine Quijado as she struggled to keep the two men from blurting in with attacks objections while the other was talking.
"People at home cannot understand when either one of you speaks over another," she reminded them at one point.
Quijado had to struggle to get the men to stop talking about Russia after a question about Syria—Pence emphasizing Clinton's "Russian reset" normalizing relationships between the two countries as secretary of state, Kaine playing up Trump's unreserved expressions of admiration for Vladimir Putin. She then had to struggle to get them to talk about Russia instead of arguing about the GOP nominee's litany of offensive comments.
Kaine was the more frequent interrupter, almost recalling Trump's from-the-podium heckling during Clinton's speaking time last week. And what was he saying?
He's a "maniac"
Kaine's main aim was clearly to remind everybody of Trump's statements about women, blacks, undocumented immigrants, Muslims, federal judge Gonzalo Curiel—and to force Pence to defend them. In contrast to Kaine's excitable mugging, Pence maintained a level voice and a stiff expression throughout, with his smile only millimeters removed from his frown. He also avoided defending the Queens-born businessman's off-color commentary as much as he possibly could, usually ignoring Kaine's comments, claiming what Kain was saying was untrue (in fact, more often than not, it was completely true) or pivoting to an attack on Clinton's plans for "more taxes, more spending" or her record on foreign policy.
Kaine, for his part, managed to spin questions about the bombing of Aleppo and the invasion of the Crimea into opportunities to point out Trump might have used a massive write-off in the 1990s to avoid paying taxes for close to 20 years. He also spouted obviously canned lines about Trump's vision of a "deportation nation," and a "you're fired" jobs program in contrast to Clinton's "you're hired" plan.
"Donald Trump can't start a Twitter war with Ms. Universe without shooting himself in the foot," the governor-turned-senator said, later adding. "He doesn't have a plan. But he does have dangerous ideas."
"Did you work on that one a long time? Because you had a lot of creative lines in it," Pence retorted dryly after a particularly long Kaine spiel. "Your campaign has a lot of old lines."
When Kaine again recalled Trump's kickoff assertion that immigrants from south of the border are "rapists," Pence only remarked "you whipped that Mexican thing out again."
The Virginia pol even called Trump a "fool" and a "maniac" who the public couldn't trust with nuclear weapons, especially since the developer had indicated support for nuclear proliferation. Pence answered by again accusing Clinton and Kaine of running "a campaign based on insults"—a line he and his opponent volleyed back and forth no fewer than half a dozen times.
Iran-ing out the differences
Canned lines and nuclear anxieties collided when the pair battled over President Barack Obama's Joint Comprehensive Plan of Action with Iran, which lifted Western sanctions in exchange for a decade-long pause in the Shi'ite theocracy's uranium-enrichment efforts. Kaine harped on the pact repeatedly, insisting Clinton had "stopped the Iranian nuclear program without firing a shot" so many times you have to assume it was written on the back of his hand.
Pence, in line with most Republicans and some Democrats, insisted that the plan in fact enabled Iran's ambitions toward a bomb by letting cash pour back into the country. When Kaine noted the Israeli military leadership argued it had staved off an atomic Islamic power, Pence pointed out Kaine had boycotted Israeli Prime Minister Benjamin Netanyahu's speech to Congress condemning the deal.
Neither really bothered to explain to the average American voter what the JCPOA actually was, though.
Disclosure: Donald Trump is the father-in-law of Jared Kushner, the publisher of Observer Media.