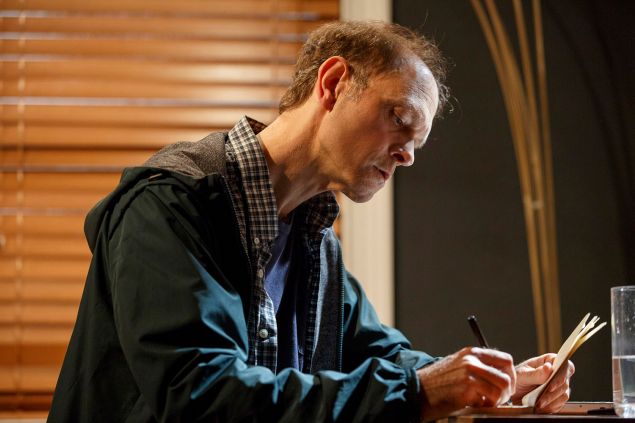 When you leave A Life at Playwrights Horizons, you'll be—if you aren't already—thanking your lucky stars for David Hyde Pierce. It is not overstating the case too much to say that he is giving the performance of a lifetime in Adam Bock's new play.
First off, there's no fourth wall separating you from the character he plays. His Nate Martin strolls onto the stage of the fourth-floor, 128-seat Peter Jay Sharp Theater as matter-of-factly and familiarly as his Niles Frasier did for 11 years when he entered your living room. Martin is your average middle-aged Manhattan gay guy, unmoored by the latest in a long line of amorous disasters—a walking-talking whopping wound of a romantic, wondering like Alfie, "What's it all about?" He consults the astrological charts and ponders his place in the universe, flailing about in failed relationships. "The truth is hard to find and almost impossible to hold onto," he eventually decides.
Pierce spends the first third of A Life unburdening himself to you—that's 16 pages of talk or 32 minutes of playing time—and he does it with such effortless accessibility that empathetic members of the audience have been known to answer him back.
"When they react–when there's a vocalization from someone who knows astrology, for example—if I say something like Pluto is in my first house and someone in the audience groans–it's fantastic because it's something I as a character can share with them. It brings us all together as one. That part of the play in which I am talking to the audience is a gradual coming-together for the character and for the audience."
Of course, the actor readily recognizes that television has given him an express pass. "As a known person—especially as a known person through television—you sorta become an acquaintance of people. People feel like they know you, so, whatever journey you go on in the play, it's made a little easier by the fact that they feel like you're a friend. They've already been on journeys with you in their living room.
"I love that. Each audience is different, so relating to each audience is different, and also the individual members of an audience are different. Some of them—if you look at them—you can instantly tell they're really uncomfortable and wish they were anywhere else, so you leave them alone. Others are really comfortable and respond."
A Life struck chords with him on first reading. "I was completely caught by it—caught by the character, caught by the structure of the play, by Adam's very unique voice and his understanding of how we all, not just talk but relate to each other.
"What drew me to the play is that the guy is just a guy—just a person who has maybe less than average ability to cope with the world, just trying to get by, trying to get through. Then, all these things happen to him that make him—and the play—so universal—that whole thing about being so specific that it actually becomes about a lot of stuff. The devil is in the details, and Adam is a master of details."
Bock didn't have to think long and hard about casting this demanding lead role. "David was always my first choice," the playwright admits. "My stuff actually needs people who come from a funny place to a serious place, rather than a serious place to a funny place. I need a person who's not afraid to let themselves be funny, who sees that's the way of opening up the world. It makes a huge difference in my work."
When director Anne Kauffman put the play in rehearsal with Pierce and four other actors, he was the one who arrived "off-book," with that marathon monologue already under his belt. Martin is a character with one of everything–dialogue scenes, voiceover scenes of him thinking and scenes of total and eloquent silence.
"There are a lot of unexpected challenges in the show for the actors, each of us," Pierce relates. "It's an amazing company. Everyone has moments to shine, and a lot of different tasks to perform. For me, there are physical and sort of meditative challenges that make it fascinating to work on, aside from just loving the character."
Advance word has been so strong that A Life has been extended to Nov. 27. Before then, Pierce's own life and career will pass in review at the Plaza at The 33rd Annual Drama League Musical Celebration of Broadway. "That's this big swanky do on Nov. 7, and they asked me if they could honor me because they have run out of people," he explains with just a flick of self-deprecation. "I don't actually know what's happening, which is very like me. I just know that I will have a lot of friends there, and it's for an organization that deeply supports theatre, so that's a good thing."
The League's executive artistic director, Gabriel Stelian-Shanks, feels that Pierce is overdue the tribute. "He has a career that spans not only theater but film and television, not only plays but musicals, and in recent years he has also become a director, which, of course, is the cause we're championing." The benefit gala helps to raise funds to support the educational training programs of The Drama League Directors Project. Graduates include Tony winners like Sam Gold, Diane Paulus, Pam MacKinnon, Michael Mayer and John Rando as well as A Life's Anne Kaufman.
Another alum, Shelley Butler, who assisted Pierce in directing It Shoulda Been You, will helm the salute which was inspired by Pierce's career and will be cluttered with his co-stars from Frasier (Bebe Neuwirth), Spamalot (Christopher Sieber), Curtains (Debra Monk) and Vanya and Sonya and Masha and Spike (Kristine Nielsen).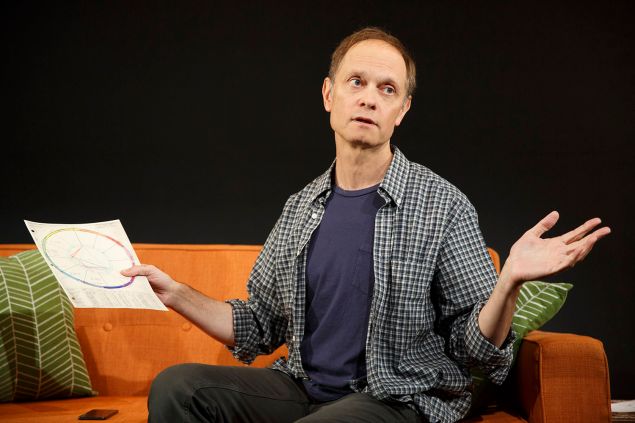 Lining up talent for the tribute has been a piece of cake, according to the event's producer, Travis LeMont Ballenger: "That has been the most amazing part. The moment you say to someone, 'This is a benefit gala honoring David Hyde Pierce,' they're like, 'I'm there.' Everyone wants to make it happen. It's been really lovely."
Aside from real live people brimming with testimonials, Pierce also has a bookshelf that bespeaks a life and career well spent. He contended a record 11 consecutive years for the Best Supporting Actor Emmy and won it four times. He earned his Tony for Curtains and a Tony nomination for Vanya and all those other people.
Award bric-a-brac started coming his way early on with a Yaddo Award. "I went to a public high school, and Yaddo is this quite well-known artist retreat that's in my home town of Saratoga Springs, and they created a medal to give to graduating seniors. It's not an academic or citizenship award. It's more for being good people. My brother and two sisters and I all got the award–clearly a tribute to our parents."
His father wanted to be an actor but went into the insurance business—while maintaining his amateur standing in community theater and in small roles when stars on tour landed in Saratoga. "When I was in Spamalot, a group from my home town brought me a collection of reviews they had found of my dad. One of them was an interview with Diana Barrymore. She did a show with my dad and said, 'Well, if George Pierce is what amateur actors are like, why do we need professionals?'"
Because his father and his mother's father both suffered from Alzheimer's, Pierce has been for several decades a very active advocate for the Alzheimer's Association and, on occasion, has even gone to Washington to testify to get more funding.
It is also not widely known that Pierce is a lapsed kick-boxer. "Back in L.A., that was my form of working out, and I loved it," he says. "I didn't go into the ring and fight a fight with anyone, but I sparred with my trainer." He even got to use it in his work.
"The writers incorporated it into an episode of Frasier where I accidentally kicked Daphne [Jane Leeves] in the ass and broke her wrist, demonstrating some moves. I'm a bit more fragile now, so I don't put it down under Special Skills anymore."
Beyond A Life is a bright bauble–you can see it from here– called Hello, Dolly! He'll be the penny-pinching merchant of Yonkers, Horace Vandergelder, to Bette Midler's Dolly Gallagher Levi in the wildly anticipated revival bowing April 20 at the Shubert.
"You know, I had done a movie with Bette a few years ago—a Paul Rudnick movie called Isn't She Great. It was about Jacqueline Susann and her husband, Irving Mansfield. I was her editor on Valley of the Dolls. We spent a lot of time up in Montreal together and had a great time, so, when this came along, I was thrilled.
"Just a few weeks ago, we got together with Jerry Zaks, our director, and Andy Einhorn, our musical director, and kinda read through some stuff and sang through some stuff, and we had so much fun. I adore Bette. And that part! I told her it's like Bruce Vilanch wrote the show for her. She's really an exquisite actress, and she inhabits the character so easily, so completely. Of course, she's got that range–and can fill Madison Square Garden with a look. She can do that, too, when called upon."
For the present and through Thanksgiving, A Life is ruling his life. "The great thing about Adam's play is that it makes all of us on stage and all of us in the audience see and hear the world a little bit differently," he contends. "When I go home to my apartment after having done this play, I heard the street noises of New York in a completely different way than I ever did before. Suddenly, these street noises were the backdrop of all the lives that were going on in every apartment, in every home, in every place around the city because that's how they're used in this play."