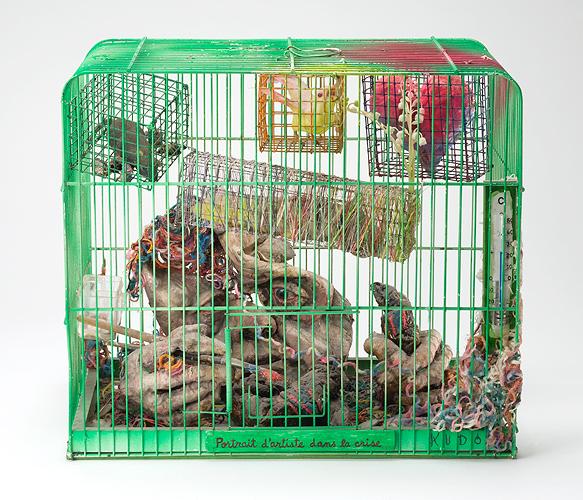 FRIDAY, OCTOBER 14
Opening: "Tetsumi Kudo" at Andrea Rosen
While Japanese anti-artist Tetsumi Kudo's "new ecology" sculptures were created between 1966 and 1988, they managed to eerily predict the growing interconnectedness between humanity and technology still relevant now. Among the works on view, the most timely are Kudo's birdcage sculptures, which meld body parts, computer components and organic plants. The show at Andrea Rosen features over 20 cage pieces.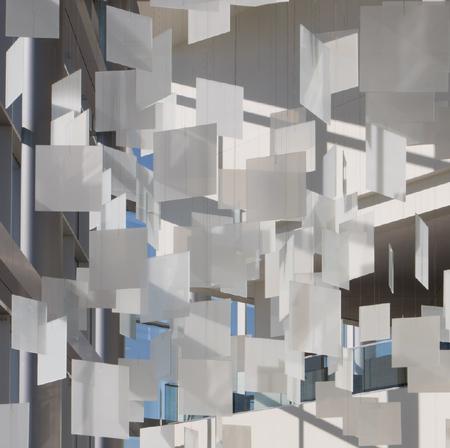 Opening: "Spencer Finch: My business is circumference" at James Cohan Gallery
Finch attempts to work some perceptual magic inside the white box with three nature-inspired installations about light. Using a variety of scientific instruments and "his own crooked perception" he has recreated natural phenomena: a cloud passing in front of the afternoon sun, what light looks like through a thick fog and the colors one might encounter on the trails of Yellowstone National Park.
SUNDAY, OCTOBER 16
Screening: "Carmen Herrera and The 100 Years Show" at the Whitney, $10
Carmen Herrera is a living legend. Now 101 years old, she's currently having a major solo exhibition at the Whitney Museum, where director Alison Klayman's 30-minute documentary film about the artist—featuring interviews and historic photos—is also screening. After the film, Klayman will be joined on stage for a panel discussion with Edward J. Sullivan (contributing writer to the show catalogue), artist Sarah Crowner and professor of Latin American Art Abigail McEwen.
Event: The Present Is the Form of All Life: Time Capsule Sealing Ceremony at Pioneer Works
In conjunction with Pioneer Works' historic exhibition on 1960s/70s architecture collective Ant Farm (best known for their installation Cadillac Ranch and 1975 performance Media Burn) and Chip Lord, Curtis Schreier and Bruce Tomb's contemporary group LST, visitors will have the chance to contribute images from their smartphones to a new time capsule that's been built on site. For the past five weeks, LST has collected images from viewers, and on Sunday event organizers will host a sealing ceremony followed by a talk with the group and architectural historian Felicity Scott.
TUESDAY, OCTOBER 18
Opening: "Andrew Gori and Ambre Kelly: SIGHTSEERS" at Equity Gallery
Gori and Kelly are the co-founders and directors of the breakout hit Armory Week satellite fair, the Spring/Break Art Show. The pair's show at Equity is their first solo exhibition together, and will feature a series of images taken with prosumer film cameras of tourists caught in the act of self-documentation.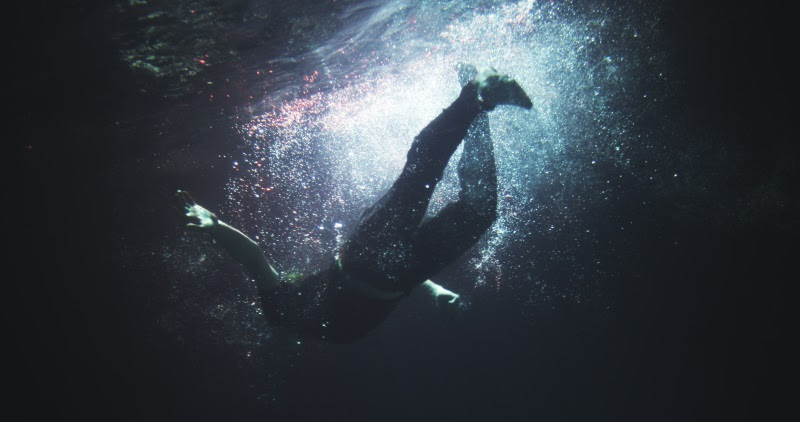 WEDNESDAY, OCTOBER 19
Opening: "Cheng Ran: Diary of a Madman at New Museum
In his first U.S. solo museum show, artist Cheng Ran, who hails from Inner Mongolia, will exhibit fifteen films in the museum's lobby gallery exploring details often left of out of urban imagery. During the run of the show, there will also be a seven-hour screening of Ran's film In Course of the Miraculous, which normally runs nine hours long but has been reedited for the occasion.