The all-too-short ABT fall season at the Koch is winding down—and all too soon the spring season of swans and Wilis and Juliets and Don Q's or whatever will troop onto the Met stage with numbing predictability. However, some of the younger dancers just coming into their own will be getting delicious opportunities. Hurrah! We can dream, can't we?
These two weeks have hardly been perfect, but they've been really interesting. One of the new pieces was pretty dreadful, but the other, if somewhat wan, was attractive and pleasing. The company's loyalty to Frederick Ashton was utterly admirable—not only bringing back Monotones I and II but restoring Symphonic Variations to the repertory after ten years. Twyla Tharp's The Brahms-Haydn Variations was stirring and vigorous—it's right up ABT's alley. And the return from last season of Ratmansky's Serenade after Plato's Symposium was a triumph. If you're keeping score, the way we critics do, these are high marks.
Let's get the ugly news over with fast. All Benjamin Millepied ballets are empty, but Daphnis and Chloe was empty longer than most, because it was so … long. Well, Millepied chose to deploy Ravel's very extended score, so he's got no one to blame but himself. He simply doesn't have the chops to tackle something so ambitious.
Daphnis is a Greek shepherd. Chloe is a shepherdess. They're in white. They gambol. They love. Their friends are happy. Wicked people tear them apart (you know they're wicked because they're in black). Although at one moment Daphnis is lying unconscious on the ground, suddenly he's up and with no apparent effort rescues Chloe from gang rape, or worse. The story is muddied, the dance elements uninteresting and repetitive: it's all blandness to the max, despite the attempt to distract us from the dancing by the lowering and raising of large geometric shapes in a variety of colors. Up and down they go, while the poor dancers soldier on below. Millepied created D&C for the Paris Opéra ballet during his very brief stay there, and now we're stuck with it too. Let us pray, children, that ABT doesn't throw good money after bad by bringing it back—ever.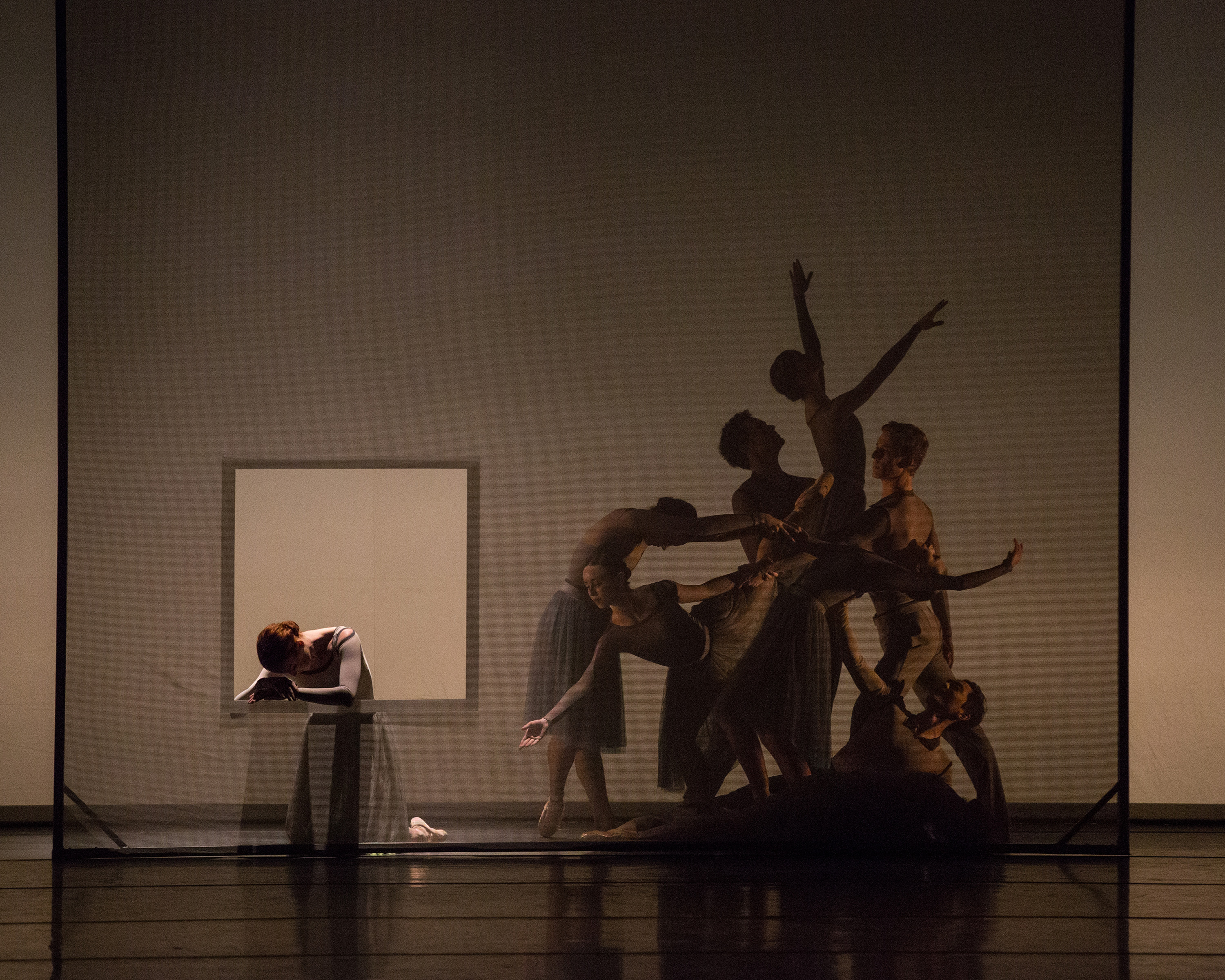 Jessica Lang's Her Notes is her first work for ABT, modest in length and ambition but far from a failure. It's set to charming piano music by Fanny Mendelssohn Hensel, Felix's older sister and a very accomplished minor composer, overshadowed by her famous brother. (Actually, these piano pieces—part of a cycle called "Das Jarh" ["The Year"]—sound almost exactly like Felix himself.) Her Notes is a group piece, but Gillian Murphy dominates—that's because she's so strong and appealing, and because Lang makes the most of this strength and appeal. I'd be happier if we didn't first see her popping out of a tilted window frame, but Lang is obsessed with architectural shapes and structures. Unfortunately, they don't go well with Mendelssohn's gentle 19th century Romanticism; they're purely decorative here, whereas in her recent piece for Fall for Dance, Tesseracts of Time—huh?—they were central to the concept and highly effective.
Misty Copeland was nicely soft in the complementary second ballerina role: they've made her a principal, and this was an un-taxing way to deploy her. The costumes (Bradon McDonald) were pretty, the entire cast attractive. The whole thing was something of a throwback—I was reminded of early Eliot Feld romantic pieces like At Midnight—but nostalgia is a thousand times better than empty pretension.
Ashton's Symphonic Variations, a sacred piece to the Brits, has never quite worked in America. He created it, to César Franck's beautiful score for piano and orchestra, just after World War II, and its serenity and harmony carried great spiritual weight for its audiences, and still does: its place in the Ashton repertoire is somewhat like that of Concerto Barocco for Balanchine. Wonderful though it is to have it back with us after ten years, ABT doesn't quite pull it off. It's not just an unfamiliarity with Ashton technique and style; when you watch the original cast on YouTube—Margot Fonteyn, Moira Shearer, et al.—or even a much later Royal Ballet cast, led by the very young Alina Cojocaru, you see bite and repressed tension under the calm surface. At ABT we get more of a flat solemnity, the three lead women almost identical. This beautiful work needs more effective staging, but beggars can't be choosers, and all praise to the company for bringing it back.
Brahms-Haydn is whiz-bang Tharp—30 dancers in a tumult of activity, a lot of it very inventive and exciting. This is Tharp's Balanchine ballet, up to and including its big Balanchine finale; it's as if she's saying, "Look, I can do that too!" And she can, to our benefit, though I prefer her when she's deep in her own mode, as in Bach Partita, which ABT restored to us after 30 years and seems to be re-burying. It's not whiz-bang, but it's superb.
Ratmansky's Serenade after Plato's Symposium is the critical success of the decade, and it's a knockout of invention and revelation—revelation of the seven very different males who make up its cast (together with a ballerina who makes a somewhat forced appearance late in the ballet) and whose variety and virtuosity give Ratmansky yet another opportunity to demonstrate what a first-level choreographer can do. I have reservations, mostly about the Leonard Bernstein violin concerto the ballet is set to, which to me is more busy than convincing. Nor am I comfortable with the supposed theme, taken from Plato: the seven men "convene and deliver speeches on the topic of love…[exploring] how love can help the soul to understand truth in the pursuit of wisdom and beauty." I prefer my ballet straight up, without the philosophic trimmings. But you can forget about them quickly enough, and sit back and luxuriate in the wonderful texture of what's going on.
The big story of the season, though, is the ongoing improvement of the company as a whole, and one's growing sense of it as a company. So many younger artists are emerging—some homegrown, some imported. Cassandra Trenary, Devon Teuscher and Skylar Brandt lead the new female pack, Jeffrey Cirio, Calvin Royal III, Joseph Gorak the male. Blaine Hoven is finally coming into his own—why did it take this long? Ditto Arron Scott. There's energy and hope everywhere. With luck they'll survive the winter doldrums and emerge intact for the spring marathon.