"How many of you have knocked on doors before?" Manhattan councilman Corey Johnson asks from the front of our charter bus as we exit the Holland Tunnel en route to Pennsylvania—New York's closest patch of purple.
Hands shoot up. The West Side councilman nods approvingly. "O.K., most everybody."
Not me. I've never canvassed for a politician before and signed up for the Keep Pennsylvania Blue bus organized by a consortium of Manhattan political clubs, including the Village Independent Democrats, which raised funds through farmers market bake sales to subsidize weekly charters to Keystone country. I signed up after receiving one of the random emails invading my inbox since I donated a few bucks to Hillary Clinton's campaign. I'm nervous and worry out loud: "What should a Manhattanite say to Pennsylvanians on a Saturday morning standing on their doorstep?" I visualize being mistaken for a door-to-door peddler and security guards collaring me to the ground while I cite the Bill of Rights.
"Don't worry," Asher Novek, an experienced activist across the aisle, assures me. "It's not hard; politics is just the business of getting rejected again and again."
Great. Just like dating in Manhattan.
Soon enough we pass the shuttered Bethlehem Steel plant. The dull orange-and-black–toned hulking steel stacks unmistakably signal where we are: Rust Belt. It's 78 miles west of Manhattan—closer than Amagansett—but worlds away.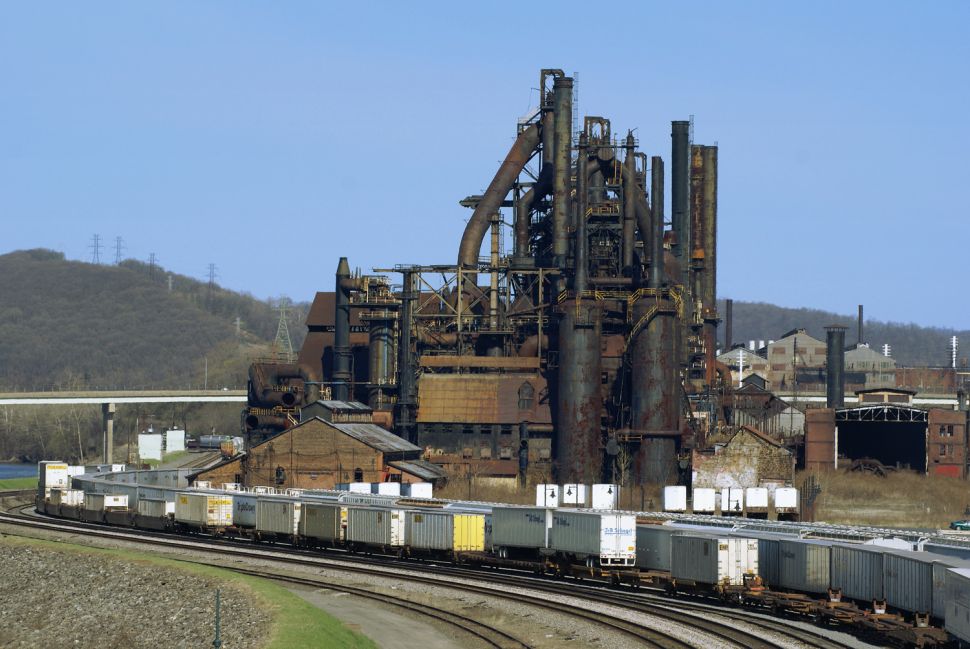 After we disembark at the local Bethlehem Democratic party field office, people pair up to get canvassing packets, which give names of known Democratic voters, their addresses and a map. But I'm solo. Spying my high-school-lunchroom panic, square-jawed 20-something Cameron Bard from Brooklyn joins me.
He's a firm strider and good talker, who's mastered the unthreatening opener. We skip houses flying American flags, given our goal to avoid Trump voters. Arguing is apparently futile, and we're here to get out the Democratic vote.
Soon we split up to our respective address lists. I sign up three locals, who are happy for a reminder before Pennsylvania's impending registration deadline. My Spanish comes in handy with a skeptical middle-aged lady taking out the garbage. They're all packs of fools, she says, but listens to my spiel anyway.
The lady never removes her hands from her hips, while I wax on about Hillary's dedication as New York's senator. Organizers instructed us that personal works best, so I tell her how impressed I was covering Hillary during the 1992 presidential campaign for The Chicago Tribune—long before she'd ever been branded "crooked" by foes. I recounted her speaking about health care for more than an hour without notes. Smart. Real smart.
The strictures of journalistic objectivity previously stopped my political involvement. More recently, though, I've been reporting on science, not politics. And in journalistic circles, the notion of strict "objectivity" as the path to the truth is evolving toward a "fairness" doctrine recognizing that simply quoting both sides of a controversy without evaluating the claims may in fact trample the truth.
Was the skeptical lady now nodding in agreement? She never said so, but one-on-one interactions can change minds, according to political research organizers cite. Nearby, an army-reservist single mom hugs me, then fulminates about how she would never ever salute Trump if he were elected commander in chief. "I've already told my CO," she says, before filling out a "commitment card" for Clinton. The card will be mailed back to her home shortly before the election—a proven turnout tactic.
Back at the Bethlehem field office after I encountered not a single door-slam, we pile back on the bus, which now feels chummy, like a college outing. Our group of 55 registered some 60 people and knocked on about 2,000 doors.
As we roll east, folks share canvassing highlights on the bus mic. Stonewall Democratic Club Vice President Rose Christ, 28, chokes up telling about registering a newly released ex-convict, who did not know that Pennsylvania allows felons to vote. "He really wanted to have a voice in this election and was afraid to ask," Christ recalls. "I was able to tell him, 'Yes, your voice matters.' "
Taking physical action in the real world rather than social media was gratifying—the only treatment I've found yet for obsessively checking Facebook, Twitter and my news apps for the latest shocking revelation in this incredible, terrible Clinton vs. Trump showdown. That is until we returned through the Holland Tunnel, back to Manhattan. And email. 
Award-winning journalist Jessica Seigel is a New York University adjunct professor who uses science and history to investigate health and cultural myths. Seigel contributes to The New York Times, National Public Radio, The Los Angeles Times and National Geographic Traveler, among other publications.
Disclosure: Donald Trump is the father-in-law of Jared Kushner, the publisher of Observer Media.