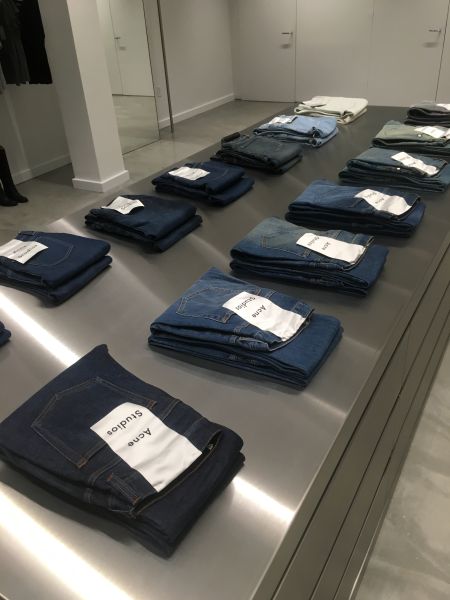 At just over an hour's journey by car or bus from the city, the trek to Woodbury Commons is worth it. The huge outlet mall in the middle of the mountains already boasts Prada, Céline, Saks, Balenciaga and Marni, but now, the outlets are adding even more high-end, hard-to-find discounted boutiques.
First up on the list: Acne Studios. While the mall's website says the boutique isn't open yet and doesn't list it on the map, I was surprised to see the shop fully open when I stopped by this weekend. Apparently, the shop has been open since October 19. The minimal space clearly mirrors the Swedish brand's cool aesthetic and sells both men's and women's pieces, ranging from signatures of the brand to edgy items from the spring 2016 collection, straight off the runway.
Almost everything inside is discounted by at least 50 percent off—which is more than you'll find during a sale at the Acne Studios flagship in SoHo. According to an employee, the regular store only ever discounts by 40 percent.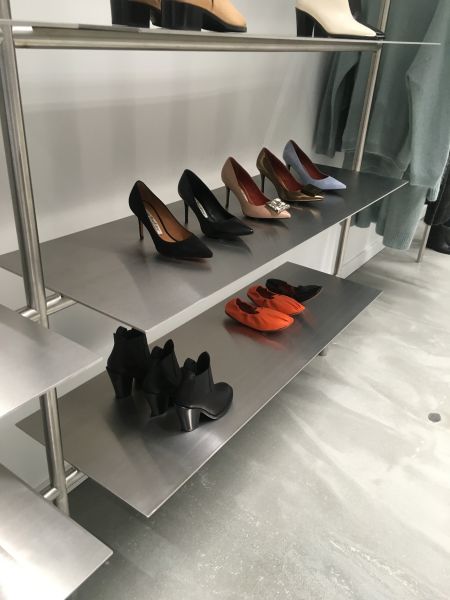 I found a pair of Pistol boots—the iconic ankle boot style the brand reproduces each season—for just $142 and obviously snagged them. The original price? $570. Most of the shoes, including sneakers, boots, sandals and flats were in the $200-$300 range. The shop also stocks accessories such as heavy gold and silver rings, brooches and sunglasses, all marked half off. Most of the brand's jeans were also half off, and there were embellished sweatshirts for $110, down from $440. To find things that are discounted beyond 50 percent off, you'll have to really hunt, but I promise you it's worth it. All sales are final and the store doesn't offer any returns or exchanges. According to the employees, the store will likely do something special for Black Friday, but they couldn't share more details.
If the outlet is on par with the rest of shops at Woodbury, prices might go down even further. While most shops advertise as selling things up to 75 percent off, I'm a regular and I've definitely found pieces for closer to 90 percent off at a number of boutiques. This weekend, I bought a Miu Miu sweater for $45, originally $780.
The high-end British lingerie brand Agent Provocateur also opened about a month ago and is stocking lacy bras, underwear and slips for roughly 50 percent off, some with an additional 30 percent off promotion. Marc Jacobs also recently opened a boutique at the outlet mall, as did Givenchy.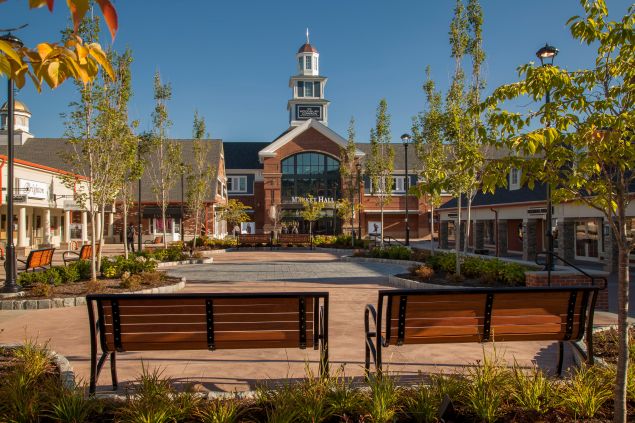 Across from Acne Studios, in the newly designed area of the mall were individual boutiques for Saint Laurent, and Loewe, both of which were under construction. Considering Loewe doesn't even have a standalone boutique in Manhattan, their decision to open an outlet at Woodbury Commons is the most surprising of the bunch. A Helmut Lang boutique is coming, too. For beauty junkies, there will be a Clarins outlet; for men, a Hickey Freeman outlet will replace the existing Brioni space and a men's Theory store will also be opening up shop.
For most of these new shops, the official opening date will be November 11 according to a representative, with the exception of Saint Laurent, which will open one week later on November 28. Here's hoping they'll be some Saint Laurent leather jackets and Loewe Puzzle Bags stocked for at least 50 percent off.