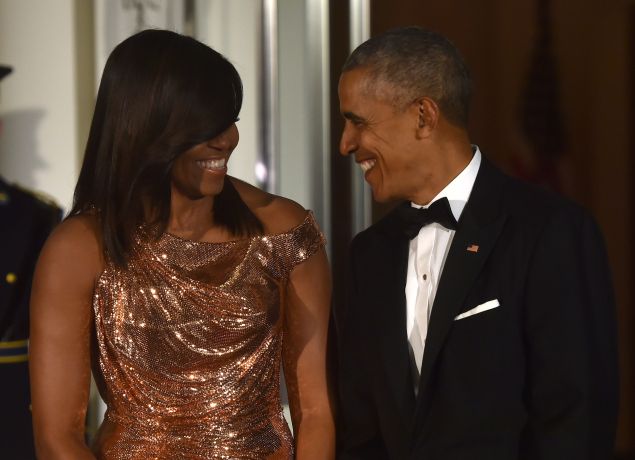 Michelle Obama's White House style has been quite a journey, made evident by her many, many State Dinner appearances. While mere mortals fret about standing out too much or not being dressed appropriately, the First Lady's choices have a much bigger impact. In fact, a few of her dresses have led to some pretty heated debates about her duties as America's ambassadress to the world. But in time, she found her stride in a way that was both unique to herself, flattering to her figure and indicative of her stature as one of the most visible women in America's political sphere.
Here, we take a look back at her five most memorable State Dinner looks.
1.) Atelier Versace, October 2016
As the Obama administration begins to wind down, the First Lady made her final State Dinner appearance last night. In what is arguably her chicest, most fashion-forward moment to date, the Princeton graduate shook hands with the likes of Frank Ocean (who brought his mom as his date), all while wearing a rose gold Atelier Versace gown. Talk about going out with a bang!
2.) Alexander McQueen, January 2011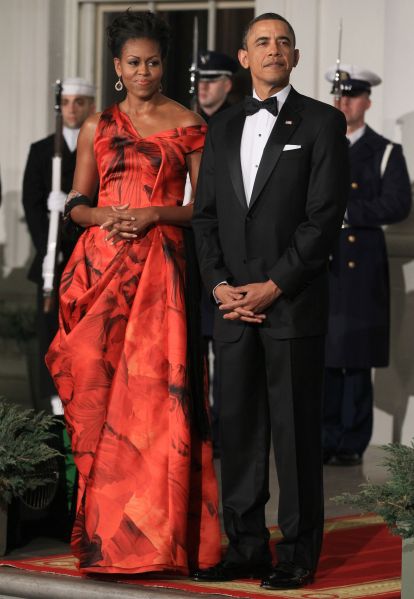 Back in 2011, for what was only her third State Dinner appearance, the Harvard-educated stunner donned a flame colored Alexander McQueen gown. While astonishing, the look was probably the most controversial of her tenure. For one, this fiery frock was not designed by an American designer, nor a Chinese designer (the State Dinner hosted the Chinese president Hu Jintao). Notably, Oscar de la Renta spoke up about the fiasco, telling WWD: "My understanding is that the visit was to promote American-Chinese trade — American products in China and Chinese products in America. Why do you wear European clothes?" What followed was a series of back and forth between Obama and the industry where she seemed to continually belittle the importance of the issue. She finally ended it on the Today show saying: "It's not something I focus on. Everybody's gotta get dressed in the morning. I hope people find [what I wear] nice."
3.) Brandon Maxwell, August 2016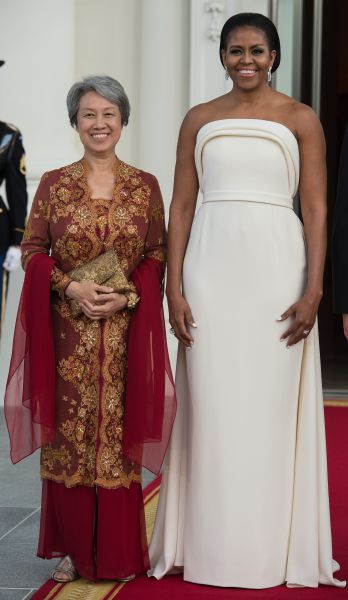 While First Ladies have their pick of the lot when it comes to designer names, Obama has routinely chosen to support younger designers. Among them, Brandon Maxwell, stylist to Lady Gaga and founder of his own namesake label. His off-white, strapless gown showed the 52-year-old as a statuesque embodiment of elegance in August of this year.
4.) Naeem Khan, November 2009
For her first State Dinner as First Lady back in 2009, Obama set forth a sartorial template for state dinners to come: exposed arms, likely strapless, fit on top and a bit of room to move on the bottom. The appearance was also the first of three State Dinner outings where she selected a dress designed by Khan.
5.) Vera Wang, September 2015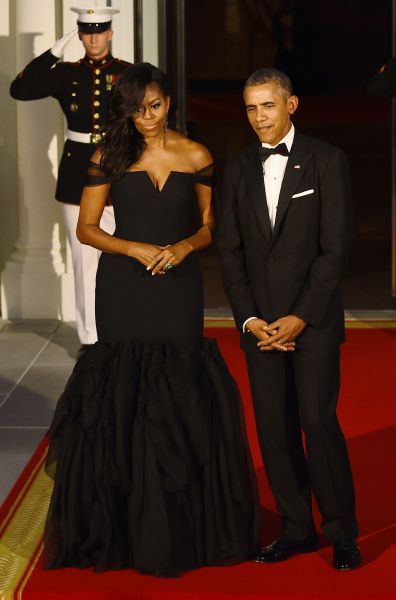 In 2015, for the Obama's second State Dinner with China, FLOTUS decided to right her perceived wrongs. Letting her hair down, she opted for an all-black Vera Wang silk crepe gown with organza sleeves. With Wang's parents being born in Shanghai, this dress selection was more than enough to settle those earlier, ruffled feathers.