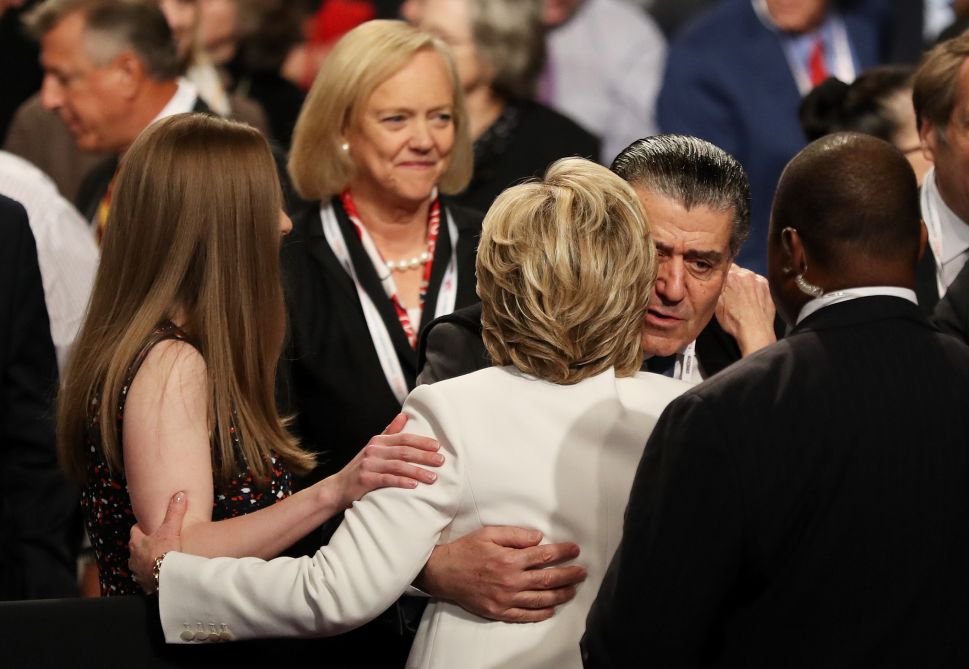 Haim Saban is a media titan and staunch supporter of Israel. He has a close and influential relationship with leading Democrats, including Hillary Clinton. WikiLeaks just released a number of emails that show that he brought our ad against Sidney and Max Blumenthal, which appeared last March in The New York Times, to Hillary's attention, informing her advisors that a response should be readied. The ad detailed the extensive communications on Israel between Clinton and the Blumenthals, the younger of whom calls Israel a Nazi state and the IDF the SS.
I have a world of respect for Saban and I urge him to continue to use his influence to pressure Clinton to separate herself from the virulently anti-Israel Blumenthals, Sid and his son Max.
Saban is one of Israel's fiercest supporters in the world. Few can compare in terms of willingness to speak out on Israel's behalf and few contribute more generously their time and resources to causes that enhance Israel's security and welfare.
We first met at CNN's Heroes awards gala in Los Angeles, where I served as a judge. Anderson Cooper introduced us. I was struck by his kindness, humility and decency. We got to know each other better at the Campus Maccabees event, with Sheldon and Miriam Adelson.
The Jerusalem Post recently rated Saban the most influential Jew in the world, partially due to his close relationship with Clinton. He is obviously aware that many in the pro-Israel community have doubts about Clinton on Israel, given her past contentious relationship with Prime Minister Netanyahu and, more importantly, her claim to be the architect of the Iran nuclear agreement. Those with concerns find some reassurance knowing that a man of his unquestionable dedication to Israel is an important advisor to Clinton on the Jewish state.
That's why I'm asking Saban, here in public, to advise Clinton to repudiate her relationship with Sidney Blumenthal and his son Max because of the their rabid and vitriolic attacks on Israel and efforts to influence the Democratic nominee with their ugly views.
I am writing this in part because of the email he wrote to her campaign after reading The World Values Network ad we placed in March, asking Hillary to disavow the Blumenthals. He was quoted as writing, "Some unflattering points, that we better be aware of, just in case Trump (or whoever) gets a hold of this and uses it in states like Florida where it would be very damaging."
The emails also indicate campaign chair John Podesta understands the danger of Clinton's association with Blumenthal. He raised the controversy stirred by Blumenthal's advice to Clinton on Libya during congressional hearings on the deadly 2012 attack on the U.S. consulate in Benghazi. "Sid is the gift that keeps on giving," Podesta said sarcastically. "I thought his troublemaking on Libya was plenty enough."
Both Saban and Podesta correctly recognized the potential short-term political problem, but my anxiety goes much deeper. What concerns me are the large number of emails to Clinton from Blumenthal, many of which encouraged her to read anti-Israel screeds by his son.
But just who is Sid Vicious? Sidney Blumenthal was barred from the Obama White House because of his reputation for leaks and dirty tricks against political opponents. Perhaps out of a sense of loyalty, Hillary gave him a lucrative position at the Clinton Foundation.
While she was secretary of state, Blumenthal sent Clinton a steady stream of emails claiming Israel was acting contrary to U.S. interests, suggesting Prime Minister Netanyahu was plotting against the American government, that Israelis steal water from Palestinians and Israeli policy was endangering U.S. troops in Afghanistan.
Sid's attacks on Israel are tame, however, compared to the venomous writings he passed on to the secretary from his son. Max, a supporter of the anti-Semitic BDS campaign, routinely compares Israelis to Nazis. In his screed, Goliath, the younger Blumenthal refers to Israel's "Nazi mentality," calling Israelis "Judeo-Nazis," and labeling Israel's military the "Nazi SS."
Perhaps she was being polite; nevertheless, it was disturbing to read her responses to some of Max's work. On one occasion she told Sid to congratulate Max "for another impressive piece." In another email, she wrote, "Your Max is a mitzvah!"
I heartily agree with the email that Saban wrote to Clinton's campaign managers on June 20, 2015, advising Clinton to differentiate herself from Obama on Israel to recapture the large number of Jewish voters who abandoned him in the last election because of his tough policies on Israel.
I am gratified that either on her own accord or together with Saban's advice she has forcefully reaffirmed the U.S. commitment to Israel's security. I expect that Saban and other lovers of Israel will hold her to this commitment should she win the election.
I also hope that Clinton takes Saban's advice and speaks out strongly against anti-Semitism in general and, specifically, against the anti-Semitic boycott, divestment and sanctions (BDS) movement.
Who a candidate or president surrounds herself with says a lot about that individual. By and large, Hillary has assembled a respectable group of advisers. Why should her image in the Jewish community be tarnished, or her views on Israel negatively influenced, by continuing to associate with haters of Israel like the Blumenthals? Haim Saban should take a cue from his best known property, the Mighty Morphin Power Rangers, and do the right thing.
Shmuley Boteach is founder of The World Values Network and the international best-selling author of 30 books, including Wrestling with the Divine and The Fed-Up Man of Faith. Follow him on Twitter @RabbiShmuley.